The Sweet Reason GBBO Finalist Steven Carter-Bailey Created This Adorable Dinosaur Cake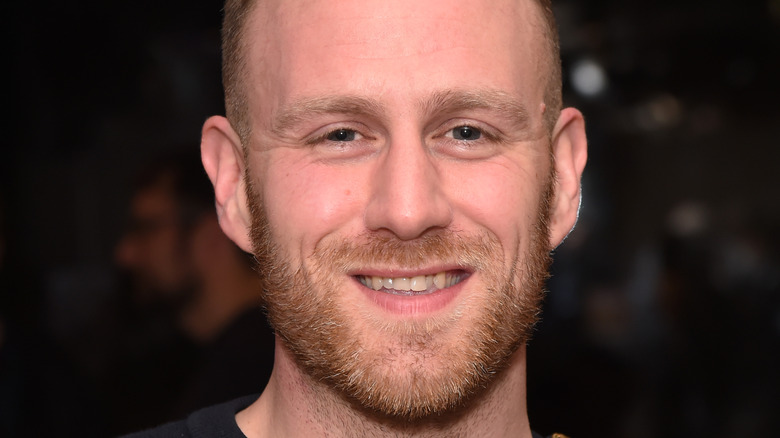 David M. Benett/Getty Images
When Steven Carter-Bailey entered the white tent to present his bakes to Mary Berry and Paul Hollywood, all he expected was to get through week one of "The Great British Bake Off" (via Steven Carter-Bailey's website). What he didn't expect, was that he'd come through as the runner-up of Season 8 of the series – and with three 'Star Baker' awards under his belt, no less.
Since then, Steven has won the show's holiday spin-off "Great New Year's Bake Off" in 2019. A peek at the celebrity bakes on his website reveals a star-studded list of clients. Whether it's creating a humongous cinnamon roll for "Queer Eye's" Johnathan Van Ness or crafting a chocolate cake for Sir Ian McKellen's 80th birthday bash, Steven has baked for some pretty cool celebs.
One of his latest cake creations? An adorable green and purple dinosaur made from a chocolate hazelnut cake. Sharing a picture on Instagram, he told his fans that the dinosaur cake was baked for a very special client — 3-year-old Edie, who is apparently part of what Carter-Bailey calls his "second family."
Steven Carter-Bailey's favorite cakes to bake are those requested by children
Fans couldn't stop commenting about just how cute the cake and the 3-year-old birthday girl were. One person hailed Steven Carter-Bailey's creation as "a stunning masterpiece" (via Instagram). Someone else declared, "The cake is as adorable as she is. Happy Birthday Edie. You are so good at bringing smiles and happy memories!"
It's not the first time Carter-Bailey has baked for little Edie. For her second birthday, she requested a chocolate cake decorated with cute aquatic creatures because she "loves all things under the sea!" Her mother requested that it be made with hazelnut praline and chocolate Italian meringue buttercream (via Facebook). It seems that Edie loves chocolate and this great British baker is only too happy to indulge her!
In a separate Instagram post, Carter-Bailey said he loves baking for children the most and bringing their dreams to life, which he clearly does with a lot of skill and a ton of sweetness. "My favorite cakes are the ones commissioned by children, their imaginations test my abilities to the extreme," he wrote. In the post, he's seen holding a gluten-free vanilla cake with figures of a family and cats requested by a little girl.
One of Carter-Bailey latest stunners was a giant pink flamingo cake baked for his goddaughter's 7th birthday (via Instagram). The bird-shaped work of art was dubbed Felicia.