Classic French Apple Tart Recipe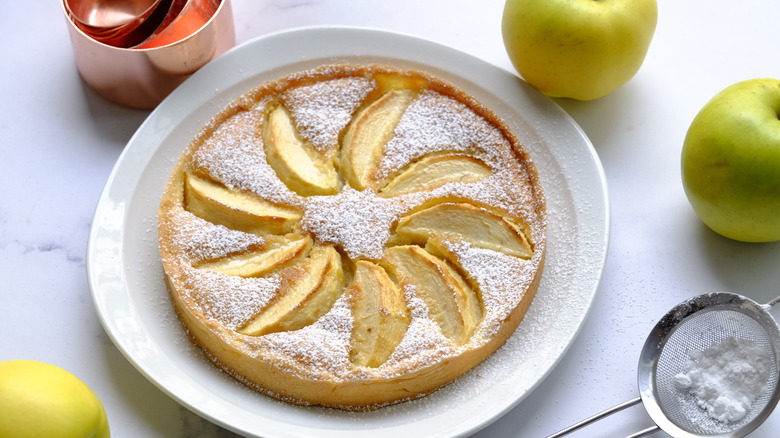 Eric Ngo/Mashed
There's something you need to understand about chef and recipe developer Eric Ngo of Frenchie the Toast, the baker behind this classic French apple tart: this guy is one serious baker. As in he was born in Paris and, after growing up in Los Angeles, returned to his birth city, where he works as a baker. He's even taught the pastry craft at various Parisian culinary schools.
But you can take some comfort from the fact that Ngo calls this tart "totally doable" even for the amateur baker, and in fact rates this sweet treat as a beginner-level baked good. Granted, your first two or three (or 10) tarts may not come out of the oven looking quite as lovely as this one, but you can count on tart #1 tasting great just the same.
But what is a tart anyway, you ask? "This dessert is considered a 'tart' and not a pie because it doesn't have a lid," Ngo says. "As a result, the apples can truly shine as they are the star of this recipe." Thus the fall is the best time to bake up this fancy dessert, as apples are at peak ripeness as the weather cools. As for how best to enjoy it, Ngo says, "I recommend eating this dessert as is, or served warm with whipped cream or ice cream. You can also sprinkle cinnamon on the apples before baking if you like this flavor. This is a typical French afternoon dessert, so it is often paired with tea or coffee."
Gather your ingredients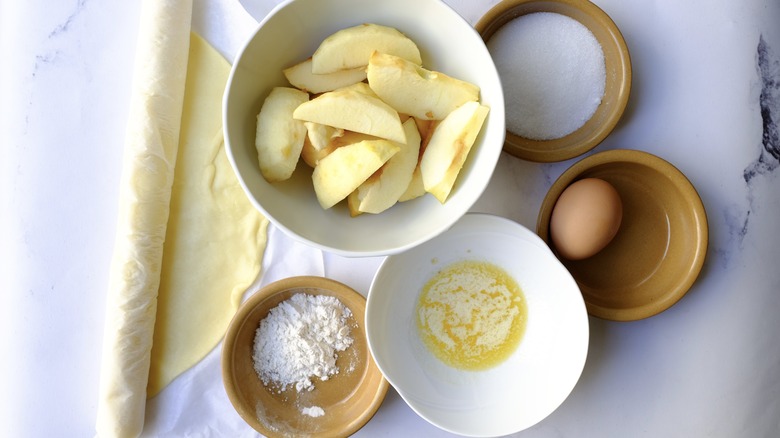 Eric Ngo/Mashed
It takes surprisingly few ingredients to make this gorgeous and delicious French-style tart. All you need is a roll of pie crust, 3 tablespoons of sugar, a tablespoon of flour, an egg, about a quarter stick of butter, melted (but then allowed to cool down some), a couple of apples peeled, cored, and cut into eighths, and as an optional addition, some powdered sugar to sprinkle on the top. Ngo uses Golden Delicious apples, but tells us that "any sweet type of apples" will do.
So sans the optional sugar, that's just six ingredients — and you probably have most of them already!
Prep the mold and make the egg and flour mixture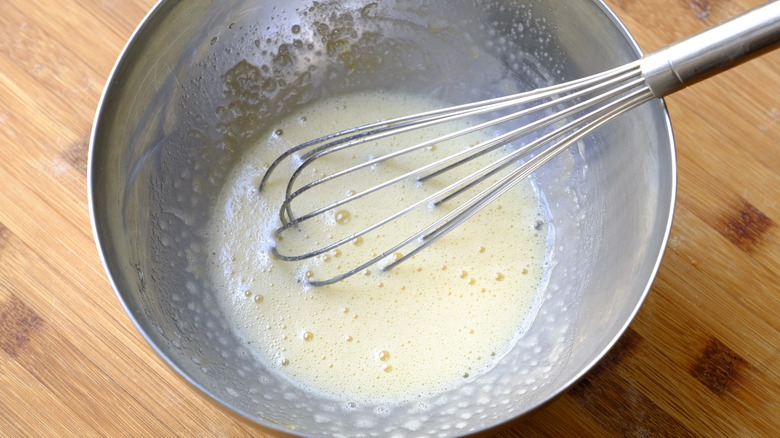 Eric Ngo/Mashed
Start this recipe off by applying a thin layer of butter to a tart mold (or ring) and set it aside. You can also go ahead and preheat your oven to 350 F. Then, in a medium-sized bowl, whisk the egg and sugar together for a good two minutes, or until the blend has achieved a uniform consistency and an evenly pale color. If you haven't yet, now is the time to melt the quarter stick of butter, so it has time to cool a bit.
Next, add the flour to the egg and sugar and mix for one more minute, or until the flour is fully incorporated. Now add in the melted (cooled) butter and mix until everything is blended and smooth.
Prep the crust, then place the apples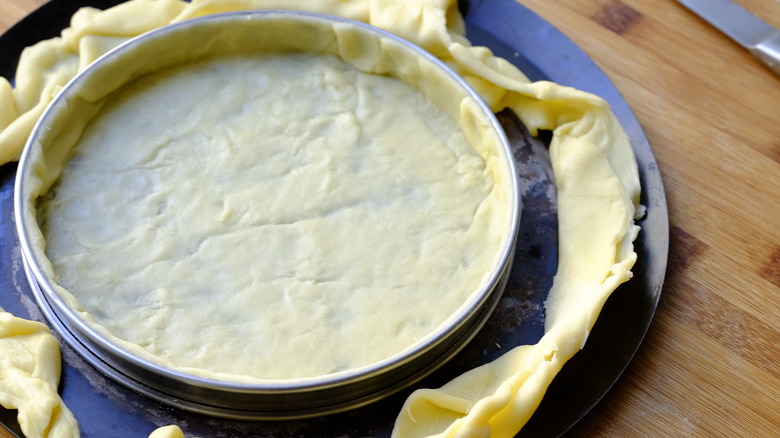 Eric Ngo/Mashed
Next, roll out the pie crust, and then place it in the tart mold or ring, and trim off the edges. Then place the tin with the crust in it into refrigerator until it's ready to be used. 
Now, if you have not done so yet, peel, core, and slice the apples so you have eight or nine thick wedges. Then retrieve the pie crust and place the apples in a circular fan blade-style pattern within it.
Pour in the filling, then bake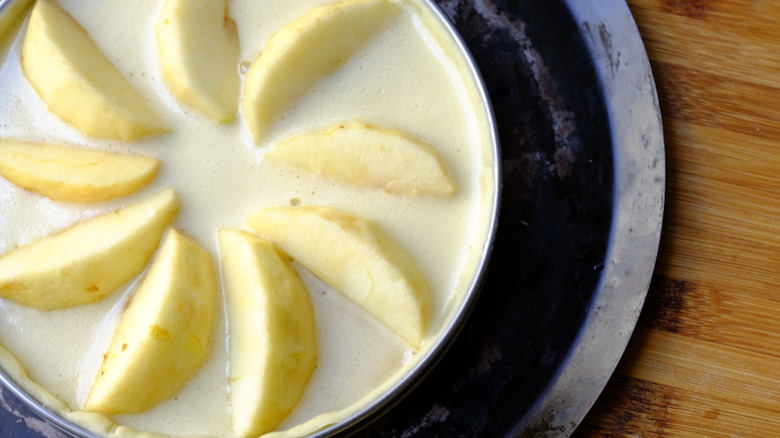 Eric Ngo/Mashed
With the apple wedges arranged in the pie crust, carefully pour or spoon in the egg, sugar, flour, and butter mixture, evenly filling the spaces between the fruit slices.
Now pop the tart into the heated oven and let it bake for 30 minutes. After retrieving the baked tart, wait 10 minutes (or until it has cooled to near room temperature) before taking the tart out of the mold.
If you'd like, now is the time to dust it with powdered sugar, and then slice enjoy! And if you and your fellow "enjoyers" don't eat it all in one sitting, Ngo tells us "This will keep for one to two days at room temperature or in the refrigerator."
Classic French Apple Tart Recipe
When the weather starts to turn crisp, it's time to gather up your apples and start baking! This tart takes just a few minutes to prepare and tastes like fall.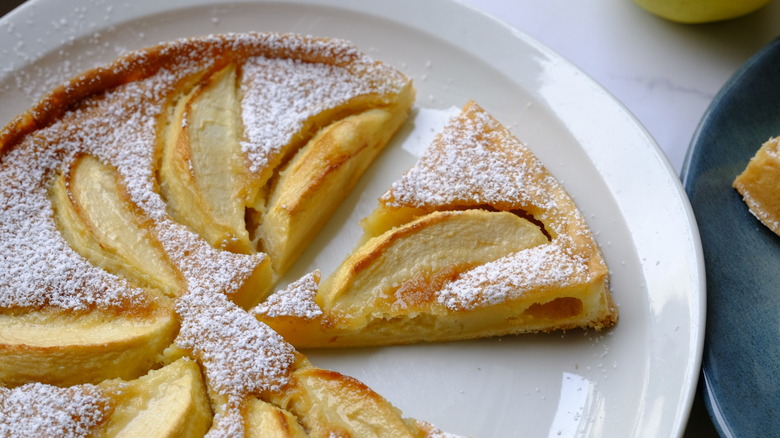 Ingredients
¼ stick of butter, melted, and cooled down, plus more for greasing
1 egg
3 tablespoons sugar
1 tablespoon flour
1 roll of pie crust
2 apples, peeled, cored, and cut into eighths
Optional Ingredients
powdered sugar, for sprinkling on top
Directions
Preheat the oven to 350 F.
Grease a tart mold or ring with butter and set aside.
In a bowl, whisk the egg and sugar together for 2 minutes or until pale in color.
Add the flour and mix for 1 minute or until fully incorporated.
Add in the cooled, melted butter and mix until smooth.
Arrange the pie crust in the tart mold and trim off the edges.
Place the apple slices in a circular pattern in the tart and add in the egg mixture.
Bake for 30 minutes.
Wait 10 minutes or until cooled to room temperature before taking tart out of the mold.
If desired, dust with powdered sugar.
Slice and serve!
Nutrition
| | |
| --- | --- |
| Calories per Serving | 548 |
| Total Fat | 28.7 g |
| Saturated Fat | 12.6 g |
| Trans Fat | 0.3 g |
| Cholesterol | 73.6 mg |
| | |
| --- | --- |
| Total Carbohydrates | 70.4 g |
| Dietary Fiber | 4.4 g |
| Total Sugars | 25.1 g |
| Sodium | 335.0 mg |
| Protein | 4.7 g |