Easy Stuffed Mushrooms Recipe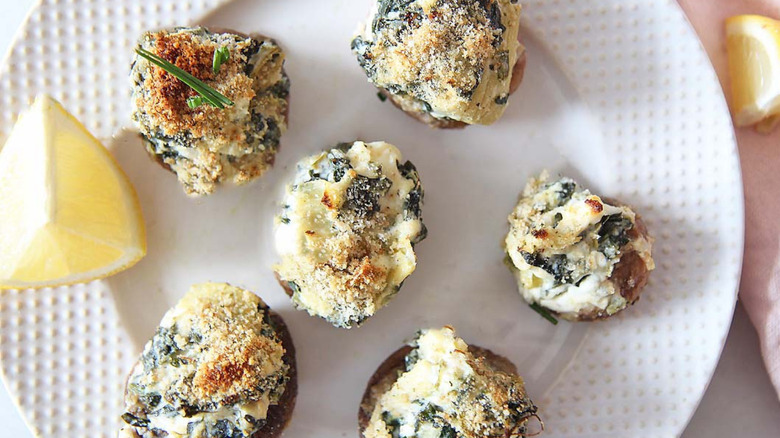 Jason Goldstein/Mashed
Mushrooms are delicious by themselves, but when you add a cream cheese and artichoke mixture to them, it takes these wonderful veggies to a whole new level. That's why stuffed mushrooms are so popular at restaurants. But here's a news flash: You don't need to go to a restaurant to get incredible stuffed mushrooms — you can make them in the comfort of your own home! 
The great thing about mushrooms is that they have a variety of health benefits. According to Healthline, mushrooms have many vitamins and minerals, and lots of antioxidants. Did we also mention that they're low-calorie? One thing is for sure — we all should be eating more mushrooms! If you're in search of a unique appetizer for a dinner party, sporting event, or anything else in between, then look no further than these incredible stuffed mushrooms. Recipe developer Jason Goldstein has a knack for yummy recipes with veggies, and this has to be one of his best.
"This is super easy to make and always is a fan favorite app," says Goldstein. "I actually make it a day in advance and just reheat at 350 F 15 minutes before company comes."
Gather the ingredients to prepare easy stuffed mushrooms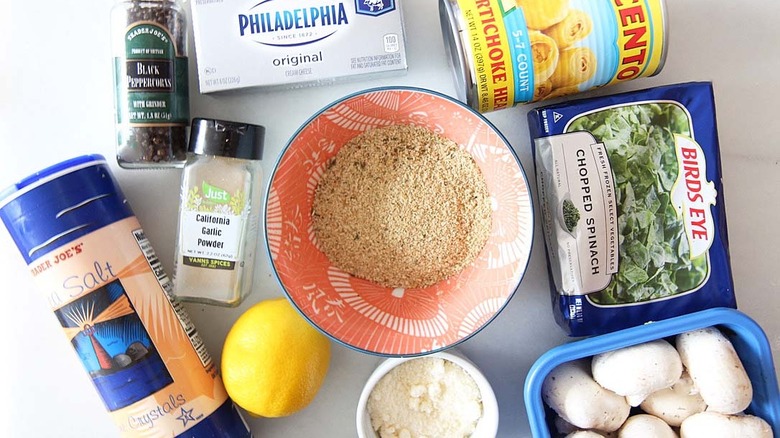 Jason Goldstein/Mashed
The first thing that you will need to do is make a grocery list. If you like to cook, there's a good chance that you may already have a few of these items at home, so be sure to double-check! For starters, you will need a pint of button mushrooms, along with frozen spinach and artichoke hearts. The recipe also has some great cheese for the filling, including cream cheese and Parmesan. In terms of spices, you will need salt, pepper, and garlic powder. Rounding out the final ingredients are seasoned bread crumbs and lemon juice. Once your ingredients are in order, it's time to get cooking!
Preheat the oven, and make the filling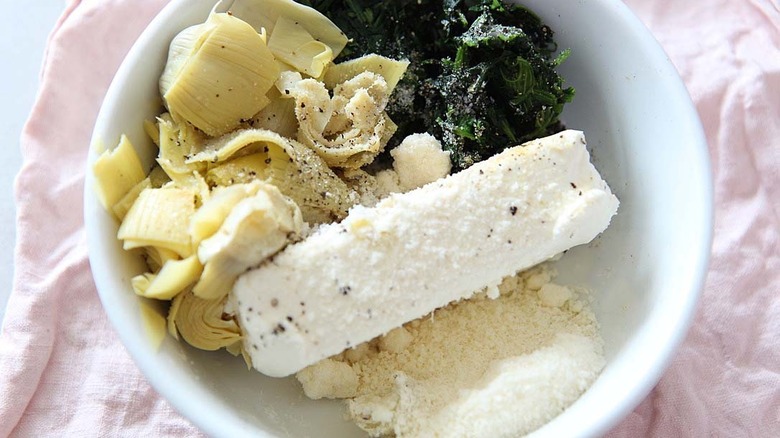 Jason Goldstein/Mashed
The first thing you will need to do is preheat your oven to 375 F. We can never stress enough the importance of preheating the oven to ensure your food will cook properly. Trust us — the right temperature makes all the difference.
In the meantime, grab a bowl, and mix the spinach and artichokes. You will also want to add both cream cheese and Parmesan. In addition, throw in the lemon juice and garlic powder. Give the mixture a few good stirs until it's well-combined. Then, set the bowl to the side, because you will need it shortly.
Grease a casserole dish, and add the mushrooms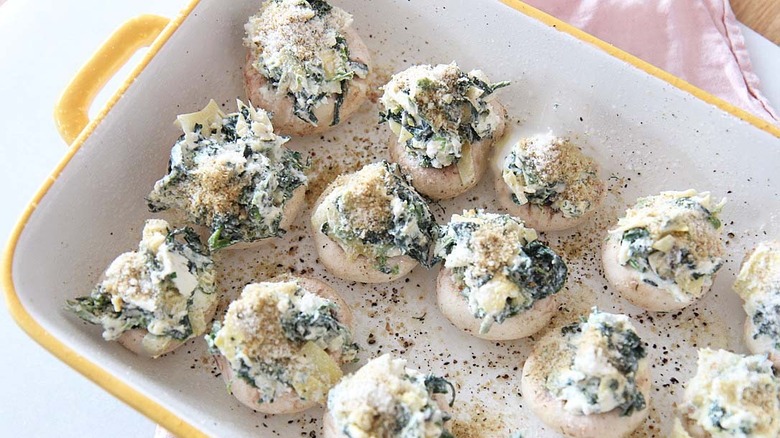 Jason Goldstein/Mashed
Now, you want to take out a casserole dish, and spray it with cooking spray. The cooking spray ensures that nothing sticks to the bottom of it. Next, line up the mushrooms with the cap facing downward. (Remember that you should have already removed the stem and washed the mushrooms ahead of time.)
Once your mushrooms are all in the casserole dish, you'll want to stuff each mushroom with about 2 teaspoons of the mixture. Then, sprinkle bread crumbs over the top. Repeat these steps with each of the mushrooms until you have them all covered. "You can use the same stuffing and stuff into a portobello [mushroom] and eat as [a] dinner-sized portion," Goldstein notes. 
Bake the mushrooms, and squeeze lemon juice over the tops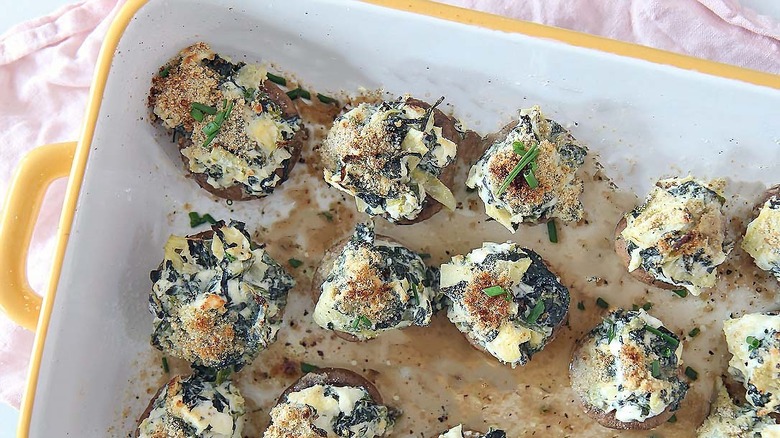 Jason Goldstein/Mashed
Once you have stuffed the mushrooms and sprinkled with bread crumbs, it's time to bake them. By now, your oven should be fully preheated and ready to go. Goldstein recommends sticking the baking dish in the middle rack for even cooking. Bake the mushrooms for 30 minutes. Once they finish cooking, the tops should be a golden brown color, and your kitchen should smell pretty amazing. 
Remove the mushrooms from the oven, and squeeze lemon juice over the top. This adds a little bit of citrus flavor, and it also pairs well with the mushrooms.
Serving suggestions and leftovers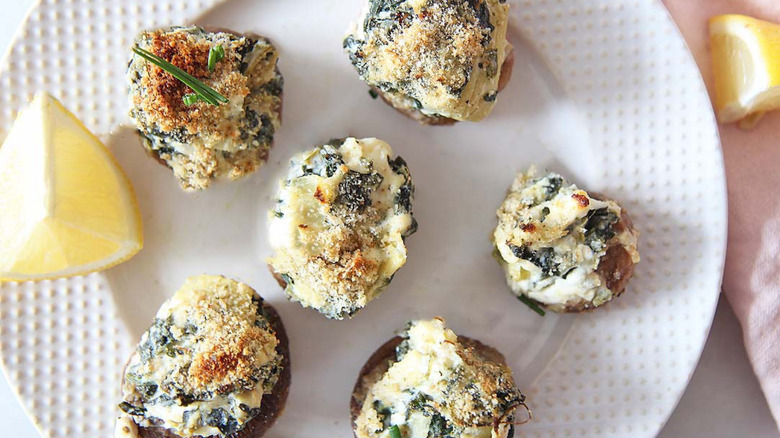 Jason Goldstein/Mashed
Feel free to plate and serve the mushrooms however you would like. These are best when served hot, right out of the oven. Goldstein says that he loves button mushrooms, because they "are the classic mushroom for stuffed mushrooms, but the real reason is [that] it is what my mom used growing up." Ah, the nostalgia!
As for leftovers? Goldstein says they're good for up to four days in the fridge or, "You can freeze the leftovers for [up to] six months in a Ziplock bag." We hope you enjoyed this yummy new appetizer, and be sure to bookmark the page for when you make it again!
Easy Stuffed Mushrooms Recipe
Mushrooms are delicious on their own, but this recipe, which includes a cream cheese and artichoke stuffing, takes these wonderful veggies to a whole new level.
Servings
15
Stuffed mushrooms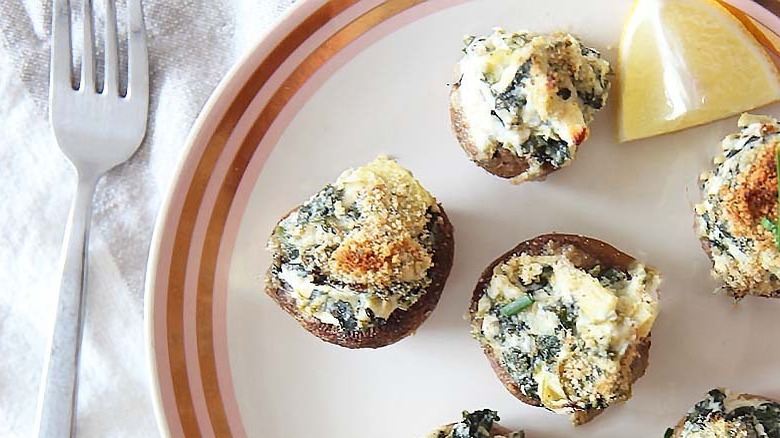 Ingredients
1 (10-ounce) package frozen spinach, thawed, squeezed of water
1 (14-ounce) can artichoke hearts, chopped
1 (8-ounce) package cream cheese, softened
¼ cup Parmesan cheese
2 teaspoons salt
2 teaspoons pepper
1 teaspoon garlic powder
1 lemon, juiced + extra lemon for squeezing
1 pint button mushrooms, stems removed
½ cup Italian seasoned bread crumbs
Directions
Preheat oven to 375 F.
Mix together the spinach, chopped artichoke hearts, cream cheese, Parmesan cheese, salt, pepper, garlic powder, and lemon juice in a bowl, and then set aside.
Spray a casserole dish with cooking spray, and line up the mushrooms, cap-side down.
Spoon approximately 2 teaspoons of the spinach-artichoke mixture into each mushroom. Top each mushroom with a sprinkle of bread crumbs.
Bake in the middle rack of an oven for 30 minutes, until golden brown.
When done, squeeze with more lemon, and serve.
Nutrition
| | |
| --- | --- |
| Calories per Serving | 97 |
| Total Fat | 6.2 g |
| Saturated Fat | 3.4 g |
| Trans Fat | 0.0 g |
| Cholesterol | 18.3 mg |
| | |
| --- | --- |
| Total Carbohydrates | 7.8 g |
| Dietary Fiber | 2.3 g |
| Total Sugars | 1.4 g |
| Sodium | 186.9 mg |
| Protein | 4.1 g |