Easy Chicago Deep Dish Pizza Recipe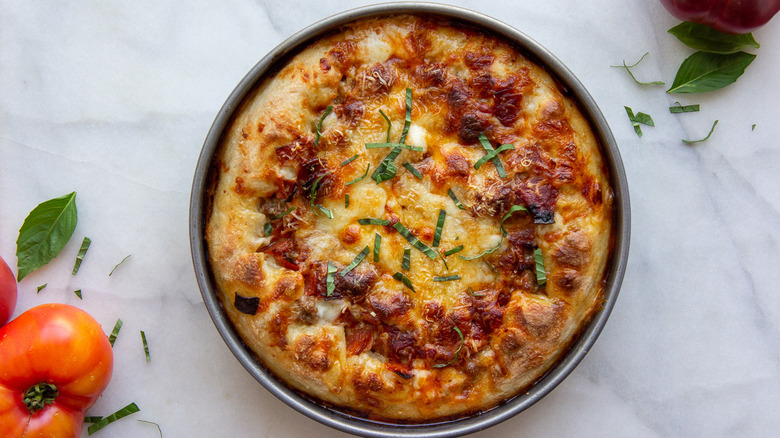 Mikayla Marin/Mashed
An authentic deep dish pizza is a beautiful thing and definitely worth a trip to the Windy City to try one. But, for those who sadly will not be traveling and don't live near an authentic pie shop, the next best thing is to make it yourself. The great news is, with this easy Chicago deep dish pizza recipe on hand, you can enjoy all the layers of cheese, meat, sauce, and dough without taking much time or effort or even leaving your house!
Recipe developer Mikayla Marin from The Flour Handprint shares a quick and incredibly easy way to get a delicious deep dish pizza that's made with the authentic flavors in mind. This meal can on your dinner table whenever the craving strikes. In fact, with just eight minutes of prep work, you can have your own personal deep dish in the oven and baking. You can be curled up in your comfiest clothes enjoying delicious Chicago pizza on your couch, no matter where you live. If this sounds like a great plan, change into something cozy, and let's get started!
Gather the flavorful ingredients for this easy Chicago deep dish pizza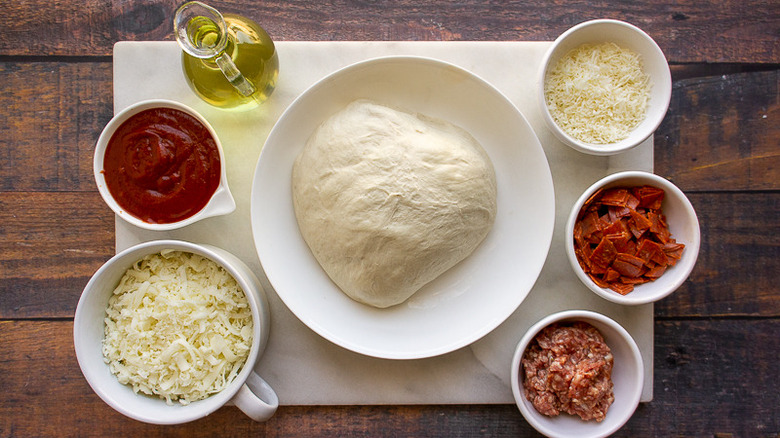 Mikayla Marin/Mashed
There are lots of ways that a deep dish pizza could take a lot of time: making your own pizza dough from scratch, making sauce, and heck, even making your own Italian sausage. But, for our easy version, we'll be employing some high quality shortcuts to save time.
First comes the dough, and you'll need 1 pound of pizza dough to make this recipe. Marin recommends purchasing a good quality dough to replicate something nearer to a real thing. You can usually find fresh dough in deli sections of grocery stores. But, Marin recommends stopping in at your favorite local pizza shop. Many pizza places will sell you a pound or two of their dough so you can make your own!
With a good dough in hand, all that's left to have ready is a splash of oil, 1 ½ cups of good shredded mozzarella, ⅓ pound of ground raw Italian sausage (you can take it out of the casing if you need to), ⅓ cup of pepperoni, ⅔ cup of pizza sauce, and ½ cup of shredded Parmesan cheese.
Make it your own with different ingredients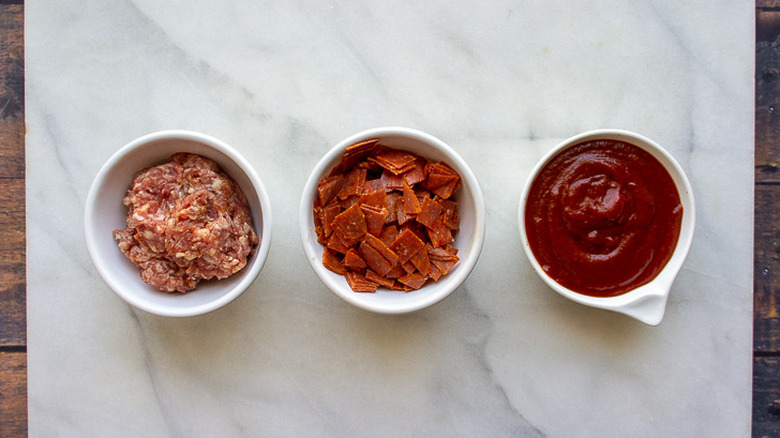 Mikayla Marin/Mashed
While Marin chose flavors that would closely replicate toppings you might find in a Chicago deep dish, she wanted to note that just like any pizza, it's completely customizable. Add in veggies, or swap either the Italian sausage or pepperoni for your favorite meats to make it your own. For the sauce, Marin notes you can use your favorite pre-made pizza sauce, jarred marinara, or even whip up a quick marinara from canned tomato sauce and a few herbs from your backyard or kitchen garden.
Preheat the oven, and prepare the pan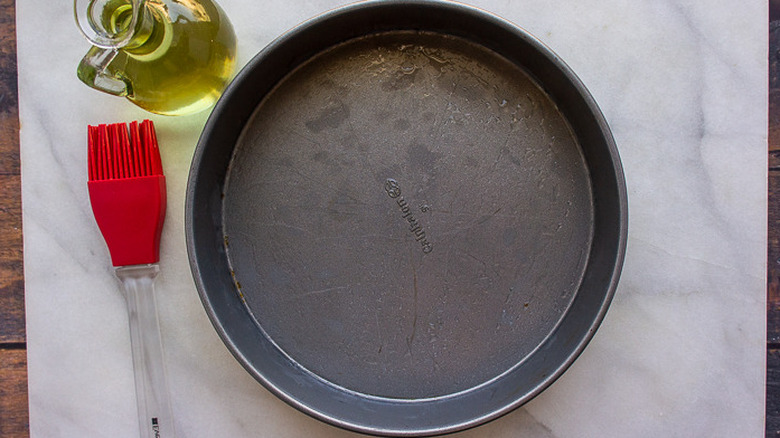 Mikayla Marin/Mashed
This really is an easy Chicago deep dish pizza. By the time your oven preheats, the pizza will be assembled and ready to go in.
Start by preheating the oven to 425 F. Then, with just a teaspoon or so of oil, grease the bottom of a 9-inch cake pan. You could also use a springform pan, or deep pie dish. Marin says to be sure you don't oil the sides however, as the dough will fall quickly, and create a lot of frustration while filling. If you need to shred any cheese, do it now, and Marin also recommends chopping your pepperoni quickly for more even distribution and easier slicing after it's baked.
Fit the dough into the pan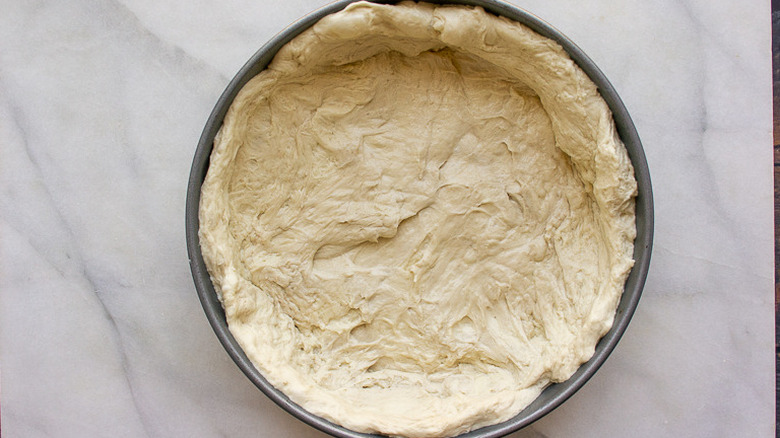 Mikayla Marin/Mashed
Start by gently working the dough into a circle about the size of the pan. If it's very sticky, just lightly flour the surface and your hands. Then, place the circle in, and work from the middle out, press your knuckles into it, pushing it toward and up the edges of the pan. You'll want to try and keep the dough an even thickness across the bottom and sides.
Go around and press the dough into the sides to secure it. Marin notes that if it does sink a little during assembly, just gently press it back up again.
Layer in the pizza toppings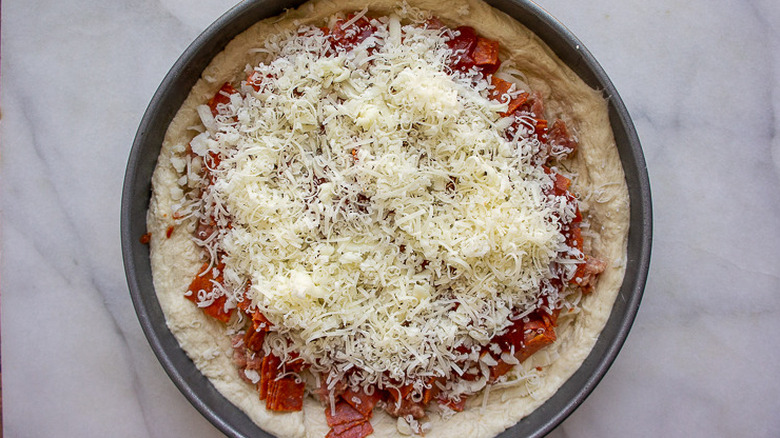 Mikayla Marin/Mashed
You have some liberty in how things are assembled, of course, but Marin says the first and bottom layers really should be cheese. Start with 1 cup of mozzarella, and sprinkle it across the bottom. It acts like a buffer from the grease of the meat and sauce while the dough bakes so you don't end up with a soggy bottom.
You'll then add in the Italian sausage. (Raw is fine — no need to precook it.) Top that with the chopped pepperoni, and pour the sauce over that. Try to keep all the toppings, including the sauce, distributed evenly across the entire pizza. Finally, top it with the remaining mozzarella and all the Parmesan cheese.
Bake until deeply golden brown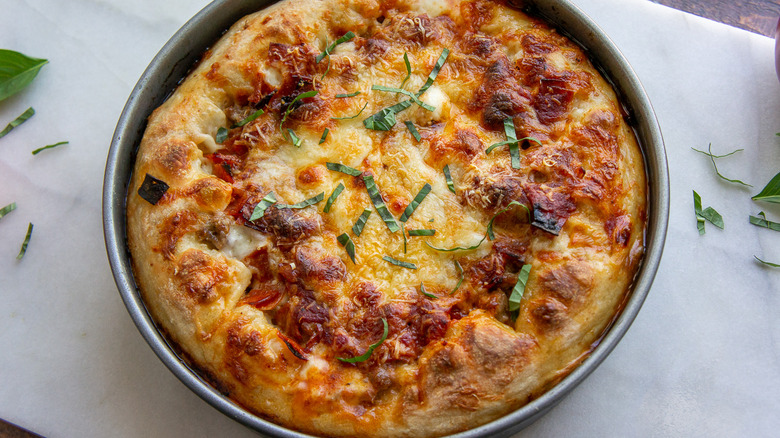 Mikayla Marin/Mashed
That's it! Slide your masterpiece into the oven, and let it do its thing for 30 to 35 minutes. It's pretty difficult to tell if the bottom is cooked through just by looking, so Marin recommends letting it cook until the sides are deeply golden brown and the cheese on top has started to caramelize.
When it's done, set it somewhere to cool for 10 to 15 minutes. (This lets the filling set so you get an even slice and makes the pan a little easier to manage.)
Once it's cooled a bit, it's time to cut into it! You can use a knife, but Marin recommends a pie server to scoop out a perfect slice of easy Chicago deep dish pizza. Enjoy hot, and store any leftovers for up to three days, reheating in the oven or microwave. Our guess is that you may not have any leftovers, but if you don't, just make another!
Easy Chicago Deep Dish Pizza Recipe
With this easy Chicago deep dish pizza recipe on deck, you can enjoy layers of cheese, meat, sauce, and dough without taking much time or effort!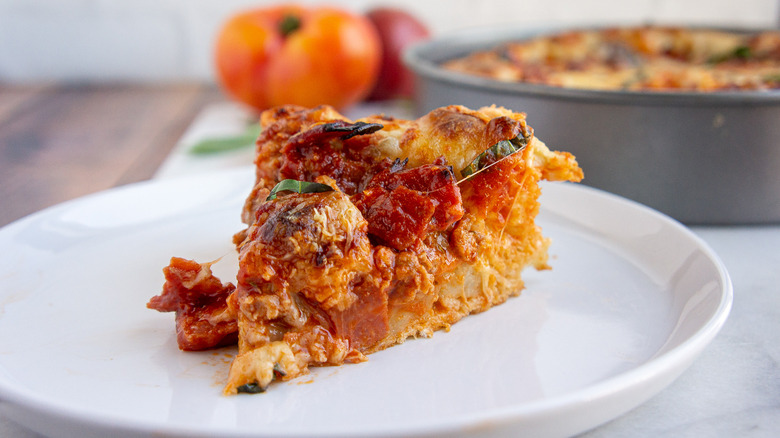 Ingredients
1 teaspoon oil
1 pound pizza dough
1 ½ cups mozzarella, shredded
⅓ pound Italian sausage
⅓ cup pepperoni, diced
⅔ cups pizza sauce
½ cup Parmesan
Directions
Preheat the oven to 425 F.
Lightly oil the bottom, but not the sides, of a 9-inch cake pan.
Press the dough into the bottom and up the sides of the pan.
Sprinkle 1 cup of mozzarella cheese in first.
Add in the raw Italian sausage on top of the cheese.
Add the pepperoni, and then the pizza sauce.
Top with remaining mozzarella and Parmesan cheese.
Bake for 30 to 35 minutes, or until dough is deeply golden brown.
Nutrition
| | |
| --- | --- |
| Calories per Serving | 508 |
| Total Fat | 26.5 g |
| Saturated Fat | 11.2 g |
| Trans Fat | 0.2 g |
| Cholesterol | 62.8 mg |
| | |
| --- | --- |
| Total Carbohydrates | 41.4 g |
| Dietary Fiber | 2.6 g |
| Total Sugars | 2.1 g |
| Sodium | 1,311.3 mg |
| Protein | 24.4 g |