Why Eric Wareheim Didn't Want To Be On Guy's Grocery Games - Exclusive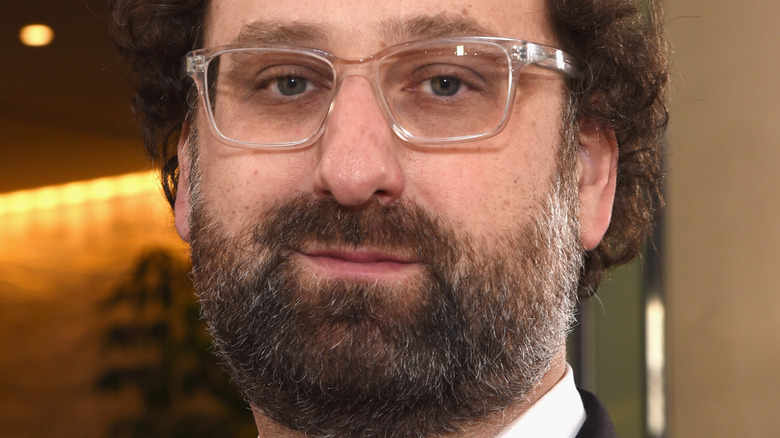 Michael Kovac/Getty Images
We may receive a commission on purchases made from links.
There have been plenty of notable crossovers throughout the annals of television history from Steve Urkel's pop-in on the Tanner family during an episode of "Full House" (via YouTube) to the long-awaited collision of the worlds of "The Simpsons" and "Family Guy," per EW. While these inter-network unions make sense (or, at the very least, dollars and cents), imagine bringing together two figures who reside on completely opposite ends of the pop culture spectrum — like irreverent Adult Swim staple Eric Wareheim and Food Network everyman Guy Fieri. Turns out, the "Tom Goes to the Mayor" co-creator and the mayor of Flavortown actually came close to bridging their far-flung universes.
During an exclusive interview with Mashed, Wareheim revealed he was invited to be a judge on the Fieri hosted Food Network competition "Guy's Grocery Games." The "Foodheim" author was intrigued by the offer, but only if a particular condition was met. "Whenever I'm on a late night show, it's usually like a comedy experiment," he said.
But apparently, Wareheim's antics had no place on the "Chopped" and "Supermarket Sweep" hybrid. "They kind of sniffed that I was trying to do something weird," he admitted. "And they're like, 'All right, you can't do that. You got to be like normal.'"
Forcing Wareheim to play it straight is akin to stripping Fieri of his goatee and Oakleys, so, alas, the bizzaro fusion was ultimately not meant to be.
Eric Wareheim discusses his favorite food shows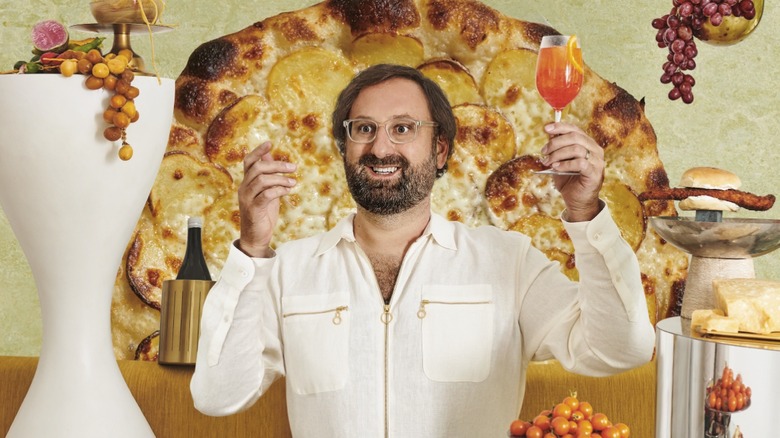 Julia Stotz
While Wareheim acknowledged that Fieri's "Diners, Drive-Ins and Dives" is ideal for late-night hotel viewing, admitting, "Just watching people eat grilled cheese is fun," his culinary content of choice tends to reside beyond the Food Network. "I actually am way more obsessed with, kind of, the new generation of food shows," he said. "And there's so much stuff out there right now that's fun, like 'Chef's Table' and David Chang shows."
Wareheim appeared on the first season of Chang's Netflix series, "Ugly Delicious," chowing down on curry fried chicken at Tokyo convenience store Lawson with Aziz Ansari, according to Food and Wine. Wareheim and Ansari also shared another memorable meal on-screen at the legendary Osteria Francescana for the second season of "Master of None," after bumping into chef Massimo Bottura when the show was filming in Modena (via restaurant website).
"Aziz and I were just having a coffee somewhere," said Wareheim, "and he runs in and is like, 'Hey, I know you guys are shooting in my town. Why aren't you shooting in my restaurant?' And we're like, 'You're literally the number one restaurant in the world. We didn't even want to ask you.' He's like, 'No, you're filming tomorrow. We're doing it in the private room."
Of course, it was an offer they couldn't refuse. "It was just mind-blowing," said Wareheim. "It was like one of the coolest experiences, because we were living in Italy and making pasta, but he kind of showed us his way of doing it." Bottura remained friends with Wareheim after the shoot and even penned a thoughtful blurb for "Foodheim." "What he wrote about me so warmed my heart," Wareheim said.
Get inside the mind of Wareheim and try out one of his dishes after picking up your own copy of the book "Foodheim."