Guy Fieri's Secret To The Perfect Vegan Cheeseburger
Christian Petersen/Getty Images
For some time now, consumer trends have pushed the food industry to find and produce more sustainable forms of food. Now a stroll through your local supermarket or grocer is littered with tons of products that fall under the vegetarian and vegan categories in an effort to satiate people's desire to eat healthier. The urge to consume more meat-free options has spilled into what folks are having delivered to their homes and buying at the store. Veg News cites how orders on Grubhub for Impossible Cheeseburgers have gone up about 222% percent in states like New York, Oregon, and Illinois. Folks can now find things like vegan nuggets, non-dairy yogurt, vegan corn dogs, vegan "chicken" patties, and vegan "burgers." 
While some food items are hits, more times than not, they can be a huge miss — a sentiment that famed Diners, Drive-Ins, and Dives host and chef Guy Fieri agrees with (via Food and Wine). While hosting a demo at the 38th Food and Wine Classic in Aspen, Fieri admitted, "Most veggie patties suck." This strong sentiment (along with his skills as a chef) is probably why he went on to create his take on the perfect vegan cheeseburger. 
Fieri's vegan burger contains mouthwatering grains and nutrient-packed veggies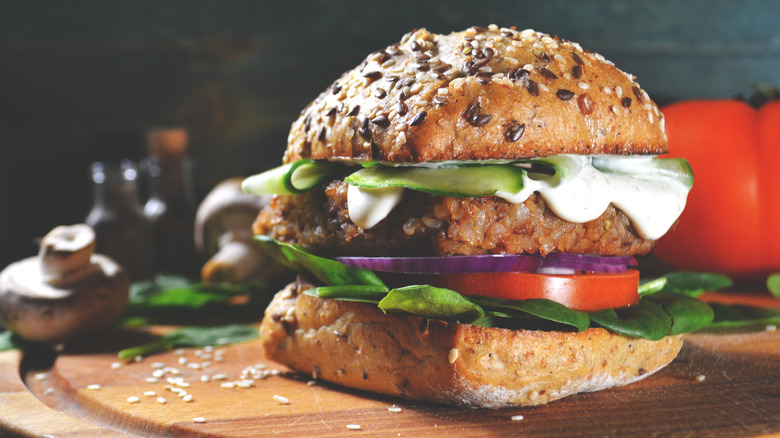 Polina Yanchuk/Shutterstock
So what's in Guy Fieri's perfect vegan patty? Food and Wine details that it's quite easy to replicate at home. Fieri loves to use grains and veggies when constructing his burger. All folks will need are brown rice, quinoa (a special love of Fieri's), mushroom, corn, peppers, and, if needed, panko crumbs to help keep the patty firm. Notably missing from this recipe are beans: Fieri believes that adding beans to the mix would make the patty too mushy for consumption, so he opts for the firmness in grains to help him achieve the desired texture he is looking for. 
Where did Fieri find the inspiration to create such a delectable veggie treat? He has his late sister Morgan to thank. According to Food and Wine, Fieri lost his younger sister to cancer in 2011, but sometime before this she had enlisted his help in revamping her diet as she was reportedly getting tired of eating grilled vegetables all the time. Armed with his expert knowledge of food, he set down a delicious path of creating not only amazingly flavored dishes for her but dishes which required no meat, eggs, or dairy to make them. And what does Fieri like to top his vegan burger patty with? Food and Wine notes that Fieri tops his with shredded lettuce, onions, tomatoes, pickles, crunchy fried onions, his Donkey Sauce, and a cashew-based cheese sauce.