This Soup Inspired Lidia Bastianich's Upcoming 2021 Cookbook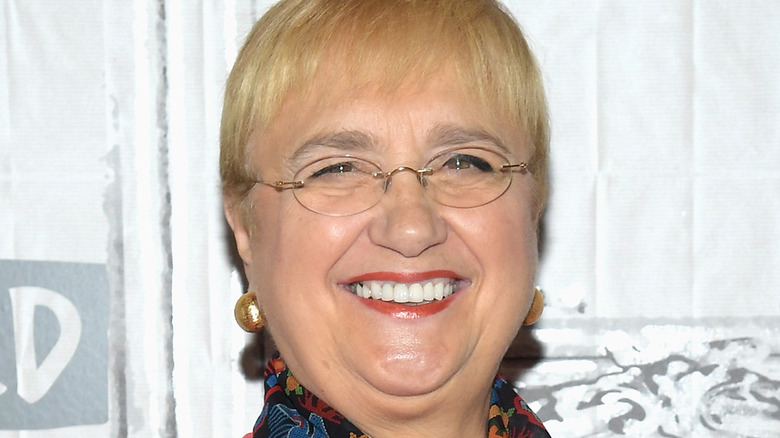 Ben Gabbe/Getty Images
We may receive a commission on purchases made from links.
Lidia Bastianich spent much of 2020 and the pandemic revisiting one of her favorite recipes: rice and potato soup. In fact, the family-friendly dish inspired the theme of her forthcoming cookbook titled "Lidia's a Pot, a Pan, and a Bowl: Simple Recipes for Perfect Meals," which comes out this October. In an interview with Taste of Home, the Italian chef and restaurateur explained that the vegetable soup is both "economical and delicious," making it the perfect backbone for a cookbook centered around easily achievable one-pot meals.
Fans of Bastianich know that she loves a dish that can be reinvented a million ways on a dime — literally and figuratively. While her rice and potato soup is made with Idaho potatoes, carrots, celery, tomato paste, long-grain rice, Grana Padano, and a collection of herbs, many of those ingredients can be swapped out to fit your desired taste — except, of course, for the potato, rice, and Grana Padano cheese. "None of that grated cheese works because it loses some of the flavor. Get a chunk," Bastianich quipped.
Bastianich's cookbook comes out October 19, 2021
Lidia Bastianich's homemade rice and potato soup may be the inspiration behind her upcoming cookbook, but fans can expect to see a lot more than just soup recipes on its pages. Slated to hit shelves on October 19, 2021, "Lidia's a Pot, a Pan, and a Bowl" will include more than 100 "homey" recipes for those looking to spend less time in the kitchen prepping, cooking, or cleaning, per Penguin Random House. The book has instructions for balsamic chicken stir-fry, penne with cauliflower and green olive pesto, skillet lasagna, beer-braised beef short ribs, and apple cranberry crumble, to name a few.
A combination of old mixed with new, Bastianich's new cookbook can be your personal cheat sheet for quick yet flavorful meals, many of which are made in one or two pots and with less than six ingredients. "Lidia's a Pot, a Pan, and a Bowl" can be pre-ordered on Amazon or through Penguin Random House. In the meantime, find the soup recipe on Bastianich's website.