Simple Vegetable Soup Recipe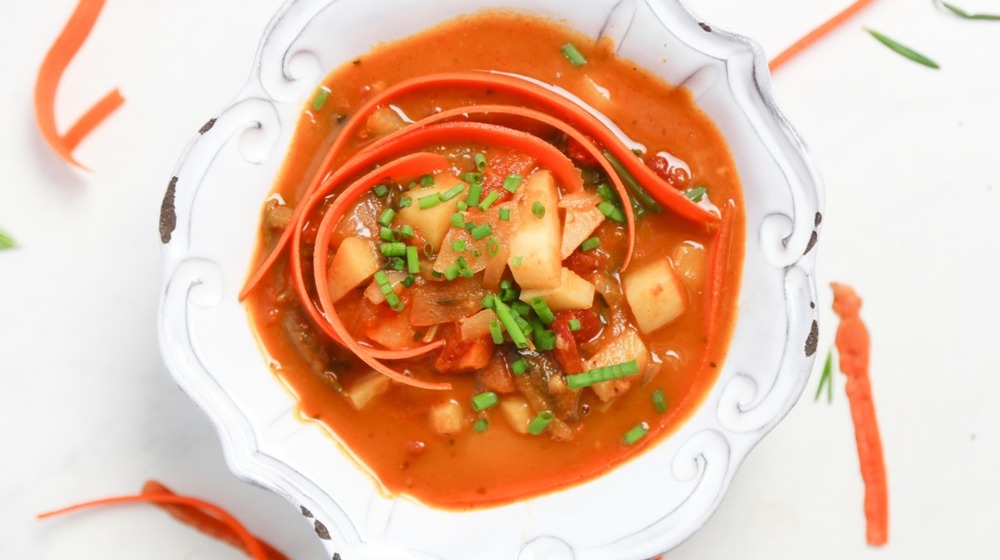 Maren Epstein/Mashed
Is there anything more comforting than a warm bowl of vegetable soup on a chilly winter night? Indeed, healthy eating expert and professional chef Maren Epstein, who blogs at Eating Works, tells Mashed, "Wintertime is the ultimate soup season." Her take on traditional veggie soups however is that they tend to use summertime ingredients, like zucchini. Through this recipe, she says, "I wanted to showcase some of the seasonal produce available in wintertime, which is why I used potatoes, parsnips, and carrots."
Epstein tells us this yummy and satisfying soup is perfect to cook up "in the afternoon for dinner or on Sunday nights." She also offers this timesaving tip: "Put [the soup] in mason jars to enjoy for lunch throughout the week." The plant-based chef notes the dish is hearty enough for dinner and adds, "Plenty of my clients and family will have a big bowl of winter soup for lunch and be perfectly fine! If you want to make it even heartier, you can put a little bit of pasta or rice into it." 
Whether you enjoy soup as a starter, a dinner, or a lunch, you'll love this unique take on a winter favorite.
Gather the seasonal ingredients for your vegetable soup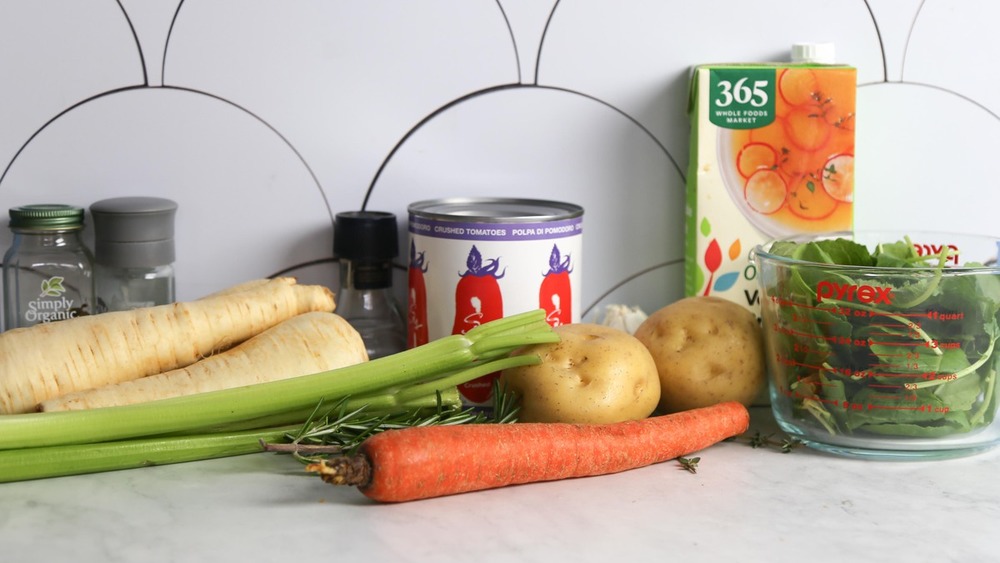 Maren Epstein/Mashed
Some of the ingredients for this winter vegetable soup will be familiar: olive oil, white onion, sea salt, carrots, celery, garlic, potatoes, tomatoes, stock, Parmesan cheese, rosemary, bay leaves, and thyme. But Epstein adds parsnips, cilantro, and baby kale to her recipe. 
If you aren't sure exactly what a parsnip is, you aren't alone. As Epstein explained, "Parsnips are tubers that are harvested in the winter." She added, "A parsnip is kind of a cross between celery and carrots. It looks like a carrot, but they are thicker and have white flesh. The more they ripen, the sweeter they get!" 
As far as how she selected the Italian seasoning specifically for this soup, she told Mashed, "I wanted to pick something that everyone would likely have on hand. An Italian blend can be found in virtually every supermarket. The spices are strong and go well with this soup's tomato base."
Chop those veggies just right for your vegetable soup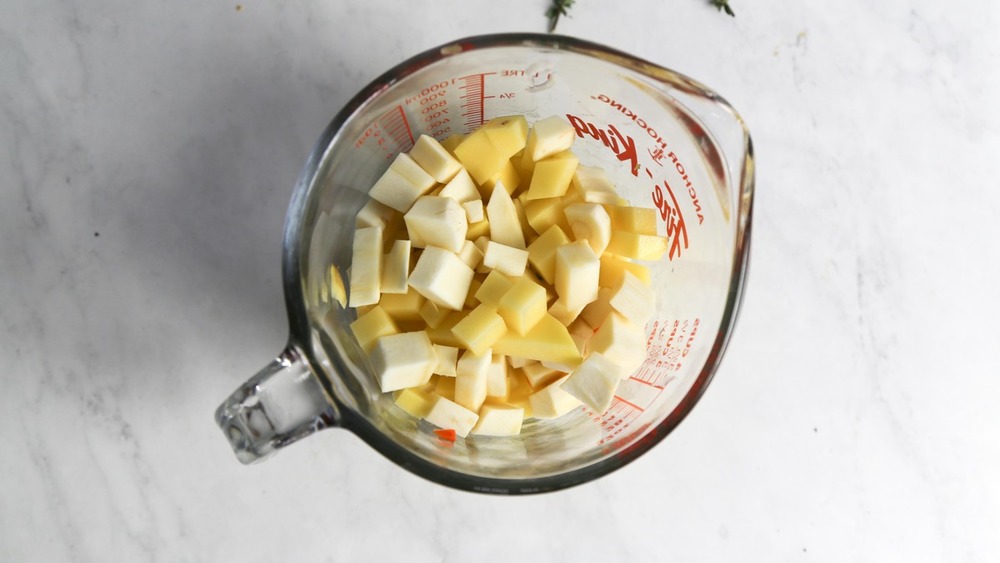 Maren Epstein/Mashed
Perhaps the most time-consuming step of this winter vegetable soup recipe is the chopping. Epstein recommends cutting "the carrots, potatoes, celery, and parsnips into bite-sized pieces." And there's a reason for this approach, with the chef telling Mashed, "I find that the smaller the vegetables, the easier they fit on your spoon! That way, every bite is full of flavor."
After chopping your veggies, it's time to heat oil in a pot. The onions and salt cook first — then, add your carrots, celery, and garlic. "Use a garlic press to mash the garlic," Epstein advises home cooks, adding, "If you don't have a garlic press, you can simply mince it. But a garlic press is a great kitchen tool to have on hand. It instantly crushes the garlic and releases the flavor without the manual labor of chopping."
Cook all your seasonal veggies for your vegetable soup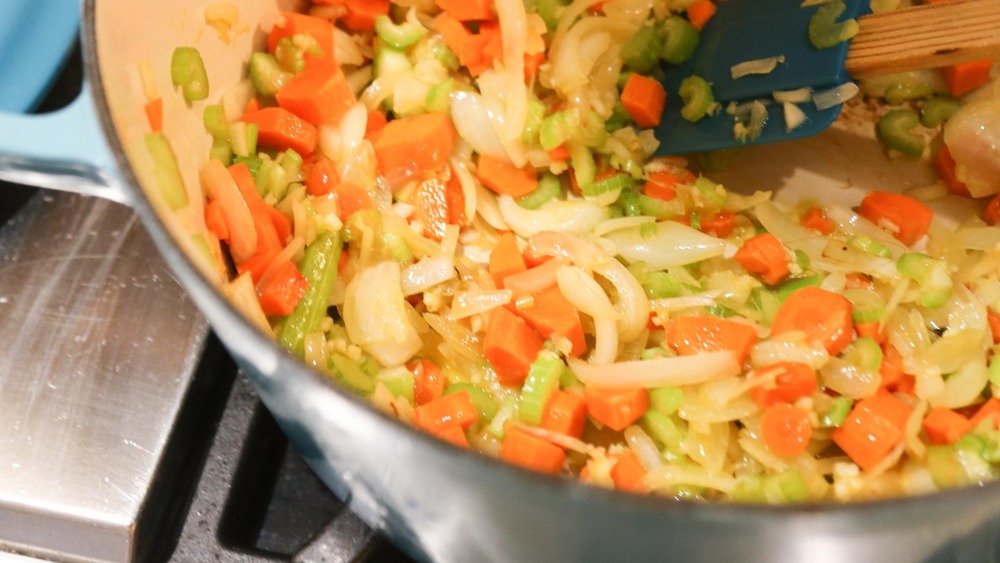 Maren Epstein/Mashed
After about ten minutes of sautéing the onion, garlic, celery, and carrots for your vegetable soup, go ahead and add in those hearty, bite-size chunks of parsnip and potato. Season with the Italian seasoning, and cook for an additional ten minutes until a delicious smell fills your kitchen. 
The next step is to simmer the softened vegetables with your tomatoes, vegetable stock, bay leaves, thyme, rosemary, and cilantro. Since you'll remove these flavorful spices (except the cilantro) before enjoying the soup — they're tough to eat — Epstein says, "The best way to do this is to tie them up together in a bundle with some cooking string. That way, you can remove them all at once."
Cook up your flavorful vegetable soup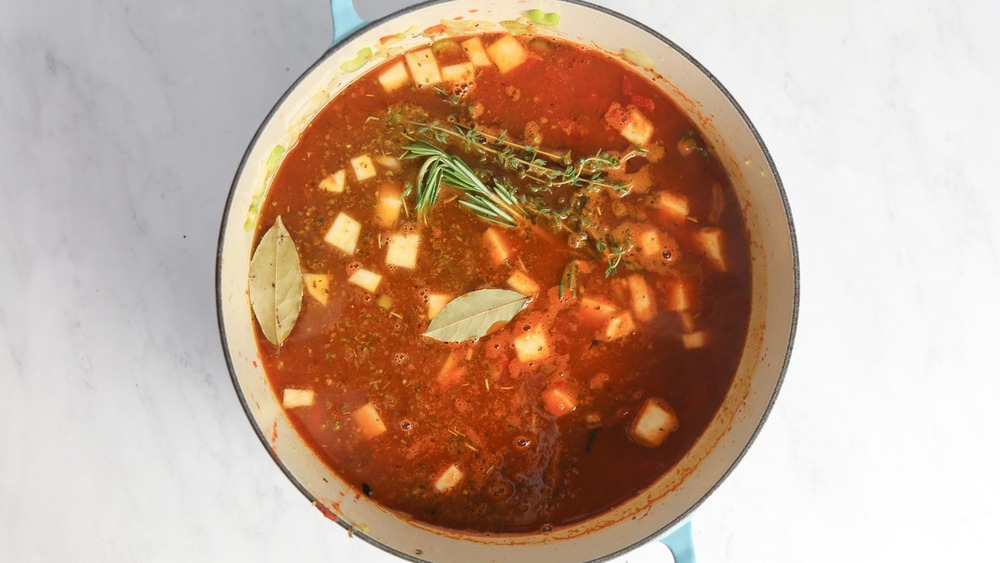 Maren Epstein/Mashed
Bring your vegetable soup to a rolling boil. While you wait for this to happen, prep your kale, which you'll then add in to simmer with the soup for about 20 minutes. Epstein told Mashed, "I like to buy the baby kale that is pre-washed because it's less work." For this soup, "simply tear the leaves over the pot and drop them in." Meanwhile, she adds, "If you use mature kale like Lacinato, rinse off the leaves, trim away the stems, and shred them into smaller pieces before you drop them into the soup."
When your potatoes and parsnips are tender, this fragrant and warming meal is almost ready to bring to the table!
Perfect your vegetable soup's texture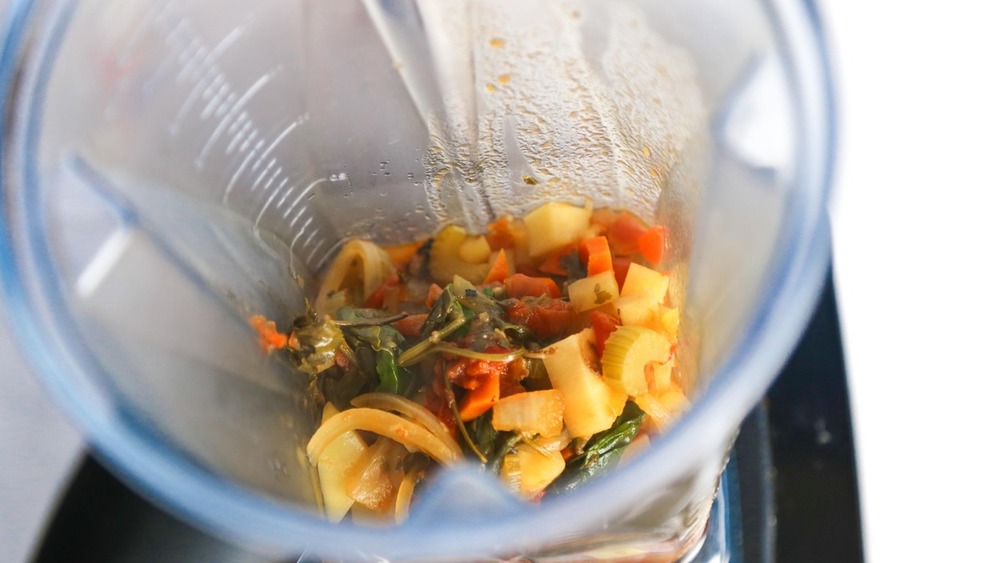 Maren Epstein/Mashed
The final step before tasting your winter vegetable soup is to remove two cups of the mixture — after first removing your tied-together rosemary, thyme, etc. — and place that portion in a blender. Why? Epstein explained, "Blending part of the soup makes it thicker." She further adds about this method, "It's a great way to thicken the soup without using any kind of dairy." If you don't own a blender, she notes, "you can use an immersion blender and just give the soup a few quick pulses with it. Alternatively, you can simply not blend the soup. It will still be delicious — just slightly thinner." 
Serve up a memorable meal of vegetable soup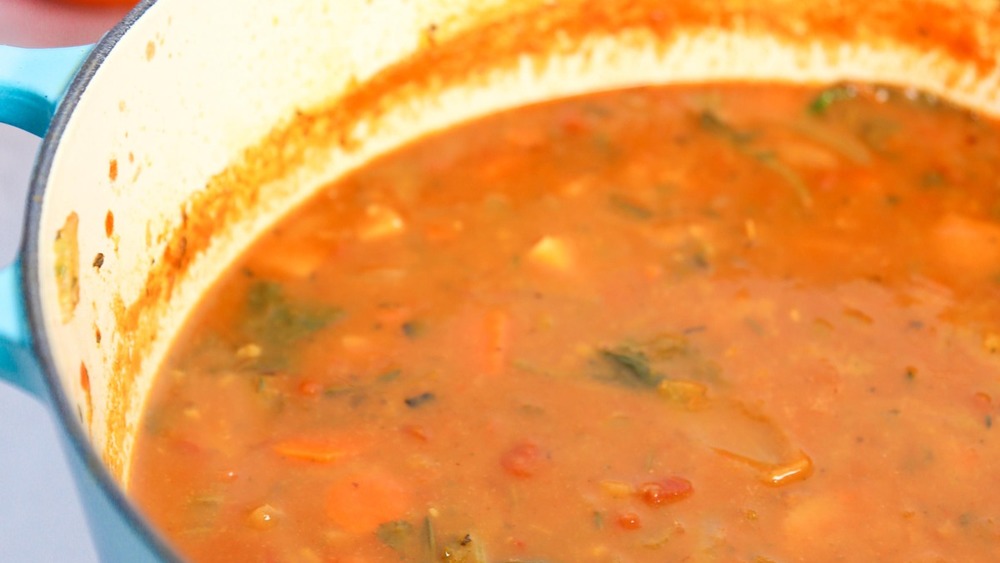 Maren Epstein/Mashed
After adding back in the blended portion, it's finally time to ladle the vegetable soup into bowls and dig in! "I love enjoying this soup with a big hunk of crusty baguette bread with melted gruyere cheese on top," Epstein told Mashed. Um, we're practically drooling! She added, "As a healthier alternative, you can serve it with a simple winter salad." 
Meanwhile, the chef also offers a tip for serving this soup in an unforgettable way for a special occasion: "If you're thinking of serving this soup over the holidays and really want to wow your guests, you can put it in a bread bowl!"
Simple Vegetable Soup Recipe
Is there anything more comforting than a warm bowl of vegetable soup on a chilly winter night? Try out this simple soup recipe.
Ingredients
2 tablespoons olive oil
2 cups white onion, chopped
1 teaspoon sea salt
1 cup carrots, peeled and chopped
1 cup celery, peeled and chopped
4 cloves garlic, pressed
2 cups Yukon gold potatoes, peeled and chopped
2 cups parsnips, peeled and chopped
2 Tablespoons Italian seasoning
1 32-ounce can crushed tomatoes
6 cups vegetable stock
2 bay leaves
15 sprigs thyme
4 branches rosemary
½ bunch cilantro, washed and shredded
4 cups baby kale
½ cup Parmesan cheese, grated
Directions
Heat oil in a 4-quart pot over medium heat. Add chopped onions and salt, sauté until soft and clear (7 minutes). Add carrots, celery and garlic. Sauté until soft for another 10 minutes.
Add parsnips, potatoes, and Italian seasoning. Sauté for another 10 minutes until fragrant.
Add tomatoes and sauté for 4 minutes. Add vegetable stock, bay leaves, thyme, rosemary, and cilantro. Place the lid onto the pot to partially cover.
Raise the heat and bring the soup to a rolling boil. Once boiling, reduce to a simmer (tiny bubbles) and add kale. Simmer until the potatoes and parsnips are soft (20 to 25 minutes).
Remove the bay leaves, rosemary, and thyme. Ladle 2 cups of vegetables from the soup into a blender, and blend until smooth. Pour the blended mixture back into the pot and combine.
Ladle into bowls and serve immediately.