Andrew Zimmern Is Loving This Nostalgic Jeni's Ice Cream Flavor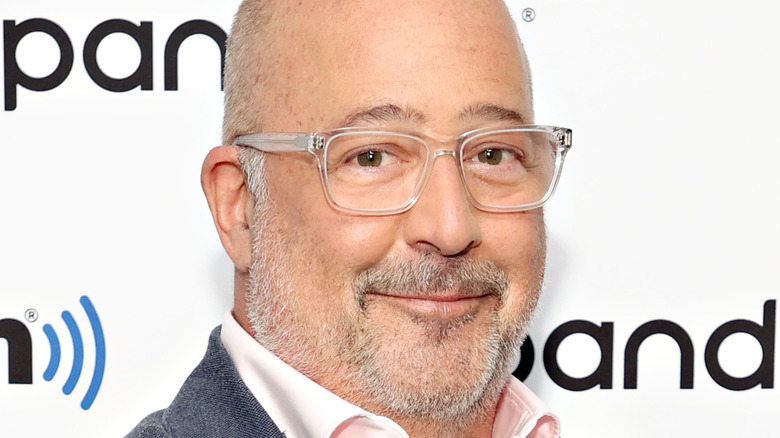 Cindy Ord/Getty Images
Andrew Zimmern has been indulging in some nostalgia, dessert nostalgia that is. In a post shared on Instagram of Jeni's Orange Freeze-flavored ice cream, he told his fans and followers the item was "the orange Dreamsicle of my youth." "This one is craaaazy good and dairy free," he continued before hurriedly adding, "NOT sponsored just stuff I really like."
The Orange Freeze is one of Jeni's Splendid Ice Creams' recent additions, all of which drew inspiration from summertime treats. If the reactions to Zimmern's enjoyment can be taken as a general consensus, the new flavors have found favor. As of writing, 2,645 people have liked the post. "I literally live for Jeni's," one devotee enthused. "The absolute pure taste of childhood for people of our vintage," another agreed. "I must find them by the case."
For those who are curious how the delicious ice cream is dairy-free, the ingredients are listed on the website. The base ingredient is coconut cream, which is a thicker version of coconut milk.
What is Andrew Zimmern's beloved Orange Freeze?
The marketing of this specific flavor very much banks on the customer knowing what the inspiring drink is. The brand's website even describes the ice cream in that vein: "Orange Freeze is inspired by that unforgettable, milky orange mall beverage (you know the one)." But if you don't know the one, you are very much in the dark.
In a recipe for a homemade Orange Freeze, Your Homebased Mom explains that it is effectively an orange milkshake, but made with sherbert instead of ice cream. Her recipe calls for orange sherbet, orange juice, and milk. You place the three into the blender and play a more ceremonial version of "Will it blend?" Spoiler: it does. If you want to maintain the dairy-free quality of Jeni's Splendid Ice Cream, you could replace the milk with coconut milk and the orange sherbet with orange sorbet and added coconut cream. Taste of Home explains that the main difference between the two is the cream present in sherbet. This gives it its silky texture. So, substituting one ingredient with two that can work together will achieve the same effect.