This Famous Musician Helps Grow Avocados For Chipotle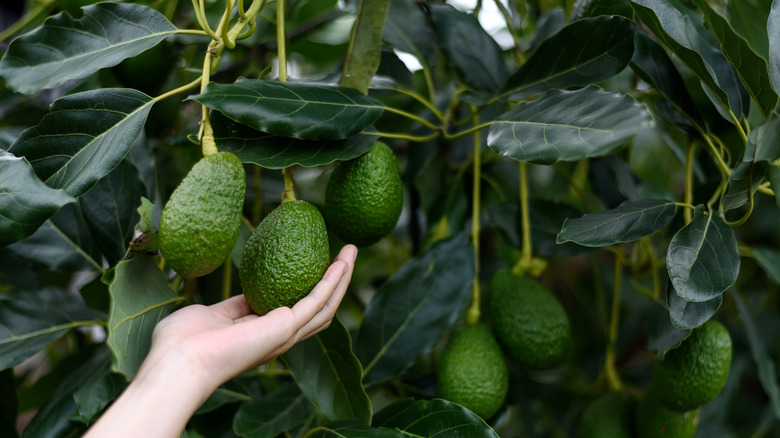 jaboo2foto/Shutterstock
Sure, you go to Chipotle for their shredded meat-filled burritos and tacos, perhaps a salad too if you're feeling like something lighter that day. But what really is considered one of the best menu items at the Mexican fast food chain surprisingly happens to be a condiment — a good ol' bowl of guac (via TimeOut). If you've ever dipped your finger into Chipotle's guacamole, you know that a Chipotle order is simply not complete without a side (or two) of guacamole.
While some guacamole recipes call for secret ingredients that add a bit of oomph to the avo dip, Chipotle's version has a loyal fanbase perhaps because of how simple it is. In a recipe released by the chain on Twitter, Chipotle makes its guacamole with a mere six ingredients — lime juice, cilantro, red onion, jalapeño, kosher salt, and Hass avocados.
Although seemingly simple, Chipotle's guacamole is pretty darn delicious and that might have something to do with where Chipotle sources its produce from. In 2020, the chain bought 11% of its total produce from 54 local farmers in the U.S., spending $28.1 million on locally grown, organic ingredients (via Supply Chain Dive).
Of the 54 farmers that supply Chipotle black beans, tofu, cilantro, and avocados, there's one famous farmer in the mix who supplies a tiny portion of the chain's enormous daily avocado needs: Jason Mraz.
The Mraz family grow organic California avocados for Chipotle
Jason Mraz fans probably know all about the two-time Grammy winner's musical career (via Grammy Awards). What may surprise you, however, is that Mraz purchased a 17-acre avocado grove in 2004 (via the Mraz Family Farms website). Now a family-run farm operated by Jason, his wife Christina, and other family members, Mraz Family Farms cultivates coffee and avocados on its lush green farm.
Mraz told Chipotle that his farm, which he lovingly calls Mranch, grows organic avocados in a sustainable way, adding that: "I've seen firsthand how some farming practices can benefit the earth versus how other, less-careful choices contribute to pollution and the climate crisis ... we prioritize regenerative, organic farming, growing resilience in addition to good foods."
Mraz's farming principles seem to gel well with Chipotle's commitment to supporting local farmers that focus on sustainable farming. The chain's Chief Corporate Affairs Officer Laurie Schalow said that "we believe that how we grow our food is how we grow our future and look forward to partnering with Jason Mraz and others who are passionate about helping us cultivate a better world."
According to a press release, of the 4.5 million cases of avocados that Chipotle is projected to use this year, it seems that a tiny portion of that is going to come from Jason Mraz's avocado grove. Not that you need another reason to order Chipotle's guac, but knowing that you might get a chance to taste an avocado grown by Jason Mraz himself might do it.