Pop-Tarts Is Finally Bringing Back This Limited-Edition Fall Flavor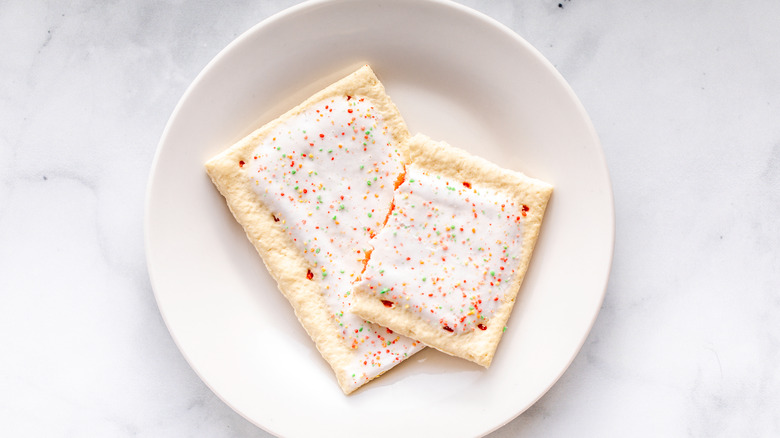 Duntrune Studios/Shutterstock
One of the most loved food items ever, Pop-Tarts can be a real treat for your taste buds. With plenty of flavors like blueberry, mango, banana crème pie and more, foodies have loads of options to explore. A description on the brand's official website offers more insight into the company's unconventional outlook. It notes that a Pop-Tarts Toaster Pastry is a lot more than what it looks like. It's really "a tiny edible monument to subverting the norm."
You can relish the snack after toasting it. Alternatively, heat it up in the microwave for mouthwatering results. Want something a little more adventurous? Try popping a Pop-Tarts Toaster Pastry into the freezer for 20 minutes and voilà! You'll have a frosty treat ready.
If you like stocking up on these pastries, you'll be thrilled to hear this: The brand is ready to sell another flavor for the fall season, according to Best Products.
Say hello to the pumpkin pie flavor
As reported by Best Products, Pop-Tarts has released an irresistible flavor for fall: It's the delectable pumpkin pie pastry that will take you back to sweet treats from Thanksgiving. For those not in the know, this one is a recurring favorite that first launched all the way back in 2010. The brand's toaster pastries have a delectable pumpkin pie-flavored filling surrounded by a delicious pastry crust. Wait till you read about the frosting: It's made of "orange, yellow, and brown sprinkle specs."
Want to take the Pop-Tarts pumpkin pie flavor to the next level? Don't hesitate to toast it for richer flavors and experiment with a bit of whipped cream. In fact, a Reddit user vouches for this method. "I love them. But they definitely have to be toasted to make them taste right. Somehow, this flavor just isn't as good cold," the Redditor wrote.