The Best Thanksgiving Pies You've Never Heard Of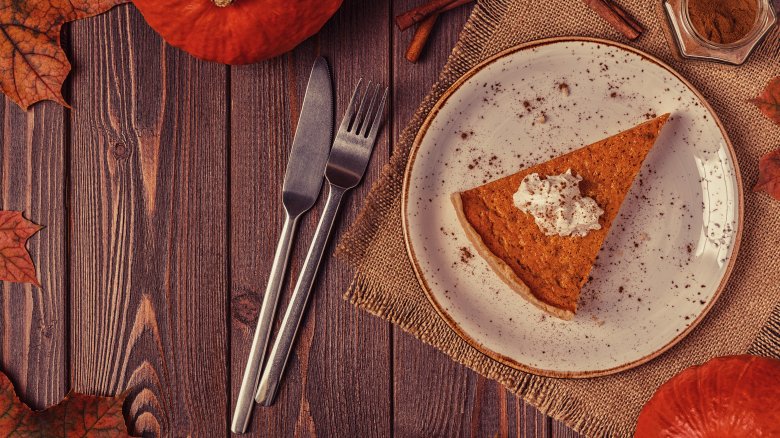 Shutterstock
There's a lot to love about Thanksgiving dinner, starting with the turkey and ending with a food-induced snooze-fest on the couch afterwards. Even if the basics are the same across the country — turkey, stuffing, and mashed potatoes — every family has their own special twist they put on it somewhere. Sometimes, it's the pie.
If your family is still finishing off Thanksgiving dinner with the same old pumpkin pie, it's time to mix things up. There are a ton of delicious options and ideas out there that still capture the essence of all your favorite autumn spices in a pie plate, while being different enough it'll get all kinds of comments and requests for the recipe. Best of all, most of these ideas are so easy you can use your favorite, stand-by pie crust and just fill it with something super unique. What's your favorite autumn flavor? Whether it's apple, maple, gingerbread, or anything with a splash of boozy fun, there's something here for you. Let's talk pies!
Candy apple pie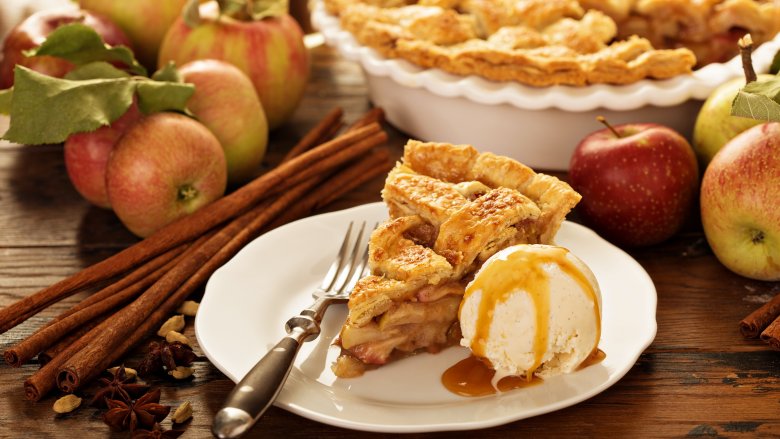 Shutterstock
This is the time of year when all the cider mills have been going in full force, and there are a ton of freshly picked apples just waiting for you at your grocery store. Even if you're not lucky enough to live in a place where you can go apple-picking, chances are good you have your favorite style of apple pie. But have you ever tried a candy apple pie?
There are a few different ways you can do this, so let's start with toffee apples. Cook your apples first — as usual — with a dash of lemon juice and cornflour, along with sugar, cinnamon, and ginger to taste. After letting them cook for around 10 minutes, stir in a can of caramel. Cool, then bake in your crust of choice. Delicious, right?
Alternately, you can also do a cinnamon candy version of this same idea. Before simmering your apples, combine apple juice, cinnamon candies, and sugar in a saucepan, and melt. Pour that over your apple pie filling, and you can even add a dash or two of whiskey for an adult version that proves you're never too old for candy apples.
Gingersnap pumpkin pie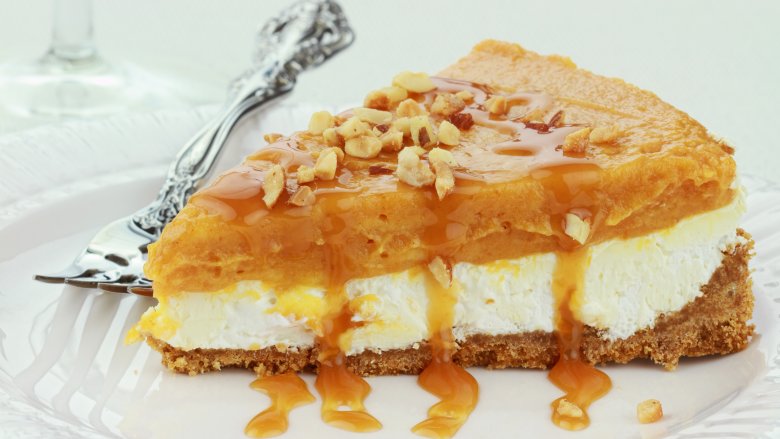 Shutterstock
There are few flavors that say autumn better than pumpkin and ginger, so how about switching up your traditional Thanksgiving pumpkin pie for something extra-special? Instead of the normal pastry crust, start with one stick of melted butter, a pinch of cinnamon and ginger, and a tablespoon or two of brown sugar. Mix, then add as many crushed gingersnap cookies as you need to in order to make a crumble crust that holds together when you press it into the pie plate. Then, make your pumpkin pie filling as usual, and you've upgraded your pie in perhaps the easiest way possible.
If you're looking for another little trick that goes perfect with a gingersnap crust, don't use just plain pumpkin pie filling. Whip together a package and a half of cream cheese with a cup of sugar, then spread on top of the crust or swirl through your pie filling for a super-creamy pumpkin pie that's sure to win over even those strange family members who swear they don't even like pumpkin.
Chai spiced pear (or apple) pie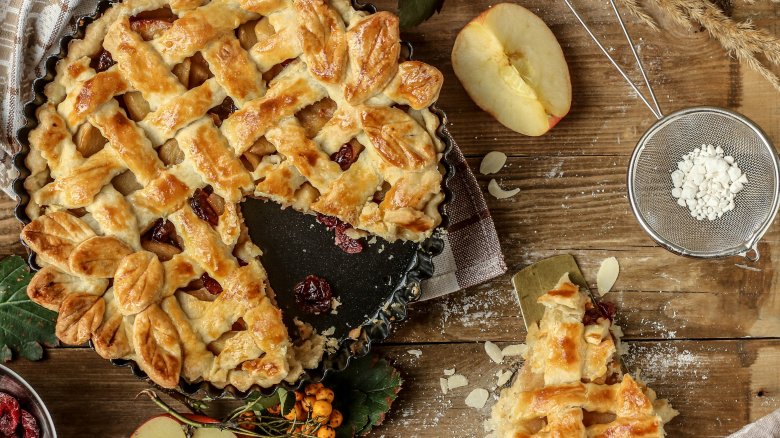 Shutterstock
Cold autumn nights are the perfect time for hot cups of chai tea, so how about taking those same flavors and stirring them up into your pies? Apples and pears work equally well for this, and both are the perfect background for these warm, delicious flavors. And it's easy, too!
Use your favorite pie crust, then prep the filling in pretty much the same way no matter which fruit you choose. You're going to thinly slice enough apples or pears to fill your pie, then put them in a bowl with a dash of lemon juice, vanilla to taste, and your chai spices: that's cinnamon, ground ginger, nutmeg, cardamom, and a dash of black pepper. That last one might sound pretty strange, but it's absolutely necessary. Trust us!
Let your mix sit for a while, and if you prefer a slightly softer pie, feel free to cook the apples or pears in a saucepan for just a few minutes. It's the flavors of the spices that make this one extra-special, and there's just no way to go wrong.
Bourbon/whiskey pecan pie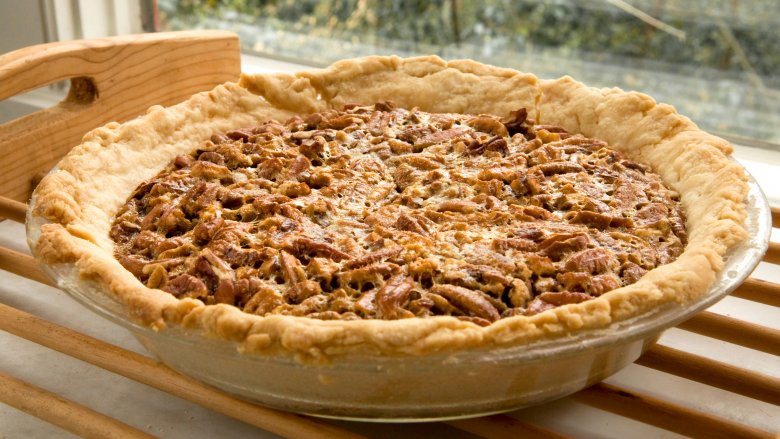 Shutterstock
Start with your pecans, and you can do a rough chop in a food processor or leave them halved. Add a stick of melted butter, half a cup of brown sugar, a quarter cup of sugar, one cup corn syrup (dark if you prefer), and bourbon to taste. Here's where you can get a little creative, too. It's not just bourbon that works great in the pie, you can also use some of your favorite whiskey... even better, use a bottom-shelf bottle that's not going to cost you a fortune. You're complimenting the flavors of the pie, after all, not drinking it straight. Don't break the bank since you don't have to, but one thing you can definitely consider is opting for the honey bourbons and whiskey.
This pie is super sweet, and that means it's perfect for serving alongside some vanilla ice cream. Dress it up a bit with a simple honey bourbon sauce (just use a quarter cup of honey and cook with a few tablespoons of butter and brown sugar, along with a dash of vanilla and bourbon to taste). Who could forget to save room for that?
No-bake cranberry pie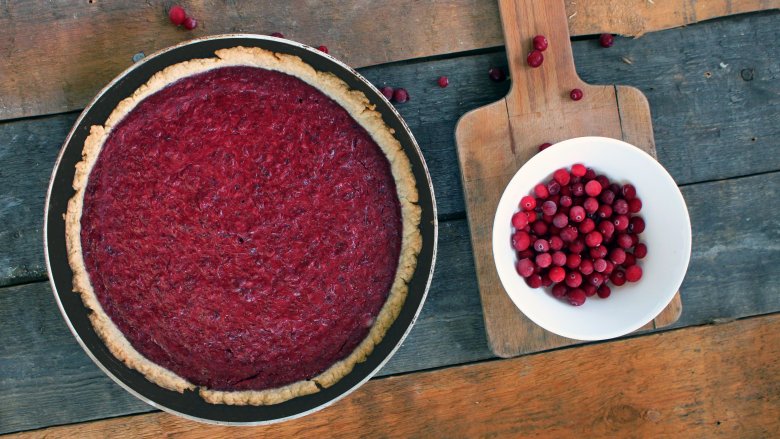 Shutterstock
Everyone is familiar with the madness that goes along with Thanksgiving Day prep, and it doesn't matter how big your kitchen is, it's never quite big enough. If that sounds like your kitchen and oven space is always at a premium, how about a no-bake pie that's super easy to make alongside some other dishes?
Start by picking up an extra can of cranberry sauce at the store (don't worry, no one's going to tell). When it comes time to make the pie, boil one package of Jell-O (the flavor is up to you, but we'd go with something red), and whisk in your cranberry sauce. Then, just let that cool.
You might already have a favorite no-bake pie crust, but if not, just start with a stick of melted butter, a few tablespoons of brown sugar, and cinnamon and ginger to taste. Add crushed graham crackers (starting with about a cup and a half) until you have a firm mixture you can press into the pie plate. Pour in your slightly cooled gelatin mixture, throw it in the fridge to let it firm up, and you're done!
Sweet potato meringue pie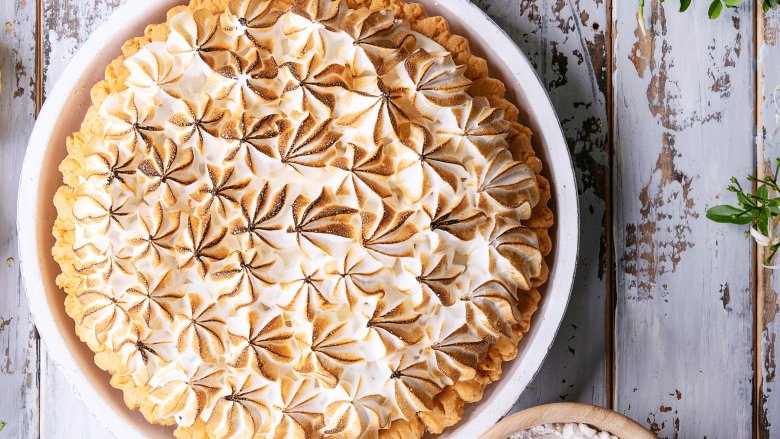 Shutterstock
Sweet potatoes aren't just for the main meal, they're also delicious for dessert. This is also a versatile pie that's great with a standard crust, or with a graham cracker crust. (Especially if you include some chopped pecans with those crumbled crackers.) Either way, you'll start making your filling by microwaving your sweet potatoes until they're soft enough to scrape out the flesh. Then, puree your potatoes (about 4 decently-sized potatoes should be plenty), with half a cup of brown sugar and the same of heavy cream, three eggs, and a few tablespoons of bourbon or whiskey to taste. (You can also substitute in molasses here.) Once everything is incorporated, pour into your crust and bake until dry and firm to the touch.
Then, all that's left is the meringue. Whip four egg whites until they start to change consistency, and gradually add in sugar. Keep beating the mixture and adding the sugar a little bit at a time, until it forms peaks that stand on their own. Scoop onto your cooled pie, broil for just a few minutes to darken the meringue, and serve.
Maple-bourbon cream pie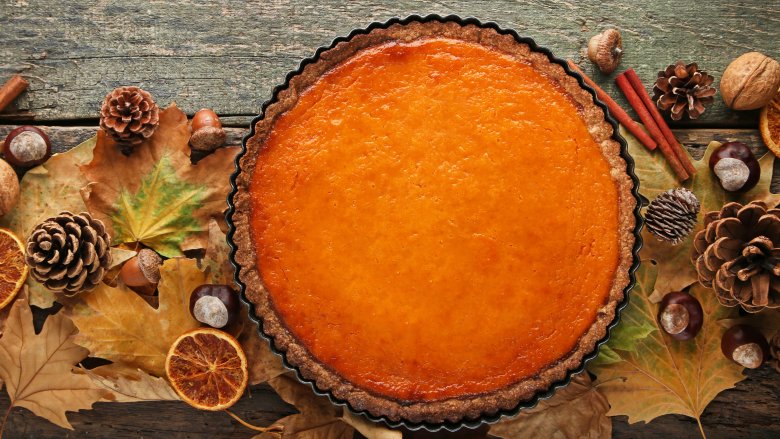 Shutterstock
Cream pie might not seem like the first thing you think of when you think Thanksgiving, but a maple-bourbon cream pie? Yes, please!
This is another great time to use your favorite graham cracker or pecan-based crust, and you'll need to make and bake that first so it cools as you're making the filling. Start with slightly less than a cup of maple syrup, and reduce it in a saucepan. As that's reducing, whisk together three whole eggs, two egg yolks, a cup of brown sugar, and a pinch each of salt and flour. Then, add the reduced maple syrup, cinnamon and nutmeg to taste, a dash of bourbon (or whiskey), and a cup of heavy cream. Mix well.
Pour into your crust, then bake for around 40 minutes. It may not look done at the end of this time, but it'll set as it cools. Add some whipped cream, and you have a guaranteed hit.
Grape slab pie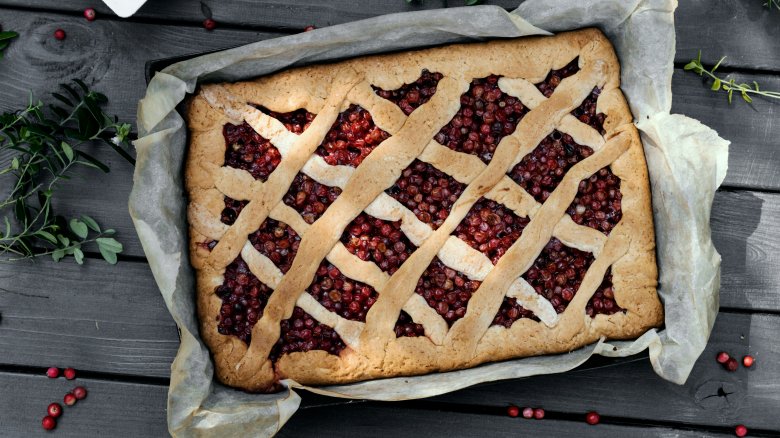 Shutterstock
If you're looking for something that's really going to get people to sit up and take notice, grape slab pie is the way to go. For starters, it's not baked in a traditional pie plate, it's done in a sheet pan. And, it's incredibly easy.
Line the sheet pan with your favorite pie crust, then add your mixture. Go traditional, and you'll just need enough seedless black grapes to fill your pan. Toss them whole into a mixture of sugar seasoned with a dash of lemon zest, a bit of lemon juice, a pinch of chopped rosemary, and a dash of salt and pepper. Add cornstarch to thicken until it's a jelly-like consistency, then spread on your sheet pan. Cover with another layer of pie crust, brush with an egg wash, and bake.
Thanksgiving is a busy time, and there's nothing wrong with taking a few shortcuts. This pie is perfect for sheets of pre-made dough, and cutting the top sheet into strips for an easy lattice layer isn't just pretty, it'll look so good no one will question whether or not it's from scratch.
Turtle pumpkin pie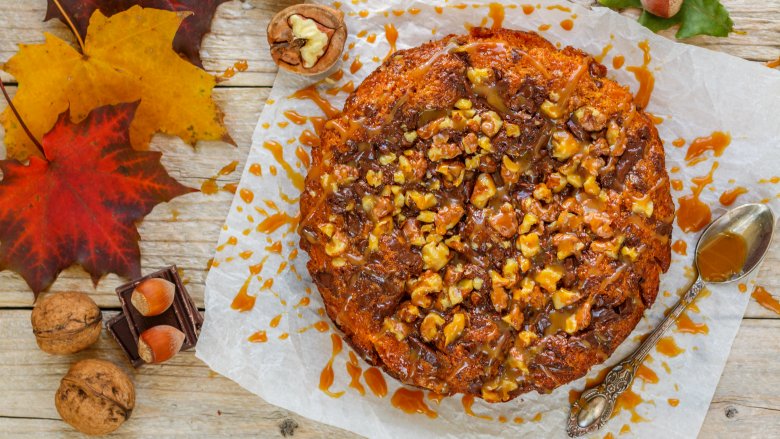 Shutterstock
Even if you have a favorite, standby sort of pumpkin pie, here's a super easy way to make not only a better version that even the kids will love, but a version that takes minimal effort. (Because, let's face it, Thanksgiving is hard.)
Whip up a standard no-bake, graham cracker crust with a stick of melted butter, a dash of cinnamon, and a dash of sugar. Press it into your pie plate, then add a thick layer of caramel topping and another layer of chopped pecans or walnuts.
Then, mix your filling: a cup of canned (plain) pumpkin, a box of Jell-O Instant Pudding (vanilla or butterscotch, prepared according to box directions), and a cup and a half of Cool Whip. (Remember that stuff? It's still brilliant.) Season as desired, with a dash of cinnamon, nutmeg, and a bit of vanilla. Stir, scoop into your pie crust, and pop it in the fridge. Before you serve, top with more Cool whip, a drizzle of caramel, a sprinkling of chopped nuts, and a few pieces of chocolate.
Maple granola pecan pie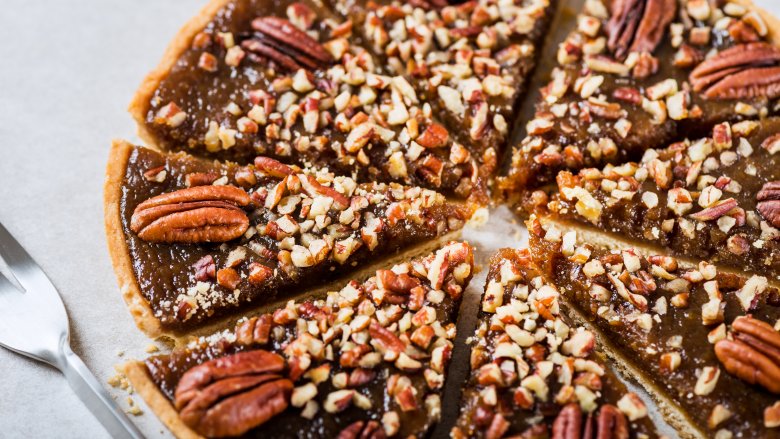 Shutterstock
Start by pre-cooking some of the ingredients. Your pie filling is going to be a mix of crushed and chopped pecans and almonds, coconut, and oats. Set aside enough of that mix to fill your pie plate, and spread out on a cookie sheet to toast in the oven.
Use your favorite pie crust, then mix up your toasted ingredients with three eggs, half a cup of brown sugar, and a cup of maple syrup. Add a dash of vanilla, rum, or almond extract, spoon into your pie crust, and bake until set. It really is that easy!
This is a super-light option that goes great with a scoop of maple walnut ice cream, and it's even better if you add another drizzle of maple syrup and sprinkling of chopped nuts over the whole thing. It also lends itself brilliantly to a homemade maple whipped cream, and it's so easy to make your own whipped cream that once you do it, you'll never buy it again. Just take a cup of heavy cream, a tablespoon of sugar, and a dash of maple syrup and vanilla extract. Whip until it's the desired texture, scoop, and serve.
Pear- and apple-date pies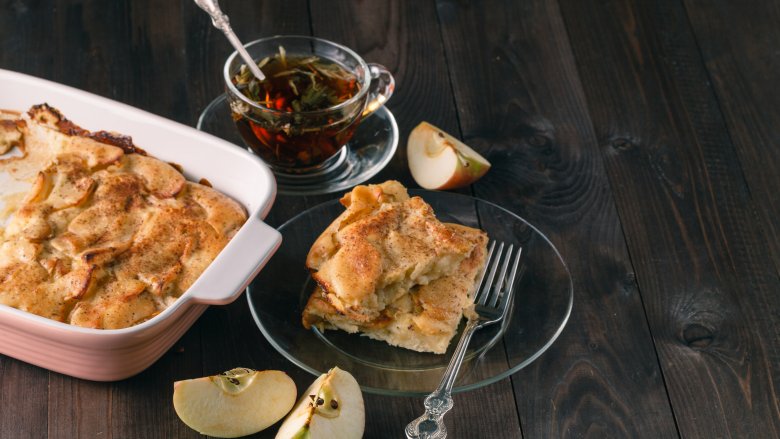 Shutterstock
Pear pies and apple pies are delicious, and you probably have your favorite recipes. A super simple upgrade is to add dates to the filling — it brings a whole new dimension to the pie.
Just finely chop your dates — making sure you watch out for any pits — and simmer along with your apple or pear slices. Throw in a clove or two for another added flavor, a dash of cinnamon and nutmeg, or some vanilla or rum extract. Finish simmering to let the flavors mix, then pile into your pie plate and bake as usual.
Since the filling is going to be so full of flavor, you'll want a neutral whipped cream for this one — because no pie is complete without whipped cream! Just a cup of heavy cream, a dash of vanilla, and some sugar makes the perfect compliment to this grown-up pie that will taste like it was much, much harder than it actually was.
Purple sweet potato pie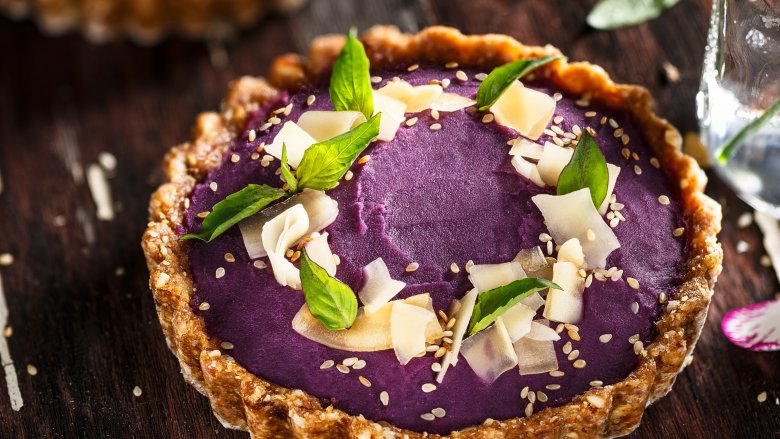 Shutterstock
They always say the first bite is with the eye, so how about serving up a strikingly purple pie? If you always walk past purple sweet potatoes and wonder what you could possibly use them for, the answer is for a delicious (and gorgeous!) Thanksgiving pie.
It's brilliant with a simple graham cracker or nut-based crust, and if you've ever made sweet potato pie before, it's very similar. Microwave your purple sweet potatoes until they're tender, then mash and mix with coconut milk, melted butter, two eggs, and a dash of vanilla. (Start with about three-quarters of a can of milk, and adjust to suit the consistency of your sweet potatoes. You're looking for a filling that super creamy and smooth.) Then, scoop into your crust and bake until it's firm.
Before serving, garnish with coconut or use the leftover coconut milk with some icing sugar and a dash of vanilla to whip up a delicious whipped cream layer you can add to the pie right before cutting and serving. How impressive will that pie-cutting be?
Gingerbread eggnog pumpkin pie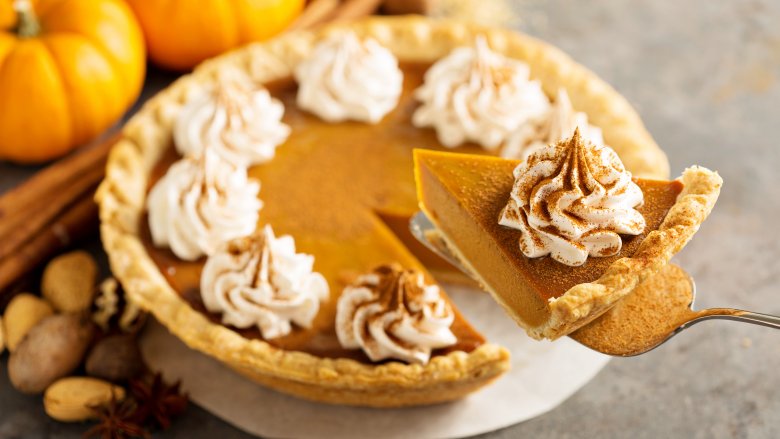 Shutterstock
Pumpkin is one of Thanksgiving's most important flavors, then once that holiday is done, eggnog and gingerbread take over. What better way to welcome them in than with a dessert that incorporates all three?
It's surprisingly easy, too. Instead of using milk and eggs in your pumpkin pie filling, swap that out for a cup of eggnog (and a few tablespoons of your favorite dark rum, if you like). Brilliant, right? You can stop there and just use a standard pie crust, or you can mix up a crust with a few cups of almond flour, molasses and a few tablespoons of butter to bind. Add your gingerbread spices: ginger, cinnamon, cloves, and nutmeg, then stir and press into the plate.
Fill with your noggy pumpkin pie filling, and while it's baking, you have plenty of time to decide what kind of whipped cream you're going to make for the top. Vanilla? Rum? More gingerbread?
Maple buttermilk pie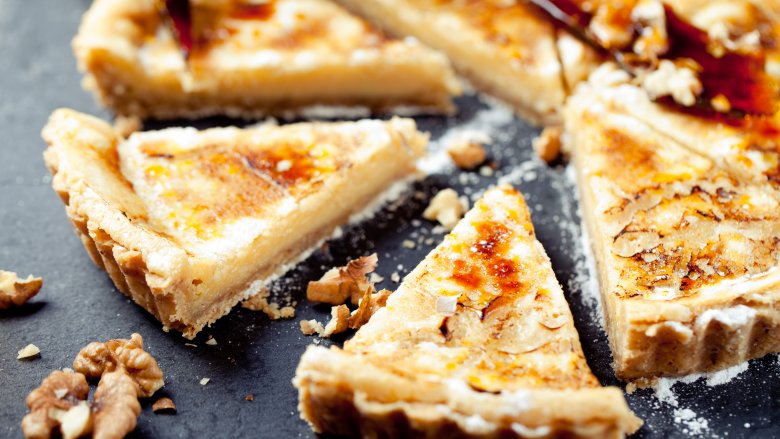 Shutterstock
Pies don't have to be complicated to be amazing, and this maple buttermilk pie is proof of that. The filling is simple, creamy, and delicious, and it's perfect for either a pastry or a graham cracker crust.
That filling is just two cups buttermilk, two-thirds of a cup maple syrup, six eggs, a quarter cup of flour, and a dash of brown sugar. There's room for options: a bit of lemon zest, some vanilla, a bit of maple sugar, a bit of sea salt. Just mix until there's no lumps, pour into your pie crust, and bake.
That's it! For a bit of fun — and easy — presentation, pick up some maple syrup candies to pop on top. Add some maple or vanilla whipped cream, a drizzle of maple syrup, and you're done. Thanksgiving is hard enough already, and you definitely deserve to have at least one easy dish that's more enjoyment than work.