Jeni's Has Good News For Fans Of Its Seasonal Pumpkin Cake Roll Flavor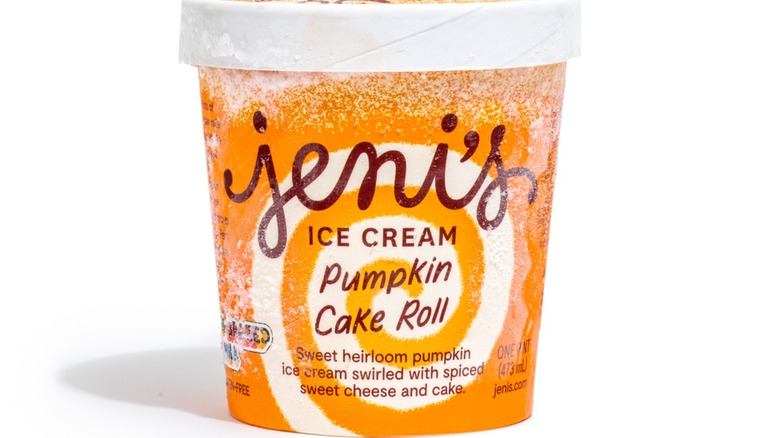 Jeni's Ice Cream
We don't know about you, but here at Mashed we're just about ready to shift our gears into full fall mode. Bring on the crisp air that adds just the right amount of chill to a sunny afternoon, the autumn festivities like pumpkin carving, and all the scents and flavors that come along with it. Summer was nice, but we're ready for some swirls of savory, sweet, sharp fall flavors once again.
The folks over at Jeni's Splendid Ice Cream are just as excited for the season as we are and just made a special announcement that has us ready to slip into our coziest sweater and head over to one of their shops for a special treat. The chain founded by Jeni Britton Bauer is known for their buttercream ice cream that leaves out synthetic flavors and dyes, as well as stabilizers and emulsifiers typically used in ice cream (via Taste of Home). The result is some of the smoothest artisanal ice cream on the market today, and Jeni's Ice Cream perfects it with unique and bold flavors that simply can't be found anywhere else.
The details of Jenni's Ice Cream seasonal flavor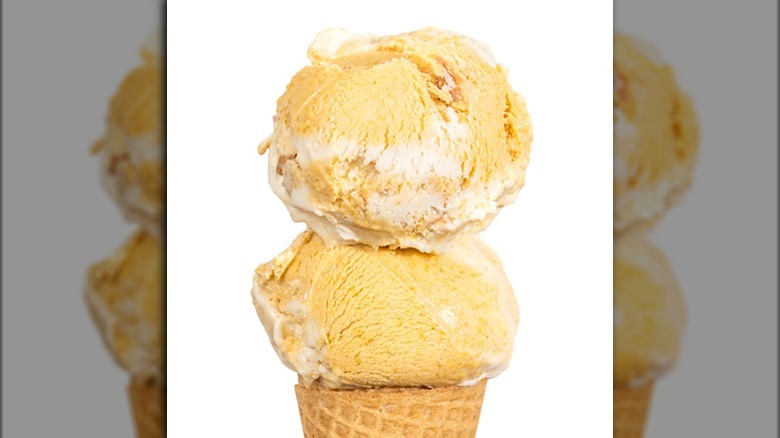 Jeni's Ice Cream
In a press release, Jeni's has announced that the seasonal Pumpkin Cake Roll flavor is back just in time for autumn. You can stop by the ice cream shop and savor the flavor on the way back from your annual pumpkin patch or apple picking trip starting September 23.
The flavor is made to taste like the traditional fall dessert. Like all of Jeni's ice cream flavors, special attention was paid to every detail in the recipe. The Pumpkin Cake Roll flavor is made with real Buttercup pumpkins that were grown exclusively for Jeni's to make this ice cream. The flavor profile is complete with swirls of sweet cream cheese ice cream and cake.
The flavor will be available in Jeni's Splendid Ice Cream shops across the country. You can stop in for a scoop or a cone, order on their website for delivery if you live within five miles of a shop, order pints for delivery nationwide, or find grocery stores in your area that carry their ice cream.