24% Of People Agree This Chain Has The Worst Fast Food Chicken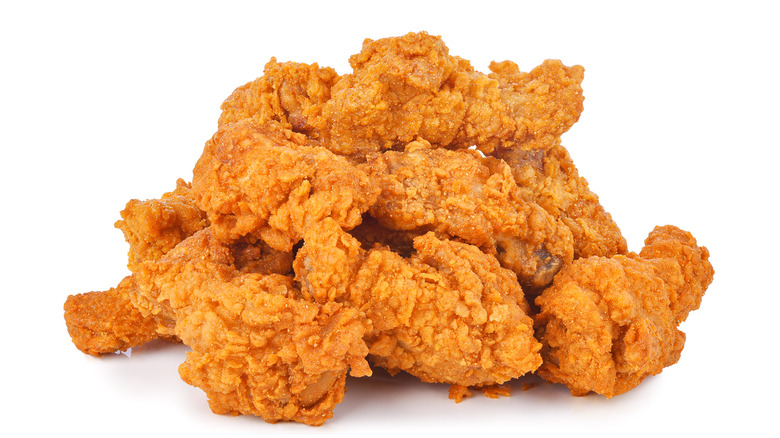 PotaeRin/Shutterstock
Remember when fast food chicken was a thing? Like, actual pieces of chicken, with bones and everything? While it seems all the buzz over the past few years has been for a series of increasingly indistinguishable chicken sandwiches, each one declaring itself to be the definitive winner of the ongoing Chicken Sandwich Wars, some fast food restaurants are still selling chicken sans sandwich.
Mashed polled the usual several hundred respondents (this time, the magic number was 599) to ask their opinion of seven different chicken chains — Bojangle's, Chick-fil-A, Church's, KFC, Popeyes, Raising Cane's, and Zaxby's — and their signature product. As all chicken chain connoisseurs are aware, none of these restaurants have identical menus. Popeyes and KFC, for example, have long specialized in bone-in chicken, while Chick-fil-A sticks to boneless nuggets and chicken strips. Raising Cane's, on the other hand, is famous for its chicken fingers. While our poll wasn't necessarily an apples-to-apples comparison, it was still interesting to find out which chain was seen as serving up some of the worst chicken the fast food world has to offer.
The Colonel's chicken isn't what it used to be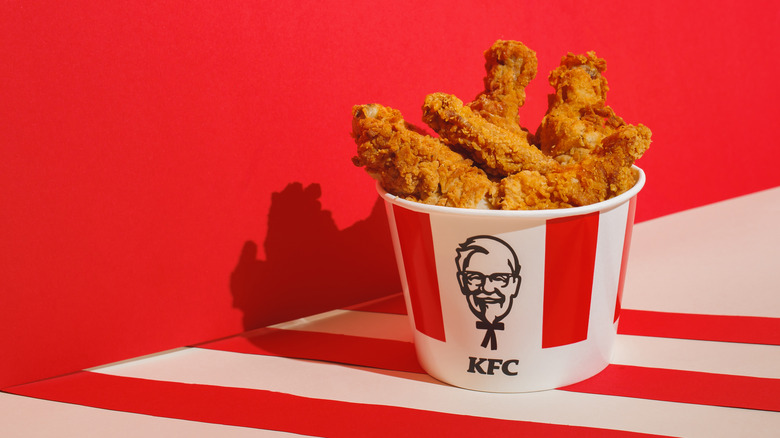 Pavlovska Yevheniia/Shutterstock
As we count down (or up) to the top, we're going to start off at the bottom and work our way higher as we go. Raising Cane's must be doing something right with those fingers, since only 7% of our pollees didn't care for their chicken. Popeyes and Bojangles fared a bit worse, both of them unpopular with about 11.5% of poll respondents. Zaxby's fell just short of receiving 13% of the vote, while Chick-fil-A nearly reached 14%. In second place, serving up the least favorite chicken of over 19% of people polled, was Church's.
Right at the top, however, was a chain that claimed to be "finger-lickin' good" for decades: KFC. Evidently, 24% of our survey group weren't inclined to lick their fingers after dining at the Colonel's place. So what is it about KFC that people just don't like? According to a 1970 New Yorker interview, even Colonel Sanders himself was disappointed with the fast food version of his secret recipe. While he was alive, he did his best to make sure that not too many liberties were taken in the name of maximizing profits, but he's been gone a long, long time now. Sad to say, it seems his famous fried chicken is no longer anything to crow about. In fact, some might go so far as to say it's not worth a cluck.