Best Alcohol-Free Mojito Recipe
Mark Beahm/Mashed
Enjoying a fun cocktail can be a great way to unwind and freshen up after a long day. However, choosing to have an alcoholic beverage isn't for everyone, but that doesn't mean the rest of the drink should be disregarded. Cocktails tend to incorporate fruit, herbs, syrup, and sugar — elements that are all great to combine with sparkling water. (All the flavor with no chance of a hangover!)
Mark Beahm has been living in Europe for almost a decade, soaking up the culture and culinary influences. His food blog the Sunday Baker showcases his love for baked goods, but Beahm is also a fan of tasty drinks. He created an alcohol-free mojito recipe to enjoy the delicious flavors you know and love, sans alcohol. He says, "I love how refreshing it is, and because it's alcohol-free, you can have it anytime with anyone." If you need another excuse to sip on this bubbly drink, he adds, "It's like a sparkling mint limeade!"
Gather the ingredients to prepare this refreshing alcohol-free mojito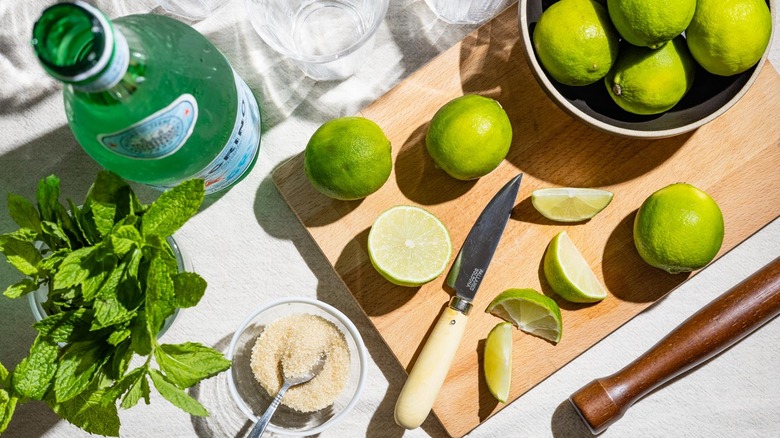 Mark Beahm/Mashed
You'll only need a handful of ingredients for this tasty alcohol-free mojito. Once you have a taste, you might want to keep them stocked at all times. First of all, you'll need some sugar to balance out the sour acid from the limes. Beahm confirms that pretty much any sugar works, listing "white sugar, turbinado sugar (sugar in the raw), simple syrup, or even agave syrup." He recommends a modification, explaining, "If you use agave syrup, reduce the amount to 2 teaspoons, since it's more concentrated." Next, you'll need the juice of one lime as well as an extra lime to slice into wedges. A bunch of mint leaves add a pleasantly fresh herbal touch that makes the mojito so recognizable. Finally, you'll need some sparkling water to mix everything together. Club soda, Perrier, or San Pellegrino are all suitable options.
In case you want to expand your mojito game and really up the presentation, Beahm remarks, "I tried this with sliced strawberries, too!" He is confident that most berries would fit in with the other flavors and suggests to "add a few berries in the beginning while muddling the limes, mint, and sugar, then add some whole berries after." 
Add the sugar, lime juice and wedges, and mint to the glasses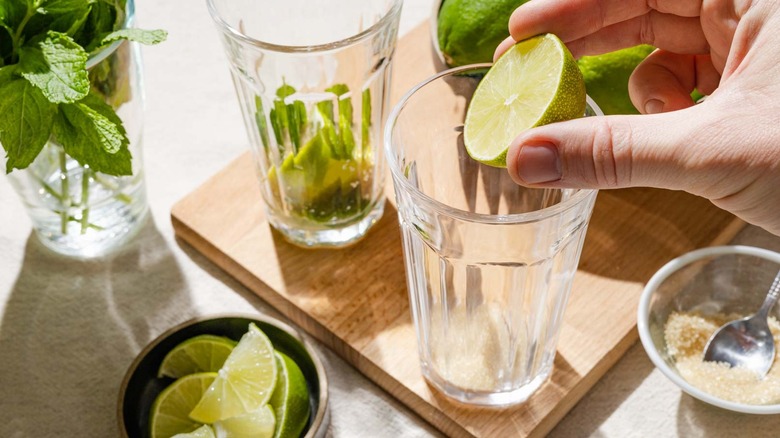 Mark Beahm/Mashed
Assuming that you're making the full recipe for two drinks, set out two tall glasses to start. Next, divide the tablespoon of sugar evenly between the two glasses, and squeeze equal parts of lime juice in as well. Now, place three lime wedges at the bottom of both glasses, and divide the mint leaves between them so that there are 10 in each. Then, move on to the next step.
Muddle the ingredients together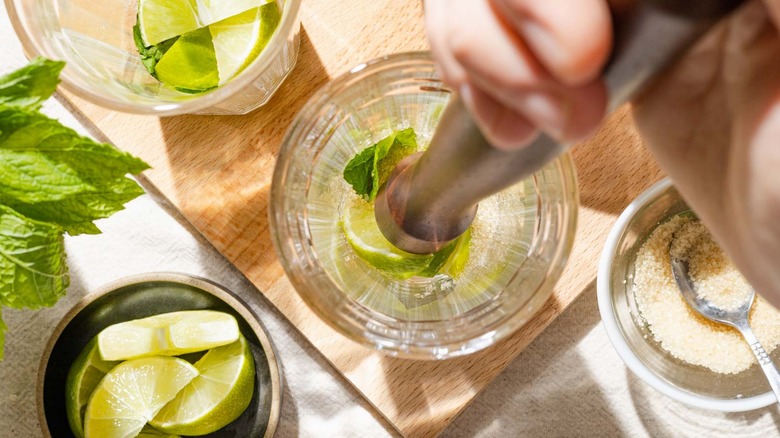 Mark Beahm/Mashed
Next, you'll want to really extract all of the flavors from the mint leaves and lime wedges. If you're already decked out with assorted cocktail making equipment, then go ahead and use a muddler. Otherwise, The Daily Meal recommended using anything that can be used to mash up food, like a wooden spoon or a meat pounder. The outlet explained that muddling helps herbs like mint release their essential oils for maximum taste. Once you've muddled the lime and mint to your liking, move on to the following step.
Top the glass with ice and sparkling water, and stir the contents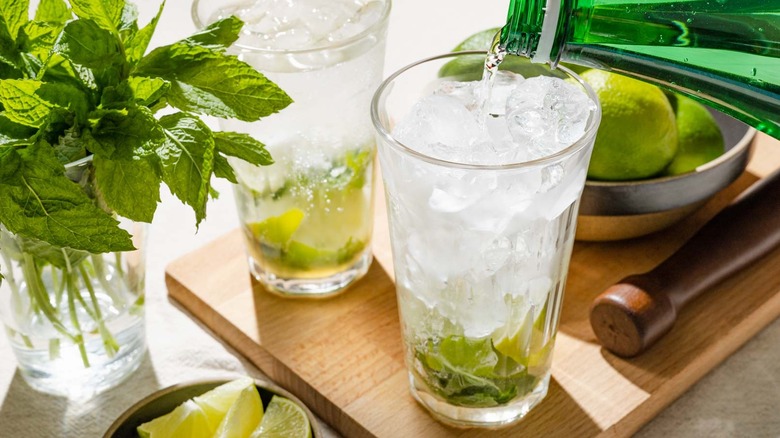 Mark Beahm/Mashed
Now that all of the flavor has been extracted from the fresh ingredients, fill each glass with ice cubes or crushed ice, if you'd prefer. Then, add ½ cup of sparkling water to the top of each glass, and stir the contents with a bar spoon. Again, if you don't have a designated bar spoon, Thrillist recommended opting for chopsticks instead. (Pretty much any long, thin implement will work.)
Serve this delicious alcohol-free mojito with a garnish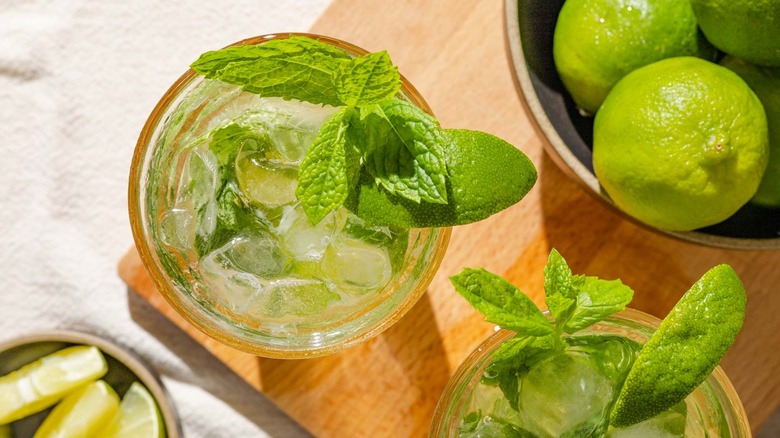 Mark Beahm/Mashed
It's time to dress up your mojito before taking a refreshing sip. Simply top each drink with the remaining lime wedges and an extra sprig of mint. And there you have it — a simple flavorful alcohol-free mojito that will keep you feeling refreshed and energized. If you're looking for something to cool you down on a warm day, or if you want to enjoy a celebratory drink without the booze, you'll love Beahm's creation.
In case you were hoping to make a batch of these ahead of time, Beahm doesn't recommend it. He explains, "Muddling bruises the mint (which is how the flavor is released), and it will turn brown if it sits too long before serving." At any rate, all you need to set aside are five minutes to whip up these alcohol-free mojitos!
Best Alcohol-Free Mojito Recipe
This alcohol-free mojito recipe highlights the delicious, fresh flavors you know and love about the drink, sans alcohol.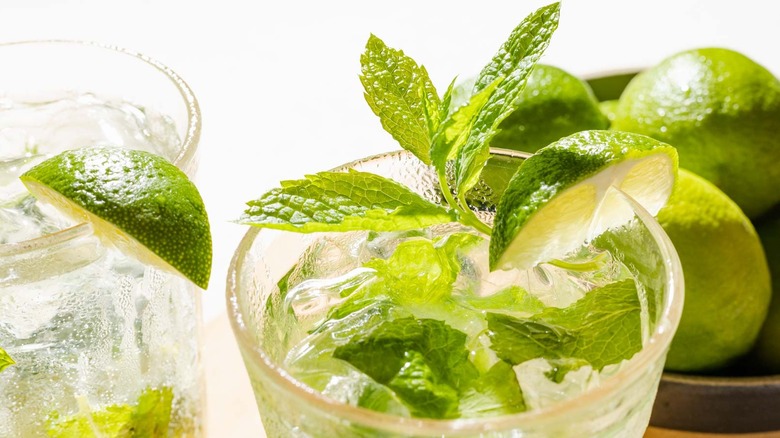 Ingredients
1 tablespoon sugar
1 lime, juiced
1 lime, sliced into 8 wedges
20 mint leaves + extra for garnish
1 cup sparkling water
Directions
Divide the sugar and lime juice between two tall glasses.
Add 3 lime wedges and 10 mint leaves to each glass.
Use a muddler to muddle the ingredients together, extracting the juices and blending the flavors.
Fill each glass with ice.
Top each glass with ½ cup of sparkling water, and stir the contents with a bar spoon.
To serve, garnish the drink with the remaining wedges of lime and a sprig of mint.
Nutrition
| | |
| --- | --- |
| Calories per Serving | 45 |
| Total Fat | 0.1 g |
| Saturated Fat | 0.0 g |
| Trans Fat | 0.0 g |
| Cholesterol | 0.0 mg |
| | |
| --- | --- |
| Total Carbohydrates | 13.4 g |
| Dietary Fiber | 2.0 g |
| Total Sugars | 7.4 g |
| Sodium | 17.5 mg |
| Protein | 0.5 g |