How Scott Conant Ended Up On Anthony Bourdain's No Reservations - Exclusive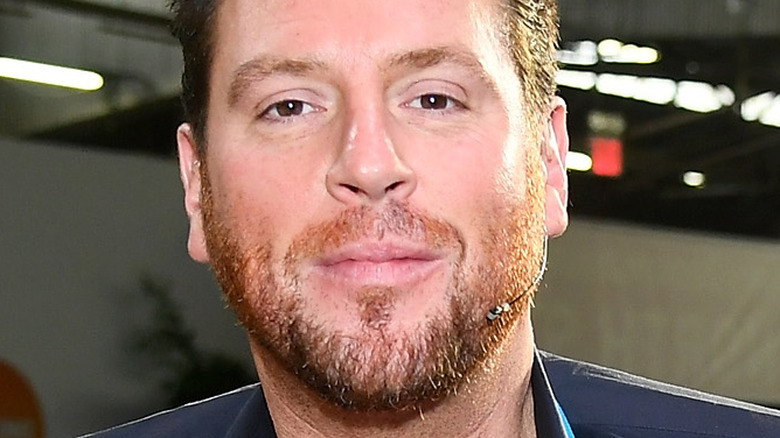 Dave Kotinsky/Getty Images
We may receive a commission on purchases made from links.
Anthony Bourdain's landmark series "No Reservations" took the late great culinary ambassador on plenty of memorable globe-trotting adventures. But for the instructional "Techniques" episode, which aired in 2010 during the show's sixth season (per Travel Channel), Bourdain opted for a different approach, enlisting fellow chefs to share kitchen tips. Along with fellow luminaries Jacques Pépin and Thomas Keller, chef Scott Conant, a longtime friend of Bourdain, was tapped for a cooking segment. Conant offered a step-by-step guide to preparing his famed pasta pomodoro.
During an exclusive interview with Mashed, the celebrity chef revealed that his appearance on the show stemmed from a dinner Bourdain and his then-wife Ottavia Busia-Bourdain enjoyed at Conant's celebrated New York restaurant Scarpetta. "Of course the whole restaurant was abuzz because Anthony Bourdain was there," said Conant.
But it was an interaction with Busia-Bourdain that may have sealed his "No Reservations" appearance. "She's Italian, but she was giving me a little bit of grief," Conant recalled. "And I said, 'Listen, just sit down and let me cook for you.' And there was this moment where she was talking to me and I said, 'Your accent sounds like you're from Bergamo or outside of Milan someplace.' And she was shocked that I had gotten it just by the accent."
A few months later, Conant got the call requesting to show off his pasta skills on the show. "I was flattered," he said.
How Scott Conant perfected his pasta pomodoro recipe
As for how Scott Conant developed his pasta pomodoro recipe, he noted, "That's a variation of something I used to do years ago at different restaurants." While Conant experimented with different ingredients for the sauce, such as baby tomatoes and other personalized touches, he ended up going with a traditional approach for the final, famed version of the dish, which relies on fresh plum or roma tomatoes, an extended cooking to help develop the flavors in the sauce, and a final touch of butter for added richness, per Today. The result is unlike any spaghetti with tomato sauce you've ever had. It's no wonder the dish has become Conant's signature specialty.
"It's made a lot of people happy," said Conant. "Sometimes you stumble into luck and just take it from there."
You can enjoy Scott Conant's Pasta Pomodoro at his Arizona restaurants Mora Italian in Phoenix and The Americano in Scottsdale. If you want to try making it at home, pick up a copy of the chef's latest cookbook "Peace, Love, and Pasta."