Lauren Conrad's Secret Method For Perfect Apple Pie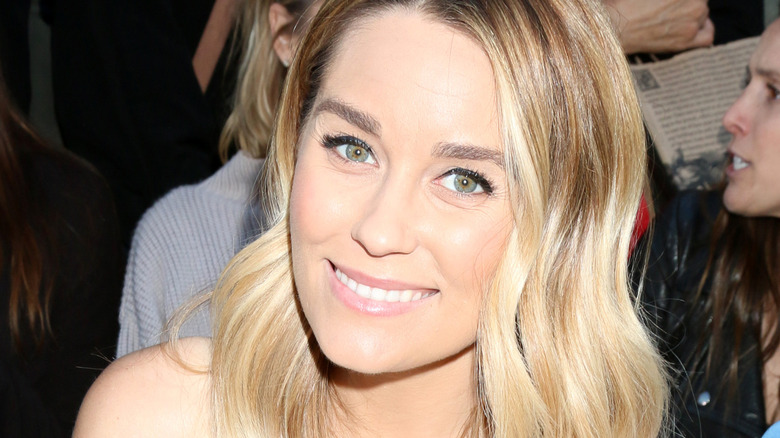 Joe Seer/Shutterstock
Lauren Conrad first caught the public's attention as a teen trying to navigate her way through high school drama on MTV's "Laguna Beach: The Real Orange County" before moving on to have the cameras follow her during her early career in the fashion industry on "The Hills." And, while she's still involved in fashion, she's since expanded her career to encompass far more as an entrepreneur with an eco-friendly skincare and make-up line, a marketplace filled with sustainable products, and more (via Lauren Conrad). However, there's one more passion in her life — cooking. And, one of her signatures is apple pie. In fact, she has such a love for the sweet treat that she even served pies that she and her friends made to all the guests who attended her wedding (via People).
Given her love for the classic dessert, it only makes sense that she has picked up a few tips and tricks along the way. While this tip won't apply if you're crafting a rustic apple pie with diced apples in the filling, if you want to create an Instagram-worthy treat and mimic Conrad's signature rosette-style mini apple pies, there's one thing you need to add to your cooking process — soaking time (via Delish). In order to achieve the look she wants, Conrad recommends soaking the thinly-sliced apple pieces in water for about an hour, which will give them flexibility so you can bend them into the shape you want without them breaking into pieces.
A few more Lauren Conrad-approved tips for flawless apple pie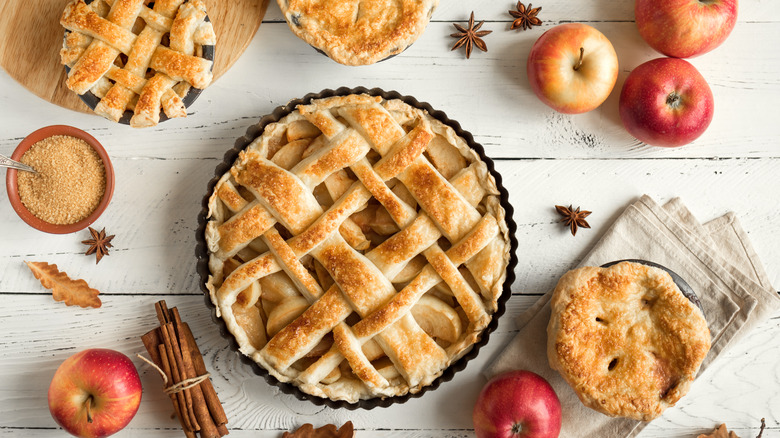 Oksana Mizina/Shutterstock
Soaking aside, Conrad revealed a few more of her tried and true tips to Delish. One is to consider crafting smaller-scale items. For example, make a bunch of mini pies or tarts rather than making one big pie. While it may seem like extra work to create miniature versions of the classic dessert, it can actually be a bit easier since you're not wrestling with such large sheets of dough, and likely won't have to deal with any rips or tears that come from rolling the dough too thin.
Additionally, Conrad recommends getting creative with your crust in addition to your filling. Sure, the filling is often the showstopper in any pie, but the crust makes a major impact as well. Conrad swears by sprinkling a bit of rosemary into her favorite pie crust recipe, but you can add whatever seasoning or fresh herbs would pair well with the particular filling you're making.
Finally, something that may comfort novice bakers who are just getting the hang of making pies, Conrad gives her fans full permission to simply start over if it's not working. Even Conrad, the woman who made 50 homemade pies for her wedding guests (via People), acknowledges that sometimes she just has to throw out a pie crust and start over again if it's not coming together right.