French Meringue Cookies Recipe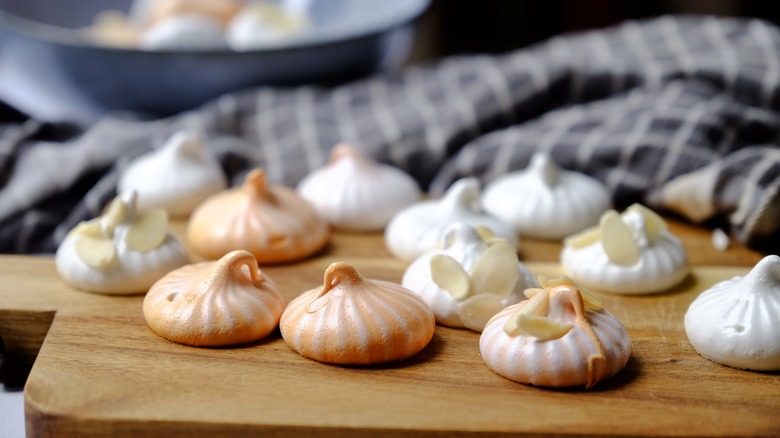 Eric Ngo/Mashed
Leave it to the French to manage to create a sweet treat that, at its core, consists of just two ingredients, but is complicated to make and is complex in flavor. And we don't mean that in the pejorative sense! Seriously, leave it to the French — they have a rich and wonderful culinary culture, especially when it comes to baked goods.
And leave it to chef and recipe developer Eric Ngo of Frenchie the Toast to make a meringue recipe that's manageable even for those of us without a degree from a culinary academy or experience in the finest Parisian bakeries. (Experience he has, by the way.) And as you'll see, the secret to success here is, in true French fashion, all about taking your time with the prep and the baking. Rush it, and you get mediocre meringues at best. Okay, the other secret is ... sugar. Ngo says: "The easiest way to remember the French meringue recipe is to keep in mind that there should be twice the amount in weight of sugar to egg whites." So yeah, that's the sweetness for you.
As for a couple ways to dress this recipe up a bit, there's food coloring for some visual appeal (Ngo uses a touch of orange coloring here for some of his meringues) and sliced almonds for a bit of extra flavor profile. Beyond that, we say non! Keep the recipe simple, or you'll just be gilding the lily.
Gather your two to four ingredients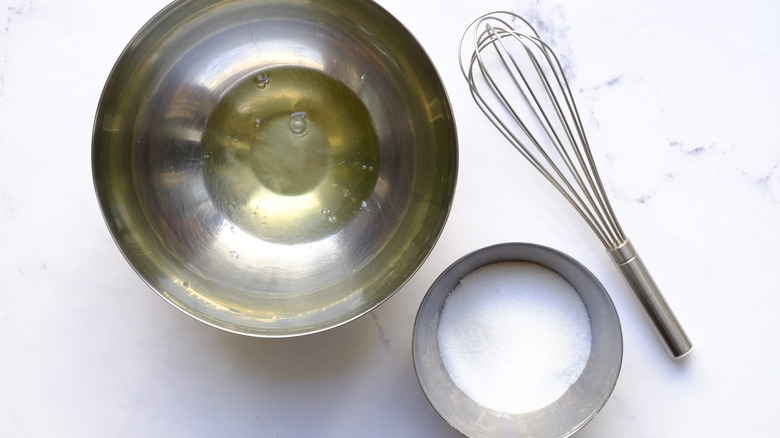 Eric Ngo/Mashed
Seriously, meringues, in their most basic form, use two ingredients: egg whites and sugar. For this recipe, which will yield about 24 meringue cookies depending on how thickly you pipe them out, you'll need the whites from two large eggs (or three smaller ones) and ⅔ cup of sugar. You can scale the recipe up in proportion for a larger batch, of course. And you can add food coloring and slivered almonds if you'd like, or you can keep it simple.
Just don't try to speed up the baking by making the oven hotter. "Meringues are, in theory, more 'dried/dehydrated' than 'baked,' which explains the low baking temperature, says Ngo, adding: "Baking at a temperature above 200 F will increase the likelihood of meringues turning yellow/brown."
Whisk the egg whites and add the sugar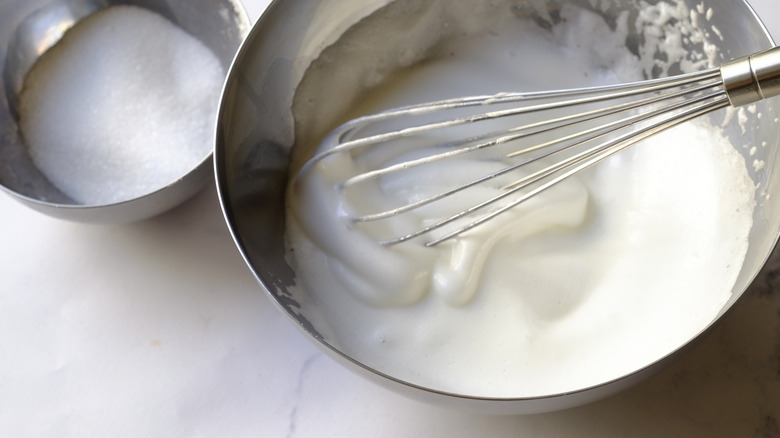 Eric Ngo/Mashed
First, preheat your oven to 190 F. In a large bowl, or in a stand mixer, whisk the egg whites until they become foamy (similar to shampoo in texture) using a medium-high speed — they should be ready in two to three minutes. Pro tip? Ngo says: "It's recommend to fluff up the egg whites when [they] are at room temperature, as they will fluff up easier compared to cold egg whites." So maybe leave the eggs on the counter for a little while before you're ready to bake.
Once the egg whites have doubled in volume, continue whisking them on medium-high speed and add the sugar in three separate batches, waiting a minute between each addition. "A common mistake would be to add the sugar all at once; doing so will result in a meringue that is too soft," Ngo adds.
Pipe out the meringues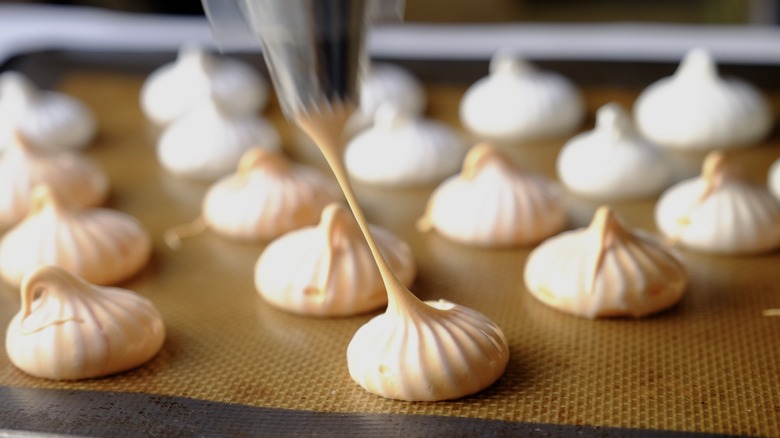 Eric Ngo/Mashed
Once all of the sugar is fully incorporated, a stiff peak should form if you pick up the meringue with a whisk or fork. Once you have achieved that consistency, the mixing work is done, and it's time to move this batter into a piping bag or piping gun. Optionally, now is the time to add food coloring. And for greater interest, if you are using food coloring, add some batter to your piping bag or piping gun sans food coloring, then stir coloring into the others, so you will have meringues in varied coloring.
Regardless, pipe the raw meringue mixture in even dollops out onto a baking tray lined with parchment paper or a silicone mat, giving them some space to expand.
Bake your meringues -- slowly!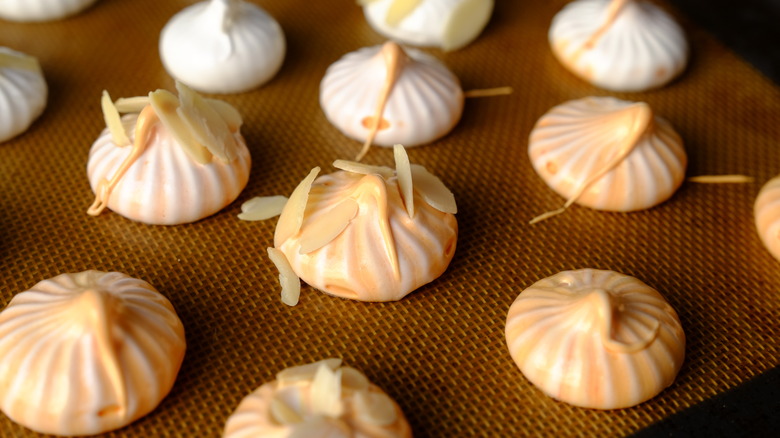 Eric Ngo/Mashed
If you are going to add slivered almonds to your meringues (and again, like with the food coloring, a good idea is to add sliced nuts to some but not all of the batch), now is the time to gently lay those almond pieces atop the raw meringues.
Now pop those pans into the warmed oven and let your sweet egg and sugar cookies slowly bake. As in for two full hours. And once you retrieve them from the oven, let them rest for at least 15 minutes before serving or storing. Speaking of storing, as with the making and baking, no rush there, either! "These will keep for months at room temperature," Ngo says, adding: "I recommend keeping them in a Tupperware [container] at room temperature."
And there you have it! An easy, albeit delicate French dessert, sure to wow your friends and family.
French Meringue Cookies Recipe
You probably have everything you need to make these delicious, two-ingredient meringues. Impress your friends and family with this fancy French sweet treat!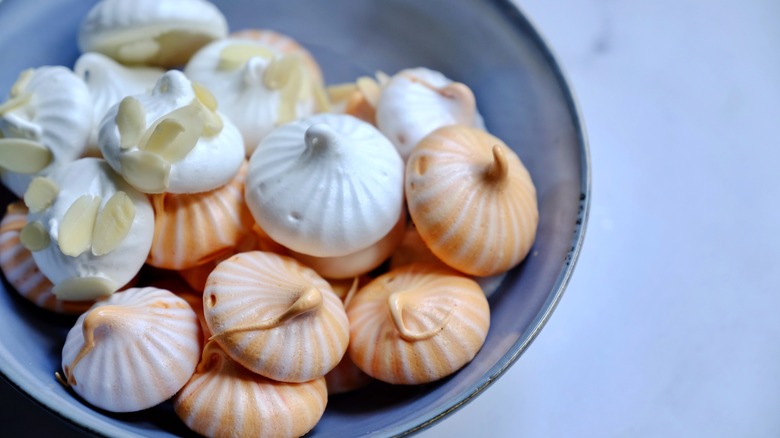 Ingredients
2 large egg whites, room temperature
⅔ cup of white sugar
Optional Ingredients
food coloring
almond slices, for topping
Directions
Preheat the oven to 190 F.
In a large bowl, or in a stand mixer, whisk the egg whites on medium-high speed until foamy, about 2 to 3 minutes.
Once the egg whites have doubled in volume, continue whisking and add in the sugar in 3 separate batches, waiting 1 minute between each addition. The batter is ready when stiff peaks form.
Place the meringue batter into a piping bag or piping gun. If using food coloring, add it to the batter now.
Pipe the meringue onto a baking sheet lined with parchment paper or a silicone mat.
Top the meringues with almond slices, if using.
Bake for 2 hours.
Let the meringues cool down for 15 minutes before serving.
Nutrition
| | |
| --- | --- |
| Calories per Serving | 23 |
| Total Fat | 0.0 g |
| Saturated Fat | 0.0 g |
| Trans Fat | 0.0 |
| Cholesterol | 0.0 mg |
| | |
| --- | --- |
| Total Carbohydrates | 5.6 g |
| Dietary Fiber | 0.0 g |
| Total Sugars | 5.6 g |
| Sodium | 4.6 mg |
| Protein | 0.3 g |