Instagram Is Raining Hearts On The Pioneer Woman's 25th Anniversary Post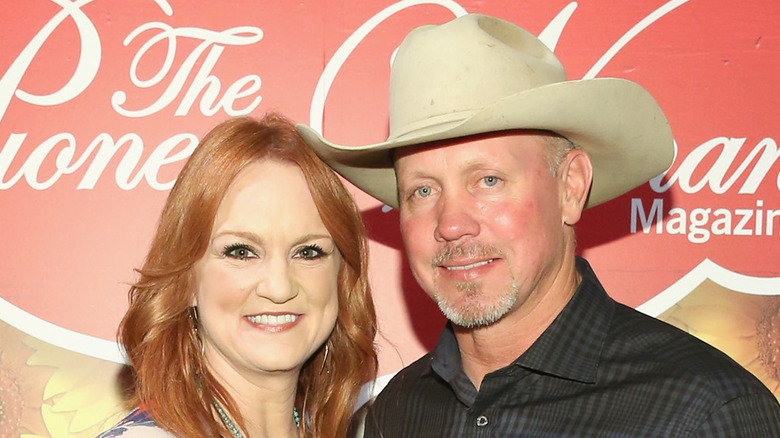 Monica Schipper/Getty Images
Well, it has certainly been quite the year for the Pioneer Woman, Ree Drummond. She lost 48 pounds on her recent health journey, for one, and her daughter, Alex, got married in an exquisitely planned event shown on the Food Network's "Ranch Wedding" special. Of course, 2021 also presented challenges for the professional cook, whose husband, Ladd, and nephew were involved in a scary truck accident and have since recovered. Although Drummond gave Ladd props for motivating her during her workouts even while he was in a neck brace (via ET), it's impossible to know just how difficult it may have been for Drummond to see her husband in pain. 
Today, the beloved Oklahoma cookbook author offered her fans a look at just how important Ladd is to her. In a sweet Instagram post accompanied by a series of personal photos of herself and Ladd, Drummond revealed that as of today, they have been married for 25 years. Unsurprisingly, the Instagram community responded by showering the Pioneer Woman's anniversary post with hundreds of thousands of likes, hearts, and other sweet emojis.
In today's Ranch weather, expect it to rain hearts all day long
"Twenty five years ago, Ladd and I got married," Drummond announced on her September 21 Instagram post about her husband, sharing five photos depicting the couple as they were on their wedding day and as they are now. "It's been a wild adventure, and we've experienced the joys, pains, ups, downs, triumphs, sadness, and unexpected twists and turns," she added before waxing philosophical. 
"That whole 'love' thing — the love that deepens, expands, and becomes more firmly rooted over time — is definitely there," Drummond continued. But what's really kept her love for Ladd going after all this time, she joked with a fire emoji, is what can be seen in the last photo: A solo shot of her husband in short sleeves. "I love you, Ladd."
And how would you guess Instagram reacted? In half a day, the Pioneer Woman's 25th-anniversary post has garnered nearly 250,000 likes from social media's suckers for a good love story. Among the thousands of happy comments are hearts, flowers, clinking glasses, and party hats. We could go on, but our eyes have grown a bit misty.