Scott Conant's Bolognese With Parmigiano-Reggiano Fonduta Recipe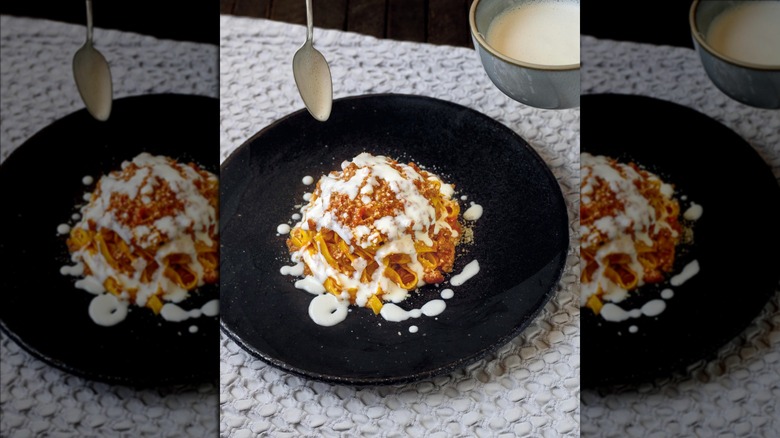 Ken Goodman
We may receive a commission on purchases made from links.
Few chefs on Earth are as well-versed in the ways of the noodle as Scott Conant. The James Beard Award winner and Food Network favorite has shown off his pasta prowess for nearly three decades at his numerous critically acclaimed restaurants which have included New York's L'Impero, global sensation Scarpetta, and his current hot spots The Americano and Mora Italian, both in Arizona.
If you want to try your hand at preparing Conant's greatest hits at home, we strongly suggest purchasing a copy of his latest book "Peace, Love, and Pasta: Simple and Elegant Recipes from a Chef's Home Kitchen," which features a number of the chef's favorite recipes, including his famed simple yet spectacular Pasta Pomodoro, a sublime aglio e olio, and his cheesy (in the best way) take on bolognese. Indeed, the soulful quadruple meat, parmigiano-Reggiano fonduta topped ragu will require some time and energy, but once you twirl your fork into the fresh tagliatelle and take a bite, you'll immediately know it was totally worth the effort.  
Check out the recipe for Conant's Bolognese with Parmigiano-Reggiano Fonduta below and be sure to read his exclusive interview with Mashed in which the celebrity chef shares some pasta do's and dont's.
Republished with permission from "Peace, Love, and Pasta: Simple and Elegant Recipes from a Chef's Home Kitchen," by Scott Conant. Published by Harry N. Abrams.
Scott Conant's Bolognese With Parmigiano-Reggiano Fonduta Recipe
Scott Conant's Bolognese with Parmigiano-Reggiano Fonduta will require some time and energy, but it's totally worth the effort.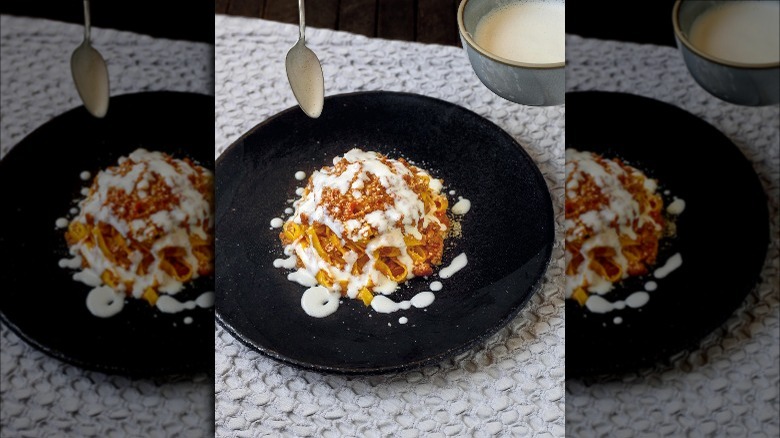 Ingredients
2 stalks celery
1 medium carrot
1 medium onion
2 ounces pancetta, cut into chunks
6 ounces veal stew meat, such as shoulder meat
6 ounces beef stew meat, such as chuck
6 ounces pork stew meat, such as shoulder or butt
¼ cup neutral-flavored olive oil (do not use extra virgin)
Kosher salt and freshly ground black pepper
1 cup dry white wine
1 cup canned puréed tomatoes, preferably San Marzano
1 quart chicken stock
1 cup (240 ml) heavy cream
1¼ cups (125 g) grated Parmigiano-Reggiano cheese
3 tablespoon extra-virgin olive oil, divided
1 lb fresh Tagliatelle Pasta
¼ teaspoon crushed red pepper
2½ cups Pomodoro Sauce
3 tablespoons unsalted butter
1½ cups (150 g) grated Parmigiano-Reggiano cheese
Directions
If you have a meat grinder, using a medium grinding disc, grind the celery, carrot, onion, and pancetta. (I like a medium grind, which means the holes are about the size of my pinky fingernail.) Set aside, then grind the veal, beef, and pork (or have the butcher do it for you).
If you don't have a grinder, chop the celery, onion, carrot, and pancetta by hand into a small dice and set aside. Add the veal, beef, and pork to a food processor, and using a blade (not a disc), pulse the meat until it just begins to break apart, erring on the side of larger rather than smaller pieces. (Alternatively, chop the vegetables yourself, but have a butcher coarsely grind the meat.)
Heat the oil in a Dutch oven or a deep heavy-bottomed pot over medium heat. Add the celery, carrot, onion, and pancetta to the pot and sauté until the vegetables are lightly browned, about 15 minutes. Season the ground meat with salt and pepper, add it to the pot, and increase the heat to high; cook until everything is nicely browned. (The meat will release a lot of liquid initially, which will evaporate, and then everything will cook in the meat's fat.) Pour in the wine and cook until the wine evaporates almost completely and the pan looks dry, about 10 minutes. Add the tomatoes and cook until the mixture darkens considerably and begins to look dry, about 12 minutes.
Add the chicken stock and cook, uncovered, over very low heat until the meat is very tender and full of flavor, about 3 hours. Prepare with the pasta as described below, or cover and refrigerate until ready to use. (The Bolognese will last for up to 3 days in the refrigerator, or in an airtight container in the freezer for up to 1 month.)
To make the Parmigiano-Reggiano Fonduta, pour the cream in a small pot and bring to a boil.
When the cream has reduced by half, transfer to a blender with the cheese and 1 Tablespoon of olive oil and blend until smooth. Keep warm.
Bring a pot of heavily salted water to a boil. (The water should have the salinity of broth.)
While you wait for the water to boil, add the Bolognese, red pepper flakes, and pomodoro sauce to a sauté pan and cook on medium-low heat, stirring to combine, until the sauce is reduced by about one-fourth and the pan looks quite dry.
When the water boils, add the pasta and cook until just shy of al dente (about 75% done), about 3 minutes. Remove about ½ cup of the pasta cooking water, then drain the pasta. (Do not rinse it.)
Add the drained tagliatelle and a few tablespoons of the cooking water to the Bolognese and toss to coat, adding additional cooking water as needed so the fat and starch emulsifies.
Remove from heat, then add the butter, Parmigiano-Reggiano, and remaining olive oil. Season to taste with salt, then serve immediately with drizzles of fonduta on top.