Trader Joe's Shoppers Can't Wait To Try Its New Cheesy Seasoning Blend
Cheese lovers will absolutely love the latest product hitting Trader Joe's shelves. While adding cheese to different dishes can be tricky if you don't want to melt it over them (think popcorn), the new cheesy seasoning blend from the cult grocery store might be the answer to that problem. On September 22, 2021, the new seasoning blend was spotted and posted by Trader Joe's Instagram fan account, Trader Joes List. And within a day, the post received more than 19,500 likes. Clearly, this is going to be a hit for a lot of people.
The caption said, "NEW CHEESY SEASONING BLEND • $2.99 • I was surprised by this new #traderjoes item! I picked it up in my haul yesterday and sampled it during my unpacking (it will be posted to YouTube soon!)." The description went on to add, "I found it to be very salty, very garlic-y & oniony, and it finished with a cheese undertone. I'm not entirely sure how I'll use this — maybe as a garlic salt replacer or if I want to add savory notes to a dish I'm making. The jar recommends popcorn, veggies, and pasta so that's always an option too! Of course, you could add it to garlic bread, but I'd only recommend that if you're short on time."
This is what Trader Joe's shoppers are saying in anticipation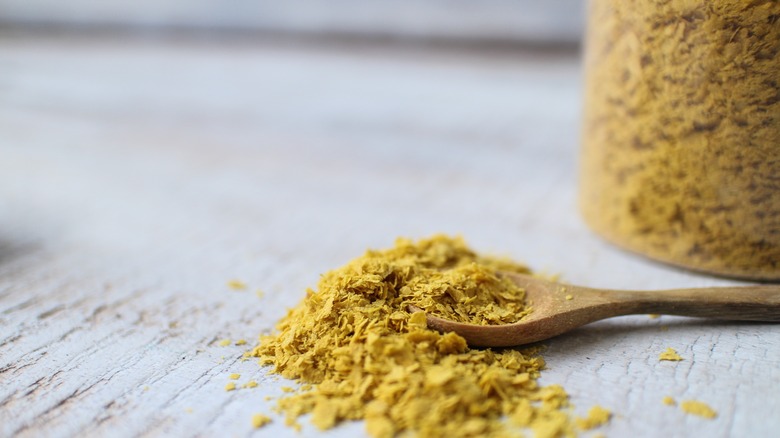 SUPERGAL/Shutterstock
If you're wondering why the seasoning blend tasted like anything other than cheese, it's because it has other herbs and spices added in. The ingredients include dried cheddar cheese blend, whey solids, buttermilk solids, sea salt, garlic powder, onion powder, dried rosemary, and dried oregano. Even though the cheesy seasoning blend isn't quite as cheesy as some thought it should be, people still had plenty of thoughts and questions on the new product.
One person said, "I need this for all the popcorn." Another said, "I put it in my kid's macaroni and cheese yesterday. And put it on my roasted green beans. It is a tad salty, though!" Someone else wrote, "I made fries last night and put this instead of salt. Very yummy!" Another comment read, "It would prob be good on pizza." Yet another person wrote, "I'd try it. Anything w/garlic, onions, and cheese sound good to me."
One person wanted to know if the blend tasted "similar to nutritional yeast?" That's when Trader Joes List replied, "except this contains milk, and it's not as cheesy." This is definitely not a vegan option, so those who practice the dietary restriction should stick to nutritional yeast, which is a vegan cheesy-tasting seasoning (via Medical News Today).