How Five Guys Makes Its Burgers So Unique, According To One Employee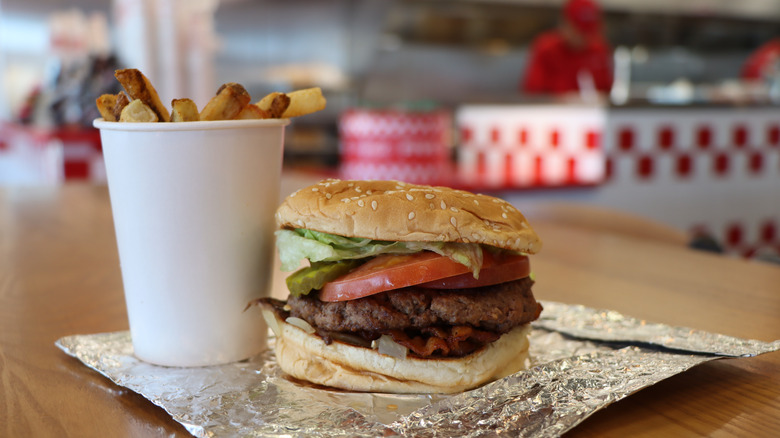 Deutschlandreform/Shutterstock
Just thinking about a Five Guys burger is enough to make your mouth water. The juicy patty always has the perfect amount of crunch, and the thin burgers never fail to satisfy our craving. With a side of fries, the burger becomes a meal straight out of our dreams. No matter what part of the country you're in and no matter what day of the week, you can count on a consistently top-tier burger from the restaurant.
According to Eat This, Not That, the high quality burger comes down to the freshness of the ingredients. The burgers are made from fresh ground beef, prepared by hand in the restaurant, and never frozen. Of course, the key ingredient to a delicious burger is the precise preparation and cooking, and the specific way burgers are made at Five Guys is a big part of what creates their unique taste and feel.
One employee has spoken up about how the chain's cooks get the perfect Five Guys burger every single time, and we have all the details below.
How Five Guys burgers are made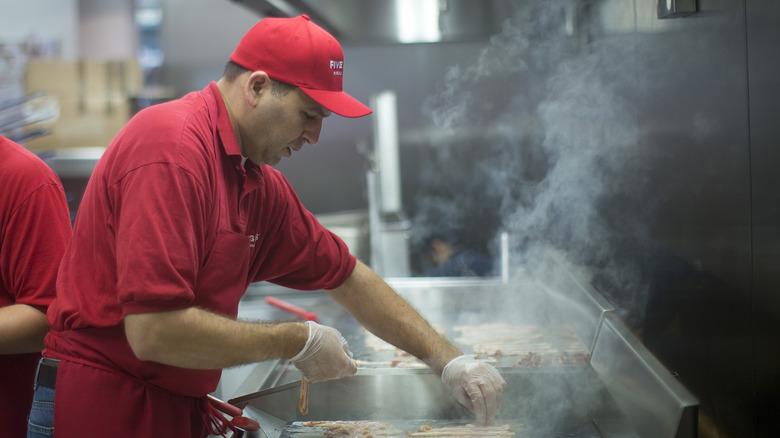 Bloomberg/Getty Images
The fresh ingredients and specific preparation of the burger at Five Guys is ultimately what creates the meal we crave. An employee named Maezion Henix, who also makes TikTok videos about working at the chain, revealed the method behind every single scrumptious burger to Insider. He told them that the perfect burger is "leaking ... so when you bite into it, it's satisfying."
The cooks at the restaurant use a specific system to perfectly cook each burger. First, the burger patty is cooked for one minute on a specific section of the grill. Then, it's flipped and moved to section two. At this stage in the process, a special tool is used to press the patty flat, which creates imperfect edges that cook and char to the crispy flavor we love. After a minute and a half to two minutes of cooking on that side, the blood from the beef patty will show it's time for the cook to move it to section three on the grill. This is where the burger is cooked through until it is well-done.
Once the patty is done, the burger is put together with all the toppings you want between a classic bun, and voilà: the Five Guys burger we know and love is ready to be enjoyed.