David Bowie's Favorite Food Was Surprisingly Basic
Jo Hale/Getty Images
We may receive a commission on purchases made from links.
David Bowie was and continues to be one of the world's most influential musicians, performers, and humanitarians. The impact the glam rock pioneer made on both the music industry and the world at large has inspired fans across generations to live a life filled with adventure, change, and personal reinvention. Most importantly, Bowie was known for his humble personality and kind nature, according to those who were lucky enough to be graced with his divine presence.
Despite his daring wardrobe, chart-topping musical performances, and critically acclaimed film and stage roles, the Starman's diet was surprisingly modest. So, what did Bowie dine on to fuel himself for his teeming itinerary? According to David Buckley, author of the book "Strange Fascination: David Bowie: The Definitive Story," Bowie's diet in the mid-'70s notoriously consisted almost entirely of red peppers, milk, and apparently, a lot of cocaine (via First We Feast). Later in his life, he (thankfully) adopted a more substantial diet, paying frequent visits to Caffè Falai, a now-closed Italian restaurant in the SoHo district of Manhattan, where he would typically dine on sandwiches and pasta. But his choice meal, whether dining out or at home, was a classic tuck-in that appears on British restaurant menus around the globe.
The ever-eclectic Bowie preferred a simple English meal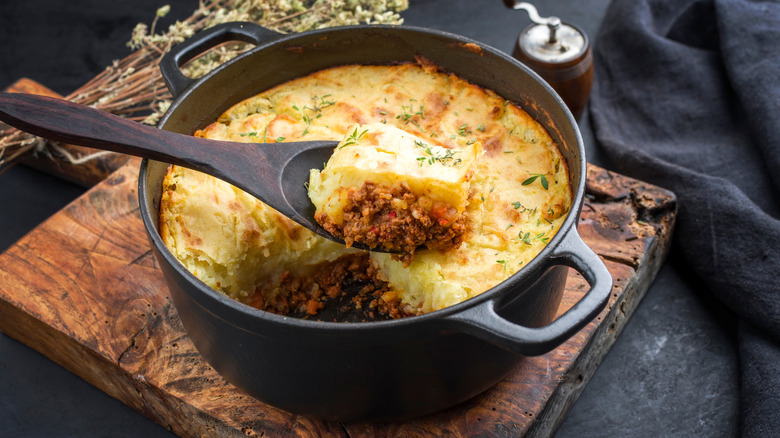 hlphoto/Shutterstock
One of David Bowie's favorite dishes of all time was, like the man himself, both surprising and wholesome: shepherd's pie. This English comfort food was the Thin White Duke's go-to fare. David adored the hearty meat pie so much that his wife Iman whipped it up for him regularly, Food & Wine reports. When Sony, his Japanese record label, opened a Bowie-themed café in the ground floor of the studio's building in Tokyo to promote his 2013 album "The Next Day," the featured entrée was shepherd's pie made with mashed potatoes, chili beans, and of course, "plenty of cheese" (per Uncut).
David Bowie died of liver cancer in January 2016, two days after his 69th birthday and the release of his final studio album "Blackstar." The legend's death shook the world, but he will be forever remembered as not only a genius artist who was never afraid to show his true colors, but also a man who always stood up for those who also deserved to be in the spotlight. Long live Bowie!