Easy Crockpot Rice Pudding Recipe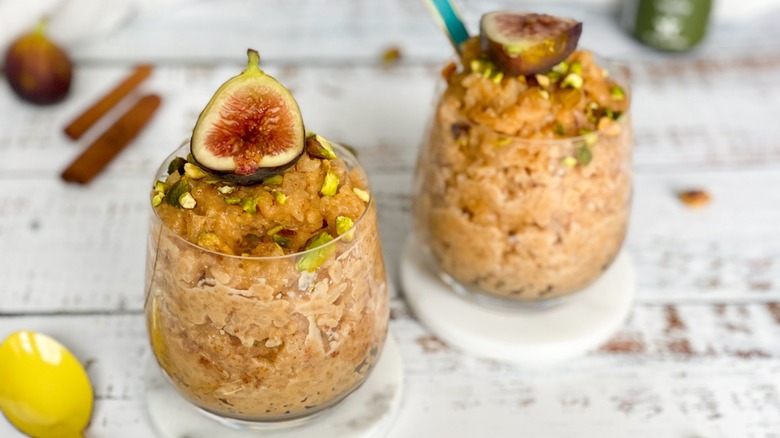 Haley MacLean/Mashed
Who doesn't want a versatile snack that doubles as a good breakfast and a sweet evening treat? It just so happens that recipe developer and plant enthusiast Hayley MacLean of Happy Healthy Hayley brought us one of her favorite fall recipes: rice pudding. We're here to share a taste of home to warm your heart and soul throughout this beautifully crisp season and beyond. (You can thank us later!)
There's no concrete evidence of where rice pudding was originally cooked up. The history books tell tales crediting either China or India as its inventors. If comfort was a food shared worldwide, this dish would be it! This gooey, grain-filled porridge is loved in the UK as well as Australia. In Indian culture, rice pudding is sweet treat known as "kheer." Portugal and other Latin cuisines call it "arroz doce," or sweet rice. What will you call yours? Let's get in the kitchen and call it all good!
Gather the ingredients to prepare Crockpot rice pudding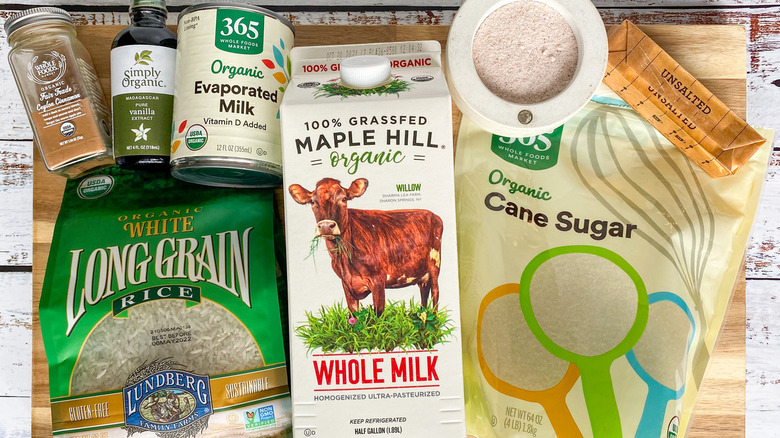 Haley MacLean/Mashed
First off, you'll need to round up the ingredients to bring this delicious dish to life. Here's what you'll need to make your rice pudding a complete success: uncooked long grain (white) rice, a can of evaporated milk, and whole milk. We'll also be adding white granulated sugar, unsalted butter, with a bit of vanilla extract, and cinnamon or one cinnamon stick. Finally, you'll be adding in a hint of salt. (Pink Himalayan is pictured here.)
Rinse the rice well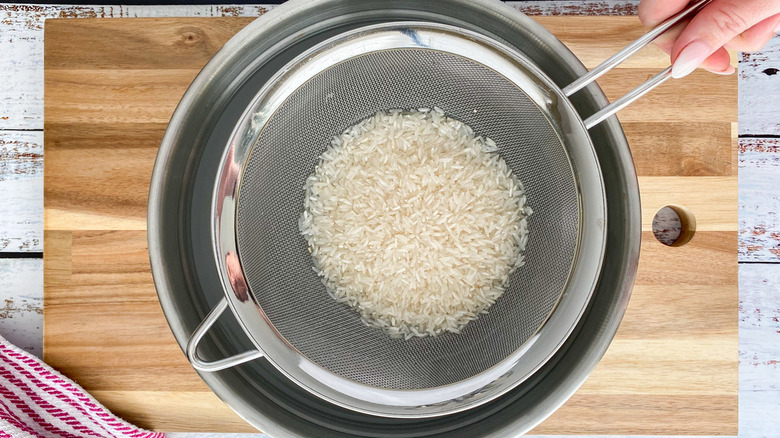 Haley MacLean/Mashed
The first step is measuring out ¾ cup of long grain white rice and rinsing the rice under cold water. Rinsing the rice removes any reside from milling, and it also decreases any excess starch. MacLean explains, "The rice will be fully rinsed of starch when the water running off of it is no longer cloudy. An easier way to do this is to rinse the rice in a strainer under the faucet, and you can see it begin to run clear."
Add the ingredients to the Crockpot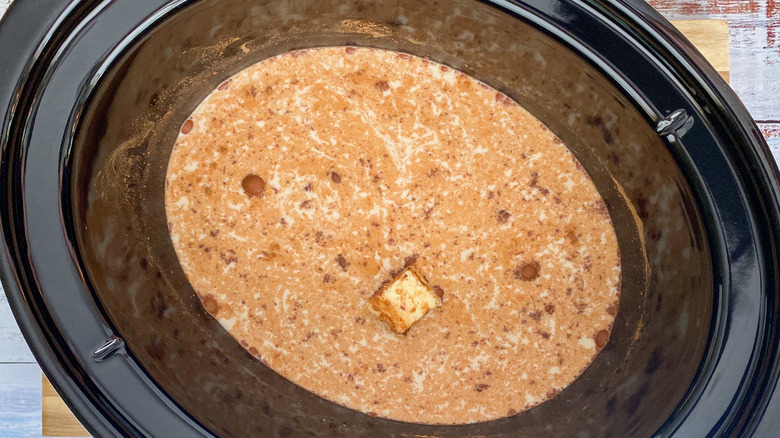 Haley MacLean/Mashed
Once the rice runs clear, pour it into the Crockpot with 1 cup of evaporated milk, 2 cups of whole milk, and ¾ cup of white granulated sugar. If you're vegan or lactose intolerant, MacLean shares a few alternatives. "Vegan substitutes can absolutely be used in this dish — I would trade in the evaporated and whole milk for 3 cups of dairy-free milk and switch for a plant-based butter substitute," she says. Next up, add 2 tablespoons of unsalted butter (unmelted) into your Crockpot, along with 1 teaspoon of vanilla extract, ½ teaspoon of cinnamon (or one full cinnamon stick), and ¼ teaspoon of salt. 
"I grew up eating rice pudding as a family favorite — so that was absolutely my inspiration for this dish! It is an incredibly comforting dish, totally perfect for this time of year with its warming spices," MacLean notes.
Cook on High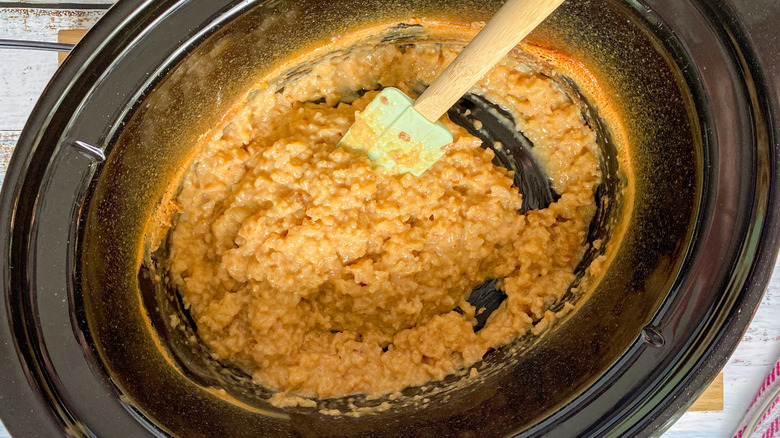 Haley MacLean/Mashed
Once you've added in your ingredients, cook the mixture on High for 2 to 2 ½ hours. At the peak of completion, the rice will come out cooked through and the liquid will be thick like a paste. Just in case your rice pudding mix dries out a bit too much, MacLean recommends a quick fix: "If this tightens up too much in the Crockpot, just stir in a bit more milk, and it will thin it right back out easily."
Have you imagined how you'll serve this yet? We're thinking warm and sprinkled with cinnamon. Some like it hot, and some like it cold, but it's definitely better enjoyed fresh! MacLean says that this rice pudding recipe is a flex, literally: "The last thing I would note is that it can be served cold on warmer days and warm on cooler days, making it the perfect treat anytime!"
This is the perfect fall treat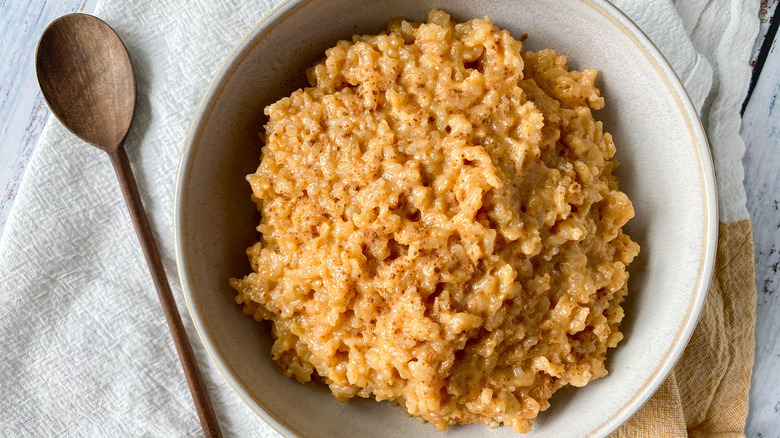 Haley MacLean/Mashed
After your timer goes off, serve this dish either warm or chilled with your choice of toppings. If you're making this for a nutritious breakfast, top it with fruit, and keep your sides light. MacLean says, "This can absolutely be served for breakfast! However, portion control is important here due to its fat and sugar content, so enjoying it as part of a more balanced breakfast would be best." Popular rice pudding toppings include macadamia nuts, caramel toffee, oatmeal, or almonds. "I love serving this with crushed pistachios and figs (as shown), but it is also wonderful with a cherry compote or sliced bananas," MacLean adds.
The options are infinite! Rice pudding is globally praised for its flexibility. Be as creative as you'd like when serving your guests. Our recipe yields four single servings. You may present them in a breakfast bowl (as shown above) or in snack-sized portions. MacLean says, "My favorite part of this dish [is] just how creamy and delicious it is. It is wonderful on its own, [but it also] pairs well with fresh or dried fruits, compotes or jams, all sorts of nuts, or whatever else your imagination can think up. It is so versatile!" Your family will enjoy this gooey goodness. We invite you to give it a try this fall!
Easy Crockpot Rice Pudding Recipe
This Crockpot rice pudding recipe will warm your heart and soul throughout this beautifully crisp season and beyond.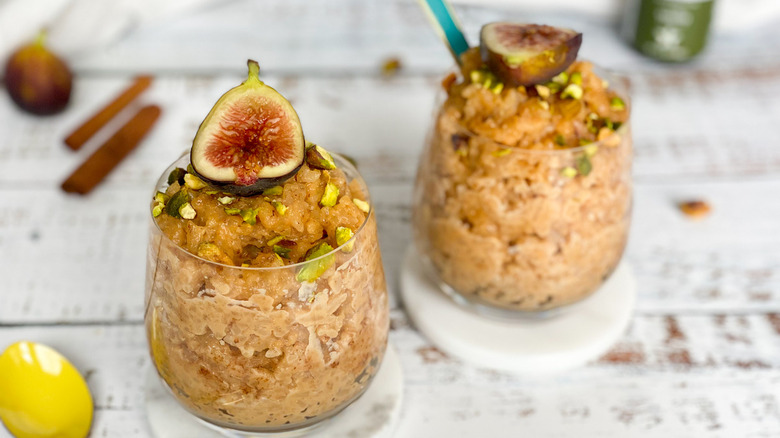 Ingredients
¾ cup long grain white rice, uncooked
1 cup evaporated milk
2 cups whole milk
¾ cup white granulated sugar
2 tablespoons unsalted butter
1 teaspoon vanilla extract
½ teaspoon cinnamon (or 1 cinnamon stick)
¼ teaspoon salt
Directions
Rinse the white rice under cold water to remove the excess starch.
Combine the rinsed rice, evaporated milk, whole milk, granulated sugar, butter, vanilla extract, cinnamon, and salt in the Crockpot.
Cook on High for 2 to 2 ½ hours, until the rice is cooked through and the liquid is thickened.
Serve either warm or chilled with your choice of toppings.
Nutrition
| | |
| --- | --- |
| Calories per Serving | 359 |
| Total Fat | 14.5 g |
| Saturated Fat | 8.8 g |
| Trans Fat | 0.2 g |
| Cholesterol | 45.7 mg |
| | |
| --- | --- |
| Total Carbohydrates | 50.1 g |
| Dietary Fiber | 0.2 g |
| Total Sugars | 50.1 g |
| Sodium | 265.9 mg |
| Protein | 8.2 g |