Reddit May Have Leaked New Taco Bell Menu Items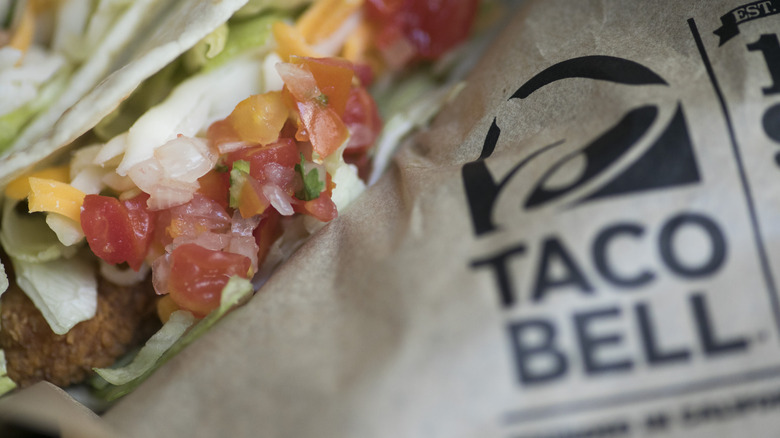 Bloomberg/Getty Images
Taco Bell has already rolled out new menu items several times this year. In March, the taco chain brought back Quesalupas, Potato Tacos, and Cheesy Fiesta Potatoes across all its outlets in America, as well as a new beverage — the Wild Strawberry Lemonade Freeze (via Eat This, Not That!). In August, Eat This, Not That! reported the fast-food chain was testing two new items — White Hot Ranch Fries and White Hot Ranch Fries Burrito — in its outlets in Chicago.
Taco Bell fans will be happy to know that the chain's latest menu revamp for 2021, not due to hit stores until October, has been leaked by Marketing Bulletin on Reddit. Fans can expect new additions, limited menu items, freebies, new meal boxes, and the return of some classic Taco Bell favorites.
In another screenshot shared by a Taco Bell employee, the new menu items, it seems, will be available starting October 7 and will remain part of the lineup until November 4. While some items will be available throughout the month, others will only be available on select days during the one-month period. Keep reading to learn which items will be available and when.
Taco Bell plans to reintroduce old favorites and add entirely new items
Per an image shared on Reddit, Taco Bell will be introducing a brand new Cantina Crispy Melt Taco with a layer of three-cheese melt (mozzarella, pepper jack, and cheddar) inside a white corn shell with a topping of either Taco Bell's ground beef or black beans. It seems that the Cantina Crispy Melt is a nationwide release of the taco they tested in Detroit in 2020, which turned out to be an instant hit (via Eat This, Not That!).
While the taco will be available throughout the month-long promotion period, the return of Taci Bell's Crispy Chicken Wings tossed in Mexican spices and served with a spicy ranch sauce back will only be available between October 27 and November 2. As part of the new menu, customers will also get any Toasted Breakfast Burritos for free on October 21 between 7 a.m. and 11 a.m. and a free Cheesy Toasted Breakfast Burrito between 11 a.m. and 2 p.m. Now that's a day to mark in your calendar.
Taco Bell will also introduce two new meal boxes and a new combo — a $5 Cantina Crispy Melt Taco Box with the new taco alongside a Beef Chalupa Supreme, a Crunchy Taco and any medium-sized drink; a Deluxe Cravings Box with a five-layer burrito, Steak Chalupa Supreme, Locos Tacos, chips & cheese and a medium-sized drink; and a Cheesy Gordita Crunch Taco Combo. Rounding off the new menu will be a blue-colored Cherry Twilight Freeze slushy with frozen raspberries and red cherries.