Krispy Kreme's New Cinnamon Rolls Come With A Crunchy Twist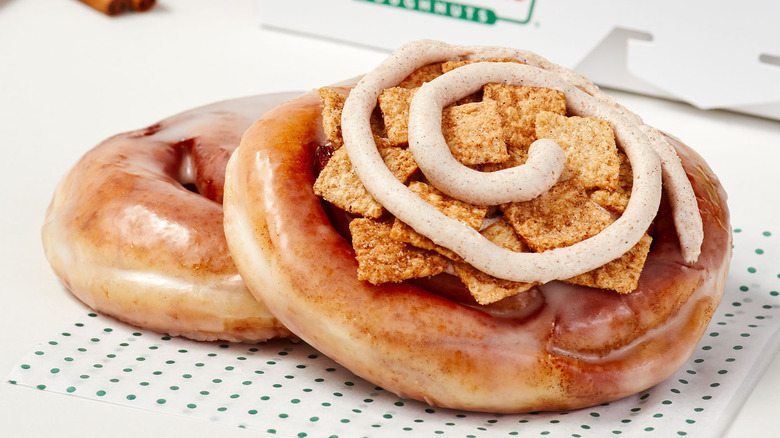 TongRoRo/Shutterstock
From September 27 through October 10, Krispy Kreme will be offering two types of cinnamon rolls. In its press release, the company explains that there are the Original Glazed Cinnamon Rolls, which are cinnamon rolls covered in Krispy Kreme's trademarked glaze, and a Cinnamon Toast Crunch Cinnamon Roll, which is the same but with a topping of  Cinnamon Toast Crunch pieces and a cereal milk icing swirl.
These rolls are available both individually and in boxes containing two of each at participating locations. Prices will vary by location, but the box appears to be worth around $8.29 while the single regular glazed roll goes for around $2.59 and the Cinnamon Toast Crunch one has a price of $2.79.
On Instagram, this announcement was met with rapturous approval. Within an hour, the post acquired 10,496 likes and comments upon comments along the lines of "Need," "Yes," and "Dreams do come true." So, for the next few weeks, Krispy Kreme may become the site of a battle royale. You are warned.
This is the latest in Krispy Kreme collaborations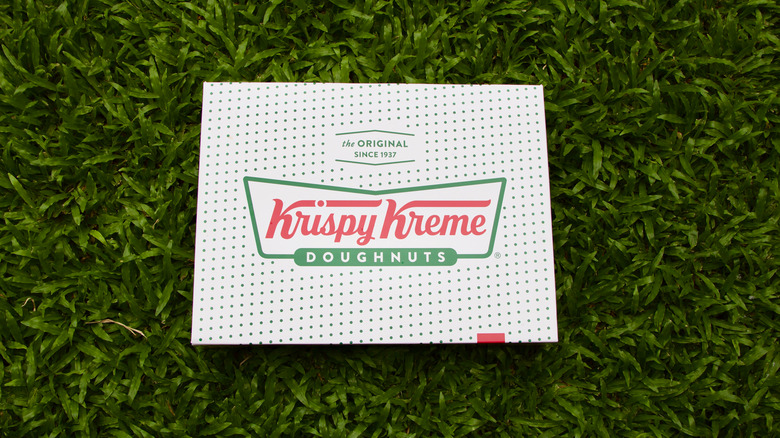 TongRoRo/Shutterstock
This collaboration with Cinnamon Toast Crunch's maker General Mills is only the latest in a series Krispy Kreme has pursued over the year.
In August, People reported that they teamed up with Hershey's to release a pair of special doughnuts celebrating s'mores. "We're teaming up with Hershey's, one of the key ingredients for any s'more, to give fans doughnuts that satisfy their marshmallow-graham-cracker-chocolate desires in an amazing new way," Dave Skena, chief marketing officer for Krispy Kreme, explained.
Similarly, Krispy Kreme also worked with OREO to debut a pair of OREO-inspired doughnuts in April. What makes this one especially notable is, as Guilty Eats relays, this was the first time Krispy Kreme worked with another brand to tinker with its special glaze.
Each collaboration occurs after a couple month's break, and each comes out with two doughnuts that highlight the product of the other brand. So, enjoy your cinnamon rolls for the next few weeks and look ahead to November or December. Perhaps we'll see a new, wintry doughnut appearance.