34% Of People Agree This Is The Worst Menu Item At Buffalo Wild Wings
Buffalo Wild Wings is a sensational brand in many ways. According to Mental Floss, one of the things that helped the restaurant franchise succeed in its early days was its campaign to reach out to college students and set up outlets around campuses in the Midwest. The strategy worked, and in a short span of time, the brand managed to build a loyal customer base.
To date, Buffalo Wild Wings remains popular among foodies everywhere, and it's estimated that the company easily sells almost two billion wings each year. Whoop, whoop! A fan on Reddit wrote about some of their most preferred options from the eatery and said, "Spicy garlic and Asian zing are my go-to! Always! Extra crispy and extra wet. But I prefer traditional bone-in wings!" They added that they make it a point to order food from the restaurant at least three times every week.
But which food options are the least popular among customers at Buffalo Wild Wings? We've already covered the worst Buffalo Wild Wings sauce, and we dug further into this topic through a Mashed survey that asked participants to vote for their least favorite menu item.
The cauliflower wings don't get much love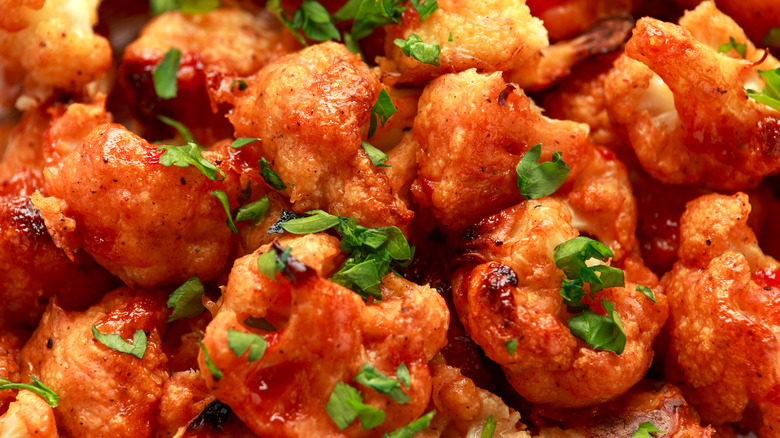 DronG/Shutterstock
The survey included 642 participants from different parts of the U.S. Around 34.27% of the respondents said that they're not impressed by cauliflower wings at Buffalo Wild Wings. Meanwhile, 26.01% of the respondents voted against the Southwestern black bean burger. Other options included the classic chicken wrap (11.06%), hand-breaded tenders (8.88%), boneless wings (8.26%), traditional wings (6.85%), and the grilled chicken club sandwich (4.67%).
While the cauliflower wings may come across as a healthy and straightforward option at first, it's not so easy to classify the menu item. A Redditor wrote about how disappointed they were when they found that the wings are fried in beef shortening, which means that they're not suitable for vegetarians. Plus, a quick look at the brand's nutritional guide indicates that just one serving of this dish has around 440 calories with 22 grams of fat. Not the best, huh?