The Worst Buffalo Wild Wings Sauce According To 22% Of People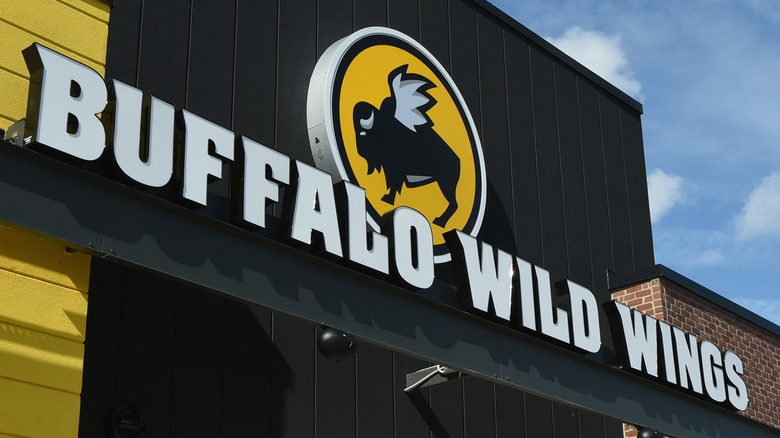 Rick Diamond/Getty Images
If there's a sporting event on television, you'll more than likely be able to find a platter of chicken wings nearby, and it's not hard to understand why. Boneless or bone-in, baked, or breaded and fried, this particular finger food can satisfy just about anyone when the pangs of hunger start calling. Buffalo is the standard sauce you'll find coating a basket of flats and drums, but not everyone is a fan of its spicy, vinegary flavor profile, which is one reason why Buffalo Wild Wings is a favorite amongst chicken wing connoisseurs. The chain has a total of 25 different flavor options for customers to choose from that range from the traditional buffalo to some more unique offerings like Thai Curry and Smoky Adobo.
However, with so many different sauces for customers to drench their chicken wings in, it's not outlandish to believe that some aren't exactly up to par. To figure out which sauces don't pass the test, Mashed put out a survey asking wing lovers to choose the worst flavor out of the following: Asian Zing, Blazin Carolina Reaper, Honey BBQ, Jammin Jalapeño, Mango Habanero, Parmesan Garlic, and Spicy Garlic. A total of 603 U.S. participants responded, of which only 4.31% chose Honey BBQ as their least favorite. This comes as no surprise considering it was recently voted to be the chain's best chicken wing flavor, but how did the other flavors fare?
Spicier isn't always better at Buffalo Wild Wings
The Spicy Garlic sauce from Buffalo Wild Wings earned the second-lowest number of votes in our survey, being chosen by 8.79% of participants, while Asian Zing and Parmesan Garlic followed closely behind with 12.27% and 12.60%, respectively. The top three spots in our poll, meanwhile, were filled with some of Buffalo Wild Wings' spicier flavors like Mango Habanero, which placed third with 19.24% of participants. Jammin Jalapeño took the unfortunate title of being the second-worst flavor option offered by the chicken wing chain, earning it a total of 20.23% in the poll, but was still found to be more tolerable than the Blazin' Carolina Reaper sauce that earned the number one spot in our survey.
Introduced to the menu in September 2020, the Blazin' Carolina Reaper flavor is currently the restaurant's spiciest offering and, according to Inspire Brands, will even earn you a spot on the Blazin' Wall of Fame if you're able to down 10 wings drenched in the sauce within five minutes or less. The promise of recognition throughout the chain didn't seem to impress our survey respondents, 22.55% of whom chose the sauce as the worst of Buffalo Wild Wings' myriad of options, and we totally understand why. Clocking in at more than two million Scoville units, we're not so sure these wings would actually be enjoyable to eat.