16 Popular Fair Foods, Ranked Worst To Best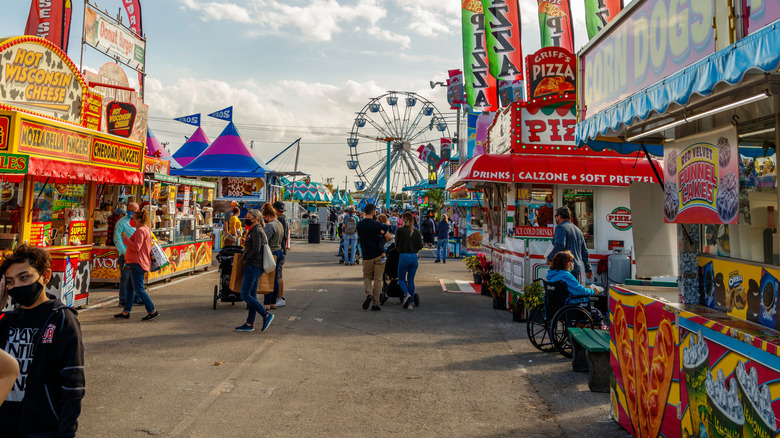 Microfile.org/Shutterstock
As the temperature starts to drop down and the leaves begin to change, there's typically one thing every foodie has on their mind — and it's not just pumpkin pie. As delicious and tempting as all those pumpkin-flavored fall treats are, nothing is quite as fun and festive as fair food. Yes, a new batch of state and county fairs across the United States start to pop up as summer turns into fall, and that means that all kinds of deep-fried treats, meats on a stick, and so much more are all available once again.
So, if you have plans to head out to your local fair, you're probably looking forward to the food just as much — if not more — than the rides and games. There's just something so nostalgic, delicious, and downright fun about the food you find at the fair. It's not like the food you can get anywhere else, even at a fast-food joint. That said, it might be smart to be prepared and on the lookout for the absolute best fair food so you don't get too full on the mediocre offerings before getting to the good stuff. So, want to know the most popular fair food, ranked worst to best? Well, you've come to the right place!
16. Cheeseburgers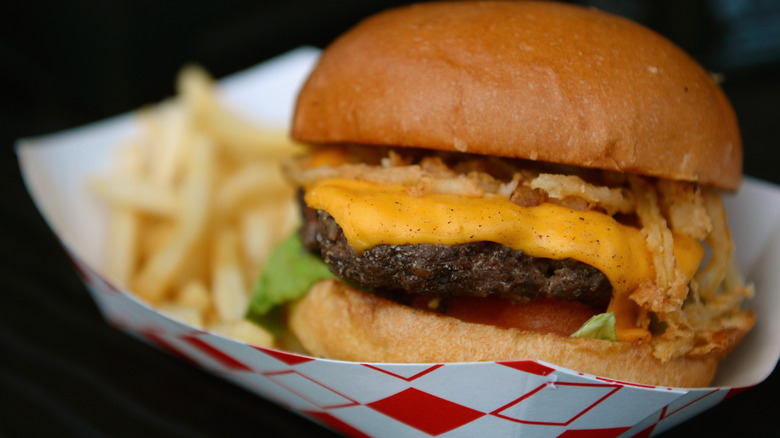 Bryan Steffy/Getty Images
Listen, everyone loves a good cheeseburger, right? And really, there's nothing inherently wrong with enjoying the filling American classic at the fair. But when you look at everything else that's available to eat and compare it to whatever cheeseburger you find among the stalls of great food, it will probably end up being a little lackluster.
Sure, a cheeseburger might seem like a safe choice, and with a good amount of protein, it's also a pretty smart choice if you plan on grabbing a lot more sweets and snacks later on. But overall, most fair cheeseburgers aren't the best thing on the menu. After all, a cheeseburger is kind of boring when you think of all the other options at the fair. And while you might want to try a weird cheeseburger, like one with a waffle bun, it still won't be the best thing at the fair. Go ahead and skip it.
15. Candy Apples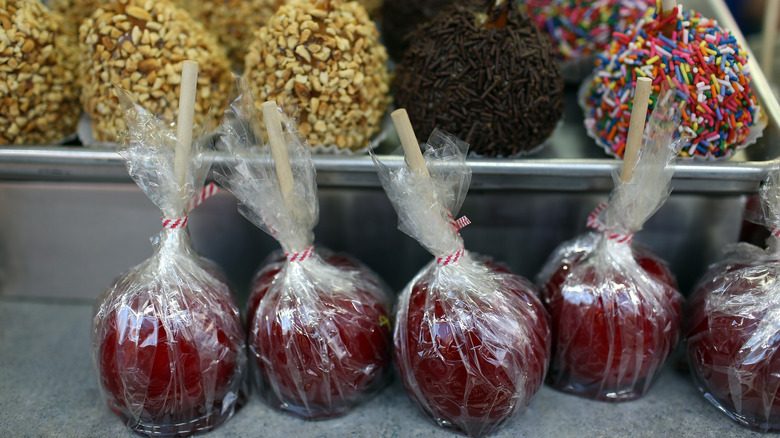 Joe Raedle/Getty Images
If you aren't a huge fair person or just find the idea of going to the state fair a little daunting, then you can still count on going to a fall festival or small county fair to get some popular fair foods like candy apples. Yes, candy apples are certainly a seasonal favorite, but are they really the best that fairs have to offer? Honestly, not really.
Candy apples might be tasty, and they might be easy to eat while walking around the fair, but that doesn't make them great. Aside from the fact that candy apples can be messy, hard to eat, and tend to hurt your teeth, there are just so many other options at the fair. Why waste your time with an apple? There's no need to be healthy at the fair, so who needs fruit? Seriously, there are so many dessert options at the fair; don't waste your time with a candy apple.
14. Hot dogs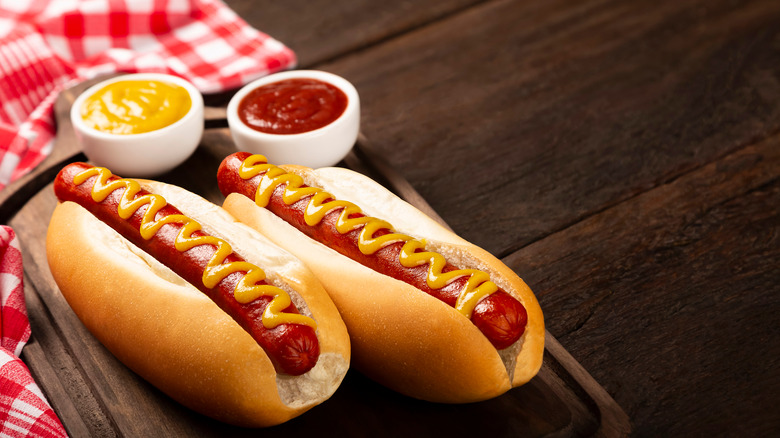 WS-Studio/Shutterstock
Like the cheeseburger, the hot dog is another classic American food you can find at most fairs. Hot dogs are obviously delicious, and for picky eaters, they might be a great choice at the fair when other savory options are a little too weird. But overall, hot dogs at fairs aren't anything special and honestly a little boring.
Obviously, you can spice up your hot dog with different toppings like chili and cheese, but why waste your time with that when there are so many other foods at the fair that are more unique and interesting? Fair hot dogs also tend to be a little unpredictable. You might get one that's overcooked or undercooked, and no one wants that. Hot dogs at the fair also aren't a super beloved item, as popular as they are, so they don't get the same attention as other, more unique items. You also run the risk of missing out on better food than the hot dog, and that might be even worse. Whatever the case, just skip the hot dog.
13. Lemon shake-ups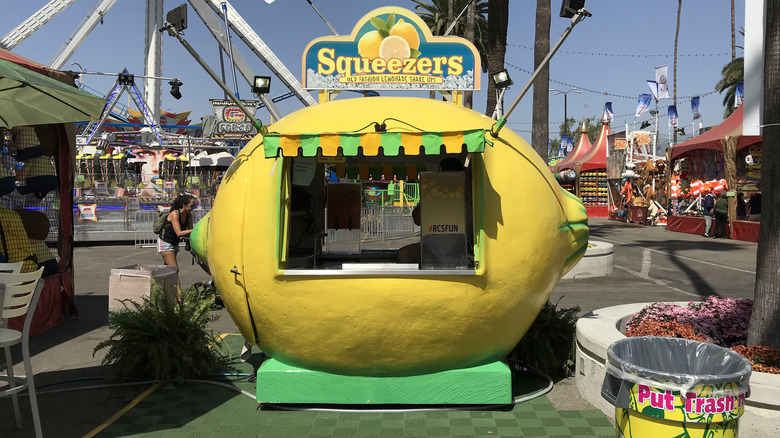 Jim Steinfeldt/Getty Images
One of the most popular drink items people get at the fair is the lemon shake-up. Now, if you're wondering what, exactly, a lemon shake-up is, hold tight because it's really not that exciting. Lemon shake-ups are basically just lemonade made with fresh-squeezed lemon juice which is served over ice and then shaken to order to keep it nice and refreshing the whole time you're walking around the fair sipping on it. Of course, lemon shake-ups aren't really all that exciting or unique, but there is something so enticing about a fresh, homemade lemonade that just screams "fun"!
That said, lemon shake-ups still aren't the best thing at any fair because they really are just lemonade. And as delicious as lemonade might be, it's not anything new or exciting or deep-fried or covered in cheese. Again, they aren't bad or anything, but if you have a limited budget or are worried about getting too full, go ahead and skip the lemon shake-ups.
12. Corn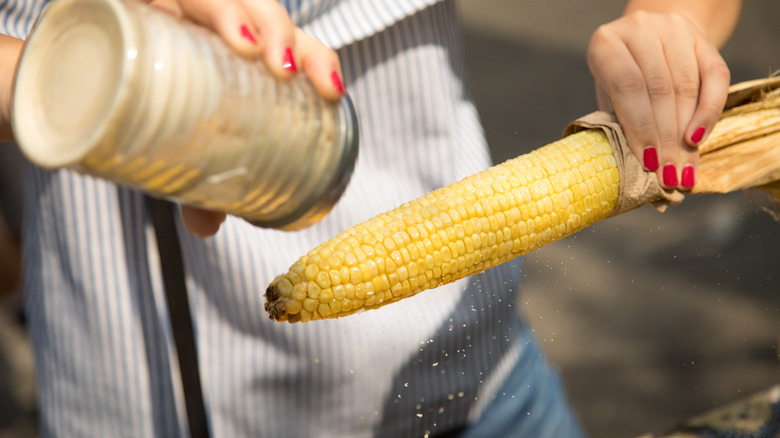 VDB Photos/Shutterstock
Obviously, when you think of going to the fair and indulging in some delicious food, vegetables are probably the last thing on your mind. But fair corn on the cob isn't your typical vegetable, and it's actually quite popular at most fairs across the United States. That said, just because it's popular doesn't mean it's the best thing at the fair, and unless you're just really craving it, you should save room for some more decadent treats.
Of course, corn on the cob from the fair isn't your typical corn on the cob that you make at home. It's typically served with your choice of toppings, from spices and seasonings to condiments and cheese, and it can be quite tasty if you choose the right flavor combination. Still, because it's a vegetable and not deep-fried or anything super special, it's not the best fair food out there. Really, it's pretty mediocre, and something you can replicate at home if you wanted to.
11. Cotton candy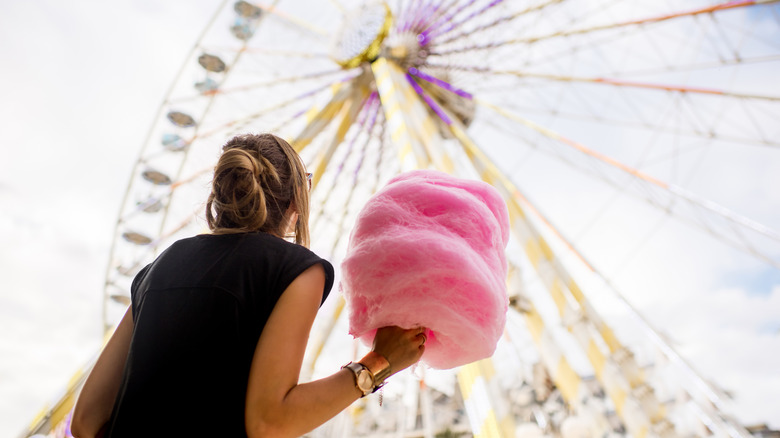 Ross Helen/Shutterstock
Unless you're a child, you probably don't get all that excited about the prospect of cotton candy. Nevertheless, it's still one of the more popular fair foods out there, and it sort of makes sense. After all, it's not exactly easy to make cotton candy at home, and most people probably don't think to get it except when they're at a fair. But that doesn't make it that special.
Since cotton candy isn't only sold at fairs, and the cotton candy you can get at a fair isn't really anything special or better than the cotton candy you can buy bagged up at a grocery store, this is one of the worst fair foods. Yes, it might be fun and festive and easy to carry around and melt in your mouth instantly, but cotton candy isn't all that great. After all, it's just sugar — literally — and there are so many other more creative and flavorful fair foods out there that cotton candy is definitely one to skip.
10. Kettle corn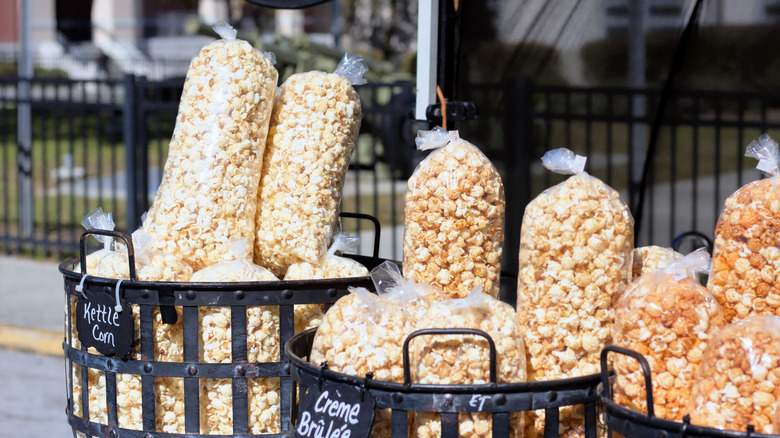 Thegima/Shutterstock
Moving on to what might be the ultimate fair snack: kettle corn! Kettle corn from the fair is different than the standard kettle corn you might find at a high school football game's concession stand or even the grocery store. For whatever reason, the kettle corn that's served at state and county fairs is both greasier and sweeter than normal kettle corn, and it just tastes more sinful.
Additionally, kettle corn is a great food at the fair because it's easily portable, and you can snack on it while walking around or waiting in other lines. It even stays good for a while so you can take it home to munch on throughout the week when you start to miss your time at the fair. It's still not the absolute best thing you can buy at the fair, because there are so many other delicious items, but you really can't go wrong with fair kettle corn. It's the happiest medium there is.
9. Cheesecake on a stick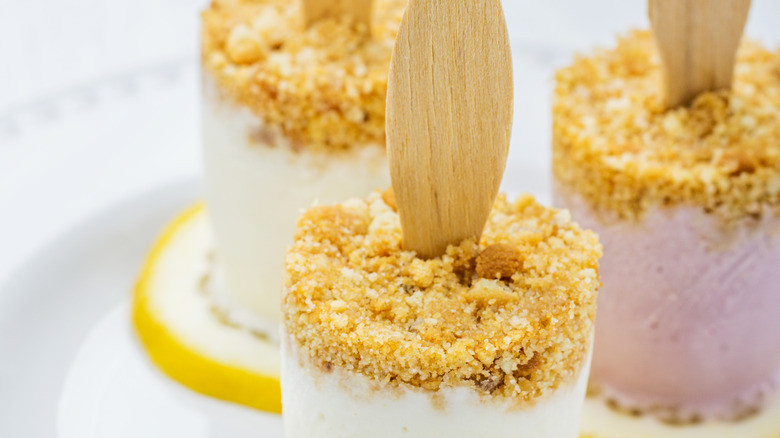 Ileish Anna/Shutterstock
There's no denying the fact that cheesecake is one of the best and most popular desserts out there, even when you're not at a fair. After all, there's a reason The Cheesecake Factory is so popular. But when you're at a fair and craving cheesecake, where are you supposed to sit to eat it? Cheesecake isn't exactly the most portable dessert, so at most fairs you can find cheesecake on a stick, a convenient solution that allows you to walk around while still enjoying your favorite creamy treat.
And the treat is certainly tasty. It typically is served with a couple of different options, so whether you crave plain cheesecake, chocolate-covered cheesecake, or one of many other varieties, you can get what you want. While this fair food is obviously tasty, it's still not the absolute best you can get, even in terms of dessert. However, if you're a big cheesecake fan, then definitely grab a cheesecake on a stick the next time you're at the fair, because it really is so fun and festive.
8. Corn dog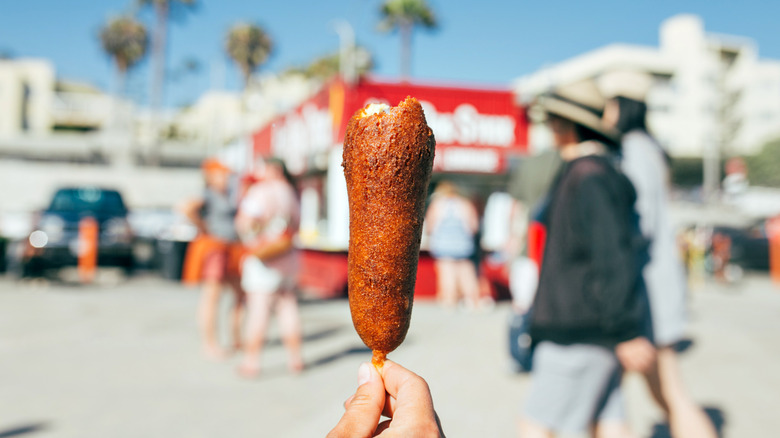 Bublik Haus/Shutterstock
Unlike the hot dog or hamburger, eating a corn dog at the state or county fair is a time-honored tradition. This is the ultimate fair food: It's deep fried, served on a stick, and extremely unhealthy. Obviously, you can eat corn dogs year-round at fast-food joints like Sonic or Wienerschnitzel, or even buy frozen corn dogs to make at home. But really, those are nothing compared to the corn dogs you can get at the fair.
Fair corn dogs are truly a breed all their own and taste a million times better than just about any other corn dog fried up elsewhere. That's what makes them one of the best savory fair foods you can get. Corn dogs at the fair are the perfect balance of greasy, savory, smoky, and a little sweet from the corn batter. So, if you're a corn dog fan, then go ahead and grab one at the fair, because they're the best corn dogs you'll eat.
7. Dole Whip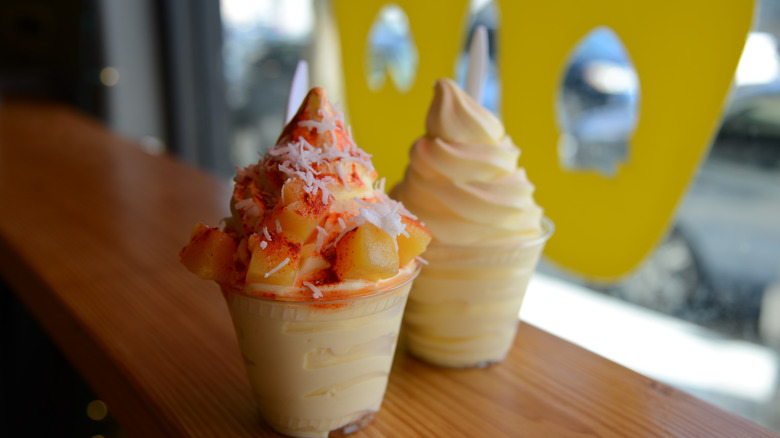 Diego FB/Shutterstock
Obviously, if you're a Disney World or Disneyland fan, then you know that Dole Whip is one of their most popular items and people seemingly can't get enough of the sweet, creamy, tropical dessert. But fortunately, you don't have to travel all the way to Florida or California to try some yourself. Many state and county fairs sell Dole Whip, so you can try the frozen treat while also saving room for other sweets at the fair.
Dole Whip is pretty delicious and definitely a one-of-a-kind dessert. Additionally, it's not your typical fair food, though it is extremely popular among fair-goers who have given it a try. It might not be dipped in batter and then fried to a crisp golden brown, or served on a stick or in a giant bucket, or topped with melted cheese or powdered sugar, but the Dole Whip is still one of the better fair foods out there. It's refreshing, tasty, and totally unique.
6. Fries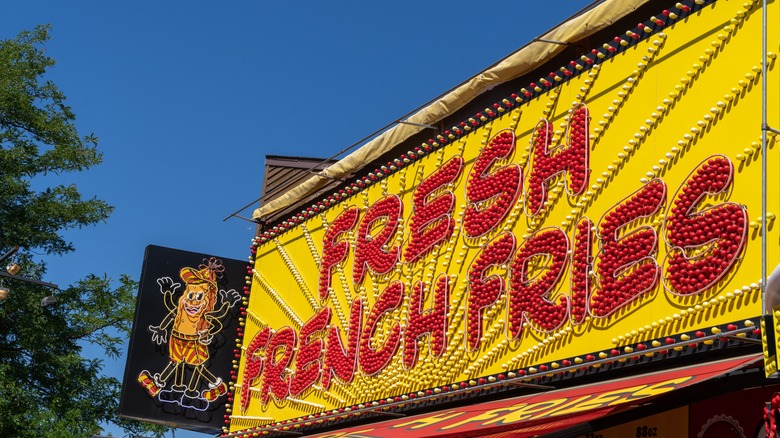 Melissa MN/Shutterstock
French fries might seem like too simple of a treat to enjoy at the fair, but fair fries aren't your typical French fries. They're greasier, tastier (often prepared from scratch), crisper, and way more fun to eat.
There's just something different about French fries at a fair, and fairgoers seem to agree with that sentiment. One attendee of the Minnesota State Fair noted that the fries were the highlight of their trip. "We get a bucket of hand cut fries every year," they explained. "What we do is scan the fair for what meat were going to eat. Get that and go get our fries so they are nice and hot, find a spot to sit and enjoy our yearly treats." Truly, French fries at the fair could be a meal of their own since they're so flavorful, fresh, crispy, and delicious. If you've never experienced true fair fries, then you're missing out.
5. Walking Tacos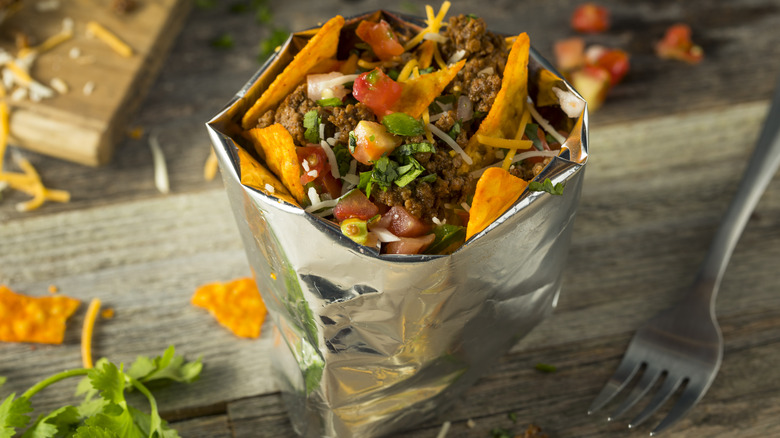 Brent Hofacker/Shutterstock
If you want something a little more flavorful while at the fair, there's nothing better than a walking taco. 
If you've never heard of a walking taco, it's a deconstructed taco that you can easily walk around with and eat, making it ideal fair food. But if you want a better description, a walking taco is basically a snack-sized bag of chips — usually Doritos or Fritos — topped with seasoned ground beef, cheese, lettuce, tomato, sour cream, and salsa. The fair food sensation has become so popular that Frito Lay even created its own The Walking Taco line of "top n go" chips.  
Still, we prefer the walking tacos served at the fair, which are typically pretty darn delicious. The meat is flavorful and perfectly fatty, and the novelty of walking around a fair carrying a bag of chips with a full meal in it just can't be beat. And while this isn't the best fair food of all time, it's pretty high up on the list.
4. Turkey leg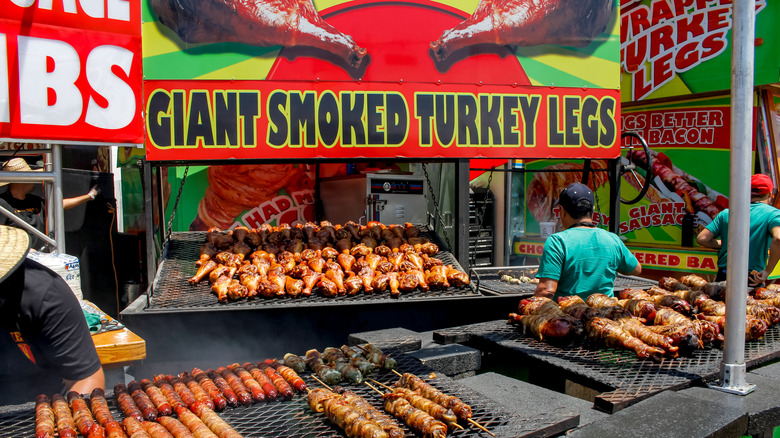 Tonelson Productions/Shutterstock
Just as the corn dog is an iconic fair food, so is the turkey leg. Yes, a turkey leg might sound kind of boring if you've never had one, but a turkey leg at the state or county fair is a completely different beast. Sure, you can get a fair-style turkey leg at an amusement part or water park, but it still won't be the same as a turkey leg you can get at the fair.
A review of the turkey leg from the New York State Fair highlighted the meat was perfectly cooked. "The turkey legs weigh 2 pounds when they hit the smoker for a few hours," the review noted. "The skin comes out nicely brown and perfectly crisp, and the meat absorbs just enough of the burning wood's aroma."
But not only is the turkey leg completely delicious, it's also portable, filling, and the perfect companion for a treat or dessert at the fair.
3. Deep-fried Oreos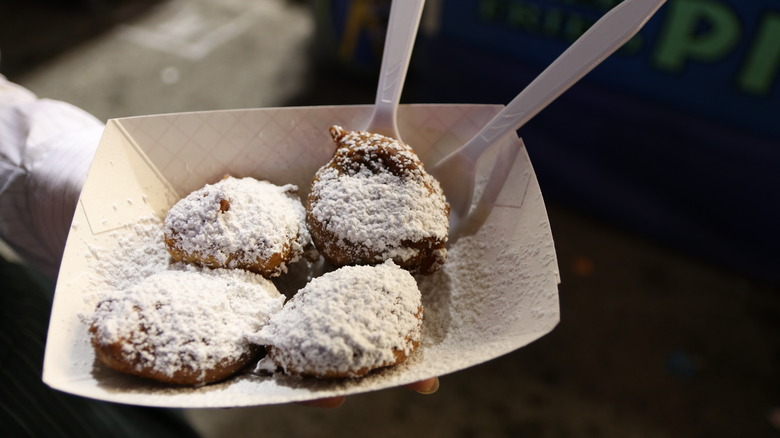 Minzzihyun/Shutterstock
Deep-fried Oreos are a staple at most fairs, and there's a reason for that. After all, it's not every day or at every restaurant that you see battered and fried cookies on the menu. But whether you go to your big state fair or a smaller county fair, you can almost guarantee that you'll find at least one stand selling deep-fried Oreos. And they are seriously tasty.
Obviously, a regular Oreo is pretty delicious. Dipped in milk, Double Stuffed, or just eaten plain as-is, Oreos are a classic treat enjoyed by just about everyone. So when you take an Oreo, dip it in a semi-sweet batter, and then deep fry it in burning hot oil, it's bound to just get even better, right? And it does! Deep-fried Oreos are decadent, moist, flavorful, and definitely one of the best foods you can get at the fair. And while you might be able to find deep-fried Oreos elsewhere, there's nothing like the fair version, so definitely order it while you can.
2. Fried candy bars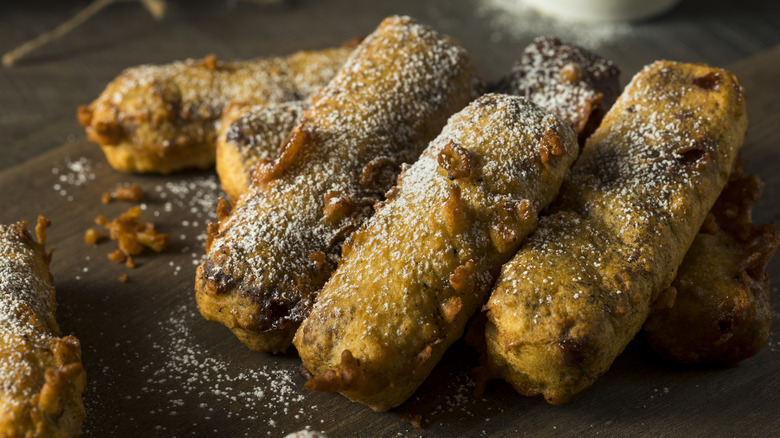 Brent Hofacker/Shutterstock
Perhaps the epitome of what fair food is, deep-fried candy bars are definitely one of the most popular items you can find at any fair. Obviously, anything deep-fried is going to be a huge hit at any state or county fair. But when you deep fry something that is already junk food, it's going to be even more desirable. And deep-fried candy bars are exactly that. Not only is the treat super popular, but it's also one of the best things at any fair that serves them.
Fried candy bars are so indulgent they feel like they should be illegal. Whether you get a deep-fried Snickers bar, Reese's Peanut Butter Cup, 3 Musketeers bar, or something else, it's sure to totally satisfy your sweet tooth. After all, a candy bar by itself is already loaded with fat and sugar, but when you coat it in a batter and fry it in oil it becomes warm, melty, gooey, and just so much better than a plain candy bar. While this might not be the best dessert at the fair, it's pretty close.
1. Funnel Cake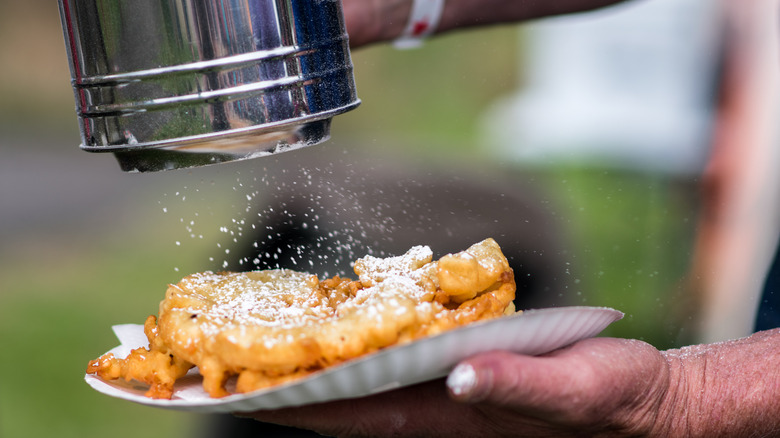 Neal Phillips/Shutterstock
If there's one fair food that reigns supreme, it is easily the funnel cake. People love funnel cake, and for good reason. The funnel cake is both nostalgic and fresh all at the same time. No matter how many times you eat a funnel cake, it always tastes new and exciting each time you order one. You can never quite exactly remember or replicate the taste of a funnel cake, and it's something that can really only be experienced at the fair.
In fact, funnel cake is probably the most popular fair food out there. People can't get enough of the deep-fried, swirled batter topped with powdered sugar and any other toppings your heart desires. There's nothing like a classic funnel cake, and while amusement parks have started selling them, too, funnel cake from the fair is truly iconic. It might not be the easiest thing to walk with while eating, but it's still the best fair food out there, bar none.