The Real Reason The Kitchen On Down Home With The Neelys Changed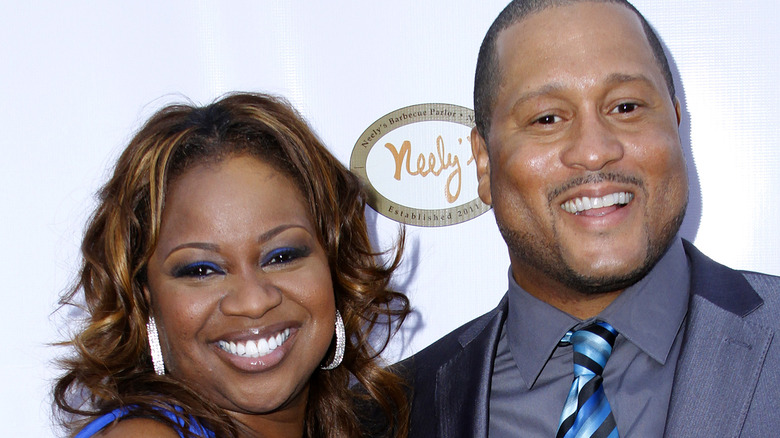 Donna Ward/Getty Images
So much of television is make-believe. In the "Sesame Street" theme song, for example, a chorus of children ask, "Can you tell me how to get, how to get to Sesame Street?" But the show's young viewers may have been a little heartbroken to learn there was no such place — at least not until New York Mayor Bill de Blasio renamed a Manhattan intersection "Sesame Street" in 2019 (via CNN). Just like "Sesame Street," Food Network tells us the cooking-and-talk show "The Kitchen" films in a TV studio rather than anyone's actual kitchen (except, of course, when the hosts retreated to their own homes in 2020 during the COVID-19 pandemic, per Fox News).
Authenticity may be hard to find in TV land, but fans of the old Food Network show "Down Home with the Neelys" could rest assured that the show delivered what its title implied. The cameras transported us to Pat and Gina Neely's true home kitchen outside Memphis, according to the network's website. The popular show ran for 11 seasons, per IMDb, and fans may remember a scenery change after Season 1. The kitchen, and the whole house in fact, were completely different by Season 2.
The Neelys' house sold after Season 1 of Down Home with the Neelys
According to Gina Neely's bio on her website, the cooking show she starred in with husband Pat, "Down Home with the Neelys," was a big ratings success for Food Network. The show connected immediately with viewers as the high school sweethearts told stories and cooked Southern dishes together with a lot of the cheerful banter you might expect from happily married couples. The "happily married" part turned out to be an act for the TV cameras, at least on Gina's part, according to People. While the warm and fuzzy feelings may have been fake — the Neelys divorced in 2014 — the food and the kitchen were real. "Down Home with the Neelys" was filmed inside Pat and Gina's actual house.
The show's instant popularity forced a major change after Season 1. Pat and Gina were in a new kitchen starting in Season 2 because they were in a new house. As explained on the Food Network website, the Neelys lived in a rental home while Season 1 was filmed. The house's owner sold it after the first season of "Down Home with the Neelys," with the owner's real estate agent even using the show's popularity as a selling point. Forced to move, Gina and Pat bought their own home, and their new kitchen was ready for action as Season 2 went into production.