Why This Harlem Restaurant Stayed Open To The Public During Meghan Markle And Prince Harry's Visit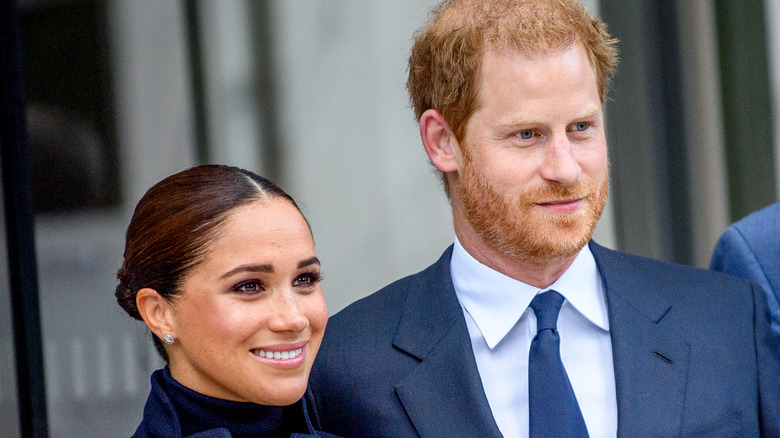 Roy Rochlin/Getty Images
Unless you're Leonardo DiCaprio and it's 1998, it's probably not important to you to dine in a restaurant closed to the general public — even if you're in line for the British throne. Besides, who these days even remembers New York's Moomba, the ultra-exclusive late-1990s night spot for DiCaprio and other A-listers, which kept out the riffraff even when the place was empty (via The New York Times)?
When Meghan Markle and Prince Harry do New York, as they did last week, they don't try to hide behind a doorman and his velvet rope. In fact, on September 24, the duke and duchess dropped in on the neighborhood soul food eatery Melba's Harlem for lunch, according to People. The visit was so hush-hush, Melba Wilson couldn't even tell her staff to expect royalty (former royalty, anyway) until an hour before Harry and Meghan got there.
Okay, so maybe the self-exiled British prince and his American-actress wife wanted to keep the number of gawkers to a minimum. But once they were settled in at Melba's Harlem, the couple turned out to be extremely down to earth. They even saw fit to dine with the commoners during that Friday lunch.
Harry and Meghan donated $25,000 to Melba Harlem's COVID relief fund
Melba Wilson, owner of Melba's Harlem, told People that Prince Harry and Meghan Markle were "down to earth," "comforting," and "caring." Wilson added, "It's not what I expected from a royal. They are really amongst the nicest people I have ever met." Harry and Meghan sampled catfish, collard greens, eggnog waffles, and spring rolls with black eyed peas. The couple made a point of conversing with servers and the chef — and even customers, who were not barred from entering just because the sixth in line to the British throne (via Independent) was present. "They wanted to be with the people, and that to me was so endearing," Wilson told People. "They took time to engage with other customers who were shocked that they were there," she added.
Meghan and Harry left a notable gratuity, in the form of a $25,000 donation to Melba's COVID-19 Employee Relief Fund, which helps restaurant workers make ends meet during the pandemic. Wilson, a Harlem native who came from "humble beginnings," said her encounter with Harry and Meghan was significant beyond the walls of her restaurant. "It's about Harlem," she said. "It's also about people who have dreams and have vision."