Wendy's Fans Won't Want To Miss This Frosty Freebie
Fast food chains sure know how to hold onto their loyal customers. Whether it's by keeping them on their toes with new and exciting menu options or making sure that the classic favorites are always available, their tactics work! Wendy's has been serving its iconic burgers, fries, and Frostys to customers since 1969. The latter is a frozen treat, created after the restaurant's founder wanted a tasty way to complete his Wendy's dining experience (via Wendy's).
This chocolate-y creation was indeed successful — it's hard to find something wrong with the thick and creamy treat. Wendy's regularly serves hundreds of millions of Frostys a year, which is partially thanks to special offers when they are handed out for free (via Fox News). Thankfully, such deals show no signs of slowing down. This fall, you'll be able to get a complimentary small Frosty when you buy an order of fries, Chew Boom reports. The offer stands regardless of what size of fries you purchase, but those in the know will opt for extra fries for dipping in your Frosty — you don't want to miss out on that heavenly combination of salty and sweet.
How does the offer work?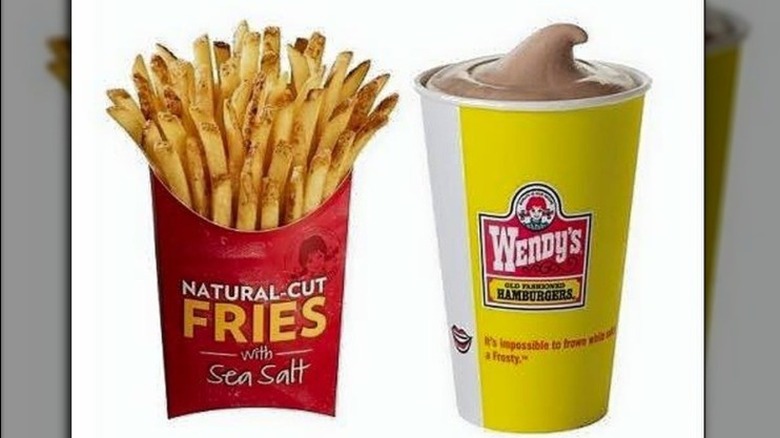 Instagram
This isn't the first time that Wendy's is assisting its customers in getting a free Frosty. This time, Chew Boom explains that you'll need to start off by downloading the Wendy's app if you don't already have it. It's definitely in your best interest to add it to your phone since you'll have plenty of special features and options to customize your orders. To redeem the offer, simply add it to any order you place through the app or scan the offer in-store or at a drive-through, Chew Boom notes. The offer is applicable until October 31, 2021, so be sure to make it to one of the participating Wendy's restaurants across the country before it expires.
Not only will you get to enjoy a delicious Frosty, Wendy's new Hot & Crispy Fries have just been launched so you're in for an extra surprise. These fries were designed to retain more of their crunch since orders are increasingly being served for delivery or take-out instead of being eaten immediately. Next time you've got a hankering for a snack and can't quite decide if you're in the mood for something salty or sweet, grab an order of Hot & Crispy Fries and choose whether you want to pair them with a chocolate or vanilla Frosty. If you can't pick, go with chocolate (which actually contains some vanilla) to balance out the flavor.