Wolfgang Puck Refused To Let This Person Inside Spago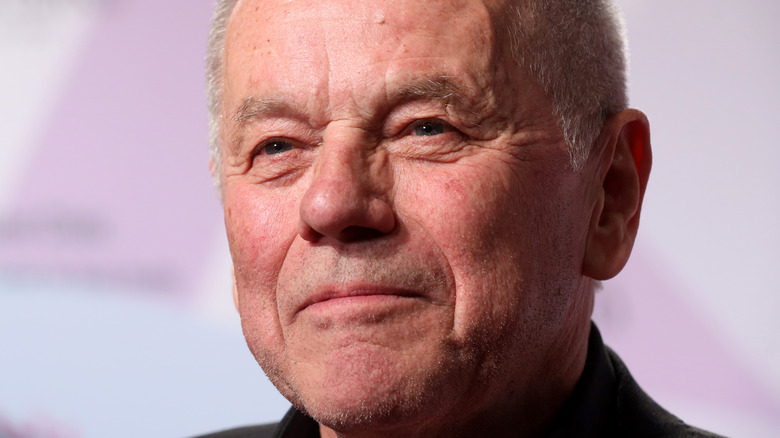 Gabe Ginsberg/Getty Images
Celebrity chef Wolfgang Puck is well-known for his priceless contributions to the restaurant industry. According to The Daily Meal, he was just 33 years old when he launched his flagship restaurant, Spago, in 1982 in Los Angeles. It was a massive hit among guests for several reasons, such as its simple menu that included tasty dishes like the smoked salmon pizza. 
Also, the restaurant was hugely popular among celebrities (via Eater). On opening night, there were as many as 18 Rolls-Royce cars outside Spago, as high-profile figures flocked to the eatery with unbridled enthusiasm. Per the book "Chefs, Drugs, and Rock & Roll" by Andrew Friedman, Puck wasn't sure about the restaurant and worried that there wouldn't be enough guests on the first night (via The Daily Beast). "I never even got to realize what I was in the middle of because who would have thought Spago, which became what Spago was overnight, would become that?" commented Nancy Silverton, who was the pastry chef at Spago.
The excellent turnout was surprising for everyone, including Wolfgang Puck, who got busy having conversations with all the guests and welcoming them into his new restaurant. "It was so crazy we could not get a handle on it at all," he admitted. While Spago welcomed many famous names, there was one person who wasn't allowed to eat at the fancy new restaurant.
It was chef Patrick Terrail
Per The Daily Beast, Wolfgang Puck didn't hesitate to refuse a table to chef Patrick Terrail when he arrived at the restaurant with a friend. For those not in the know, Terrail had a close connection with Puck and was his boss at his former workplace, Ma Maison. Per The Hollywood Reporter, things went awry between the two went Puck decided to launch Spago.
Puck shared this idea with his former boss, and it didn't go down well. "I told [Terrail] we have to create a new company and make it 50-50. He looked at me and said, 'I am always going to own 51%,'" he said. Meanwhile, Terrail claimed that he had nothing against Puck, and it was someone else that bothered him. He was referring to the chef's ex-wife, Barbara Lazaroff, who worked with Wolfgang Puck on several restaurants.
They eventually resolved their differences a few years later when Wolfgang Puck hosted Terrail's birthday party at Spago. The latter was touched by this gesture, and said, "that was extremely kind and generous of him."