The Coffee-Flavored Wendy's Frosty You Might Never Get To Eat Again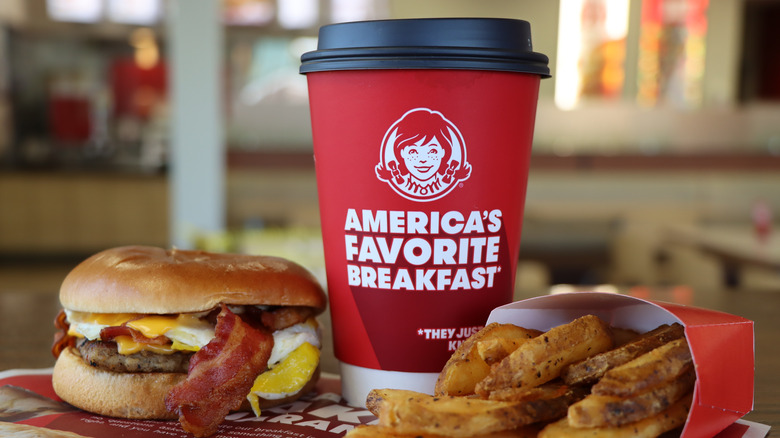 Deutschlandreform/Shutterstock
No meal is complete without dessert, and at Wendy's, a Frosty is the only thing to order when you're craving something sweet after devouring one of their decadent Baconator sandwiches. Neither a milkshake nor soft serve, the tasty treat that, per Wendy's website, came from founder Dave Thomas' "desire for a signature dessert to go with his vision of the perfect meal" has been a staple on the Ohio-based chain's menu since the opening of its debut location in 1969.
These days, Wendy's offers their Frostys in two different flavors: chocolate and vanilla, which is actually a lot considering that the chocolate version was all that was available for 37 years (via QSR Web). And before you start asking why the chain hasn't expanded its Frosty offerings beyond this duo of classic flavors, you should know that the introduction of the vanilla Frosty in 2006 did, in fact, open up the flood gates for the higher-ups at Wendy's to get creative with their trademark dessert. Frosty floats and waffle cones are a few of the sweet treats now residing in the fast-food graveyard along with the eatery's Pretzel Bacon Cheeseburgers and Frescata sandwiches. Their line of Twisted Frostys sadly resides there as well, which included the cleverly-named coffee treat that we're missing most of all.
Wendy's Coffee Toffee Twisted Frostys are missed dearly to this day
In 2007, Wendy's piqued the interest of Frosty lovers and candy connoisseurs alike when they introduced their line of Twisted Frostys — a Blizzard-like dessert that upgraded the traditional Frosty by mixing in candy bits. According to Second Scoop Frozen News, mix-in options included M&M's, Oreos, and Nestle Toll House Cookie Dough, but the true star of the bunch came in 2009 when the Coffee Toffee Twisted Frosty debuted. Described in a petition to bring the treat back as "the perfect union between coffee, toffee, and Frosty," this version of the chain's signature dessert was made even better thanks to the addition of real java and toffee candy. But despite having a "flavor that rocked the nation" and a jingle so catchy that one Twitter user still gets it stuck in their head, the Coffee Toffee Twisted Frosty was taken off the menu in 2011 with no promise of ever coming back again.
Wendy's does currently offer a Frosty-ccino, which is a combination of a Frosty and cold brew coffee over ice, while its Canadian locations have temporarily swapped its vanilla Frostys for a caramel latte variation. But anyone who was lucky enough to have had the Coffee Toffee Twisted Frosty hit their tastebuds know that neither of these options can compare. For now, we guess we'll just have to follow in the footsteps of Twitter users like @Soh2007 and take to the social media platform to beg the chain for its return.