Spicy Chinese Eggplant Recipe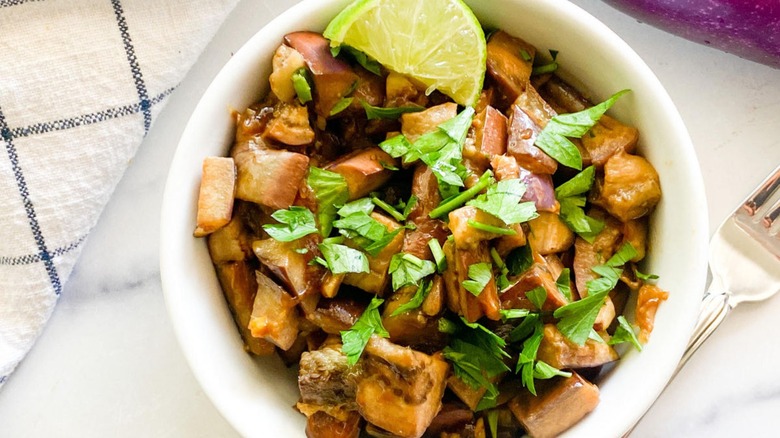 Miriam Hahn/Mashed
Eggplant is an unsung vegetable. While people may like its dark purple shade as part of their color palette (either under its own name or its European nom de plume, aubergine), they often dismiss it as being slimy in texture (which it isn't, if cooked properly) and lacking in flavor. While recipe developer Miriam Hahn admits, "On its own, eggplant can be pretty boring," she tells us, "I created this recipe because I wanted the eggplant to take on lots of spicy flavors."
As to why she wanted to come up with a tasty eggplant recipe, no, it's not because her garden grew an unwanted bumper crop. Rather, Hahn, a wellness coach, wants to encourage everyone to eat more eggplant due to the numerous health benefits it offers. "Anything with that deep purple skin is FULL of anthocyanins, a powerful antioxidant," she tells us, and she goes on to say, "A lot of the nutrition is in the skin, so that is why I don't peel." In addition to the antioxidants it contains, Hahn adds that "Eggplant is also very high in fiber and [provides] a whole array of vitamins and minerals."
Sounds great, right? Let's get cooking.
Shop for the ingredients for this spicy eggplant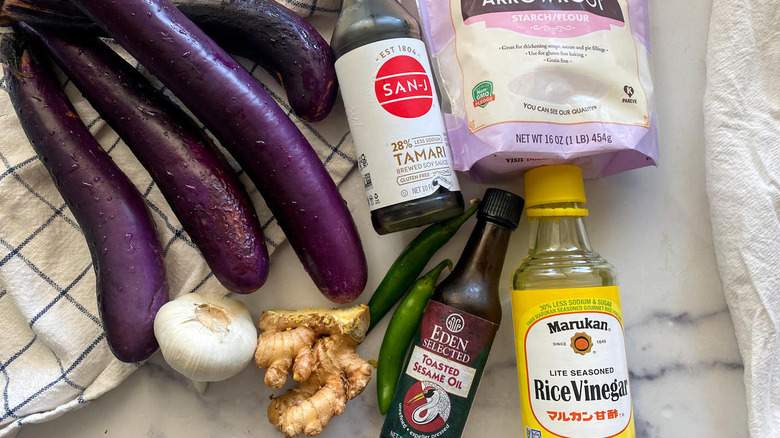 Miriam Hahn/Mashed
Hahn likes to use Chinese eggplant in this dish, explaining that "they are smaller, and this is helpful if you aren't interested in making a large portion." She goes on to say, "I feel they don't seem to retain as much water," but she does realize that not all stores will carry this type of eggplant. If you can't find it, she says it's okay to use whatever type of eggplant is most readily available.
In addition to the eggplant, you will need sesame oil, fresh garlic, a few serrano peppers, some fresh ginger root, soy sauce, rice vinegar, and either arrowroot powder or cornstarch for thickening the sauce. If you like, you can also pick up some flat-leaf parsley and a lime to top off the finished dish. In lieu of the parsley, Hahn also says, "Cilantro would work great as a topper as well!"
Prepare the veggies before cooking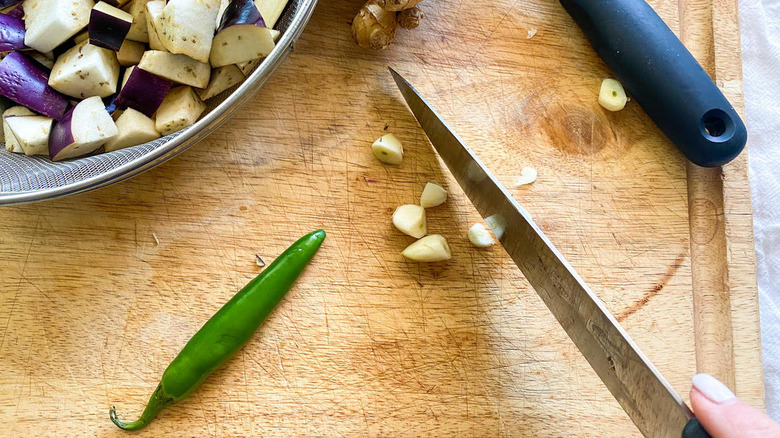 Miriam Hahn/Mashed
Chop up the eggplant into small, bite-sized pieces, but be sure to leave that oh-so-nutritious skin on. Peel and mince the garlic, then stem and mince the serranos. If you want your dish super-spicy, you can leave the serrano seeds in, but if you don't want this dish too hot, you will need to split the peppers lengthwise and scrape out the seeds before mincing. You should also mince the ginger, and if you're going to be using the parsley or cilantro, go ahead and chop or snip that, as well.
Stir-fry the veggies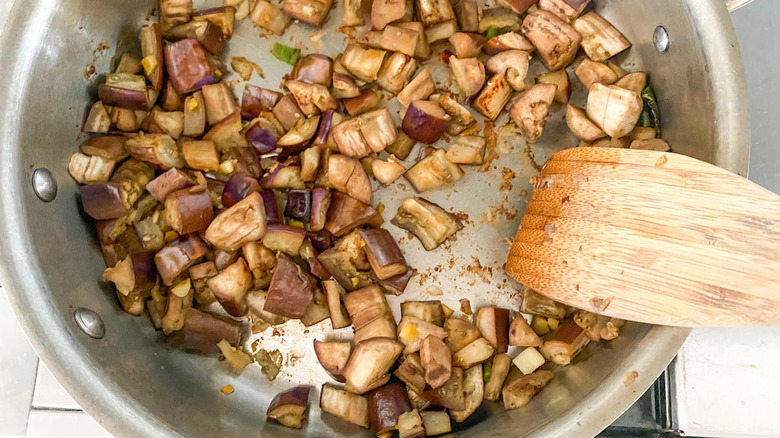 Miriam Hahn/Mashed
Pour the sesame oil into a frying pan, then heat it over medium-high until it starts to sizzle. Once the oil is hot, add the chopped eggplant, garlic, peppers, and ginger to the pan, and turn the heat down to medium. Stir-fry the veggies for eight minutes, at which point the eggplant should be soft enough to eat but not at all slimy. If the pan gets dry as you cook the veggies, add a little splash of water.
Finish off the dish with a tangy sauce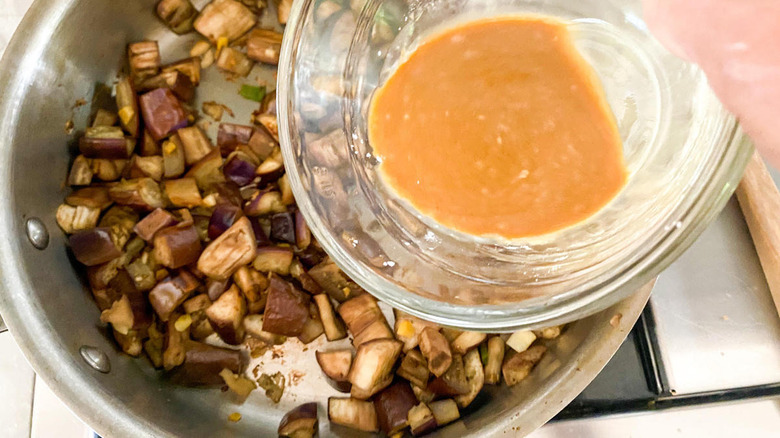 Miriam Hahn/Mashed
As the eggplant is cooking, go ahead and put together the sauce. All you need to do is mix the soy sauce and the vinegar in a small bowl along with two tablespoons of water, then whisk in the cornstarch or arrowroot powder. Once the eggplant is done, stir the sauce into the pan and let it cook for another minute until it thickens.
Your eggplant is now ready to serve, with or without a squeeze of lime and a sprinkling of greenery. As Hahn says, "This makes a great side dish. I love to have it with pasta or paninis but it can go with anything." She does add that it can even stand on its own as a veggie option, though, telling us, "Sometimes I just serve it over rice and call it a meal."
Spicy Chinese Eggplant Recipe
While people may like the purple shade of eggplant, they often dismiss it when it comes to taste. Not anymore! This spicy Chinese eggplant recipe is amazing.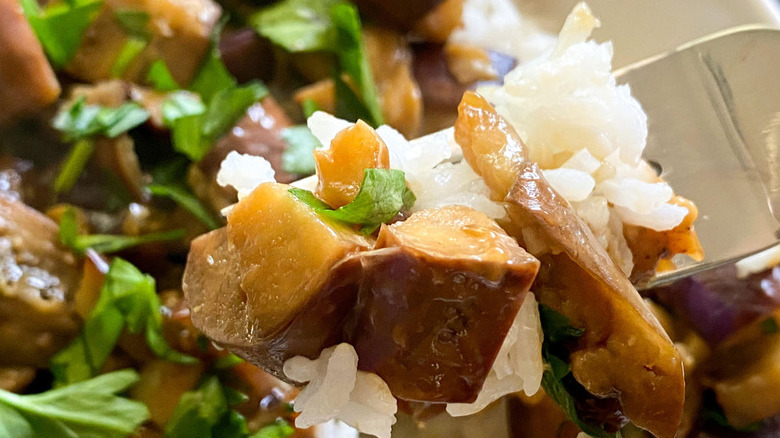 Ingredients
2 tablespoons + 1 teaspoon sesame oil, divided
3 to 4 Chinese eggplants, chopped (skin on)
3 cloves garlic, minced
1 to 2 serrano peppers, seeded and minced
1 teaspoon fresh ginger, minced
3 tablespoons soy sauce
1 tablespoon rice vinegar
1 teaspoon arrowroot powder or cornstarch
Optional Ingredients
Directions
Heat 2 tablespoons of sesame oil in a pan over medium-high heat.
Add the eggplant, garlic, peppers, and ginger to the oil, lower the heat to medium, and cook for about 8 minutes, stirring frequently. Add a little water if the pan gets too dry.
Mix the soy sauce, vinegar, arrowroot powder, and 2 tablespoons water in a small bowl, whisking to combine.
When the eggplant mixture is done cooking, stir the sauce into the frying pan and cook for 1 minute.
Top the eggplant with parsley and lime juice if desired.
Serve and enjoy.
Nutrition
| | |
| --- | --- |
| Calories per Serving | 204 |
| Total Fat | 8.9 g |
| Saturated Fat | 1.3 g |
| Trans Fat | 0.0 g |
| Cholesterol | 0.0 mg |
| | |
| --- | --- |
| Total Carbohydrates | 30.4 g |
| Dietary Fiber | 14.6 g |
| Total Sugars | 17.1 g |
| Sodium | 669.5 mg |
| Protein | 5.9 g |