The Big Problem People Have With Chipotle's New Smoked Brisket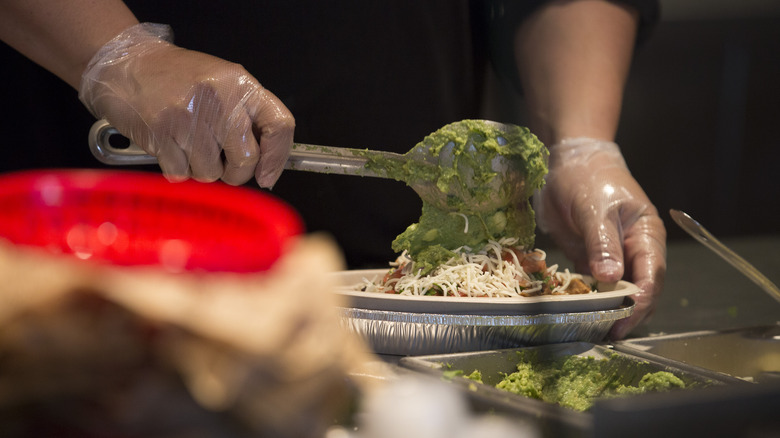 Bloomberg/Getty Images
As a fast food brand, Chipotle has plenty of things going for it. The brand claims that it prefers to keep things real for its customers, which means that its food items have no artificial flavors or preservatives. Chipotle also doesn't believe in using freezers and takes the effort to source "responsibly raised meat." If you like Mexican cuisine, it's likely that you'll find something that lives up to your expectations at Chipotle. Whether you're hungry for a burrito bowl or need a generous serving of tacos to fulfill your cravings, you'll be pleased to know that there is no dearth of options at the restaurant. In fact, the brand is often innovating and experimenting with its products to appeal to more customers. 
For example, earlier this month, Chipotle came up with a new item — the smoked brisket. As per a press release from Chipotle, plenty of fans have asked for brisket at the restaurant. The company decided to listen to its patrons and surprised them with smoked brisket, promising that it can make the experience of digging into a Chipotle bowl a lot tastier. Chris Brandt, the company's chief marketing officer, said that this isn't a "standard brisket experience." He added, "we've created a differentiated Smoked Brisket recipe that is authentic to our menu and pairs flawlessly with our real ingredients." Unfortunately, as per reviews from those who've tried the new menu item, things aren't as great as they seem.
People think it's too dry
According to Eat This, Not That!, it is hard to deny that the smoked brisket has received an enthusiastic response from the public and many foodies have been excited try the new menu item. Sadly, many of them are really disappointed by the actual flavor and think it's a no-go. Per The Takeout, the brisket is a disappointment and it doesn't matter whether you have it with a burrito or in a bowl. The outlet felt that the brisket was "tough and chewy" and didn't impress. Only a few pieces were "moist and tender."
Another reviewer pointed out that the brisket pieces were too small for him to enjoy the flavors completely (via Joey's World Tour). However, he did like the taste. A Redditor who also gave this meat a shot, said that it was too dry for them when they ate it with a burrito. It "had more of a chopped burnt end texture than good, tender slow smoked brisket," they wrote. "Maybe it would be better in tacos where the meat wouldn't get drowned out?"