What Makes Valerie Bertinelli's Family Onion Rings Recipe Unique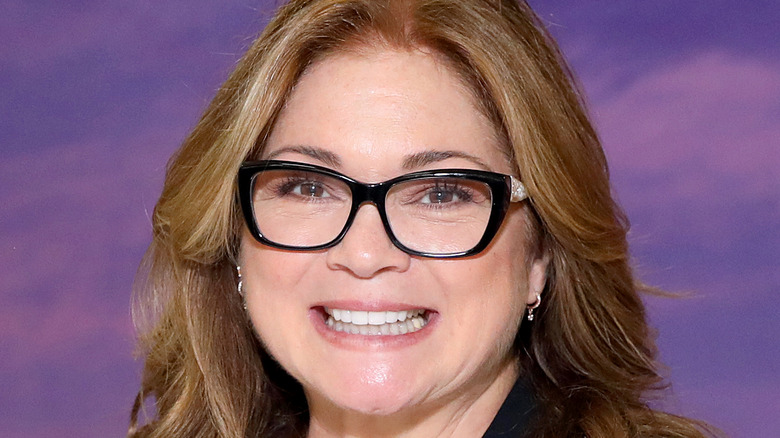 Robin Marchant/Getty Images
While many television fans may recognize Valerie Bertinelli from her various roles as a Golden Globe award-winning actress, foodies will likely know her from her various ventures in the culinary industry. As Food Network reports, Bertinelli is a cookbook author with several titles under her belt including "One Dish At A Time," a title that references her long-running role on the series "One Day at a Time," and the Food Network show she hosts, "Valerie's Home Cooking." It's safe to say that Bertinelli knows her way around a kitchen, and while she creates plenty of delectable dishes entirely from her own imagination, she also occasionally offers a nod to her heritage by including a few family recipes in the mix. 
That's exactly what she did when sharing her family's onion rings recipe — and the recipe is a bit unique, and warrants a try if you're a fan of the crispy fried side. Bertinelli has vivid memories of the first time she ever tried the dish, way back when she was just a child, as she detailed on her own website. She recalls that after having one bite of her mom's onion rings while dining outdoors, she "got up from the table and danced around the backyard" before coming back for more. The recipe was taken right from her mom's recipe box, so everyone else can recreate those onion rings that are so good, you just have to dance.
The secrets of the Bertinelli family onion rings recipe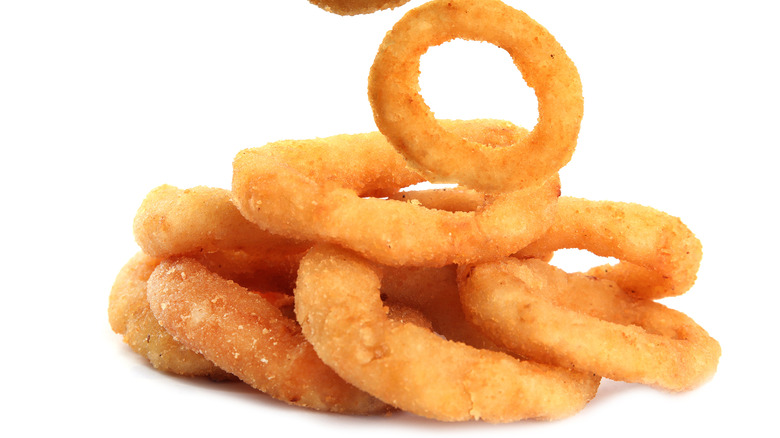 New Africa/Shutterstock
Bertinelli shared her recipe on "Valerie's Home Cooking," where she continued the family ties by whipping them up with her son Wolfie and brother Patrick (via Cheat Sheet). It starts out with simple ingredients — large sweet onions, cut into 1/2 inch thick rings. However, what makes them unique is the particular batter she makes to coat the onion rings. Many fans of the fried side dish may recall onion rings that are more batter than onion — that's not the case with Bertinelli's recipe. As she details in the recipe on Food Network, the sliced onion rings are tossed in about half a cup of flour and allowed to stand on a cooling rack for about 15 minutes to allow that flour to soak up some moisture. 
Then, she creates the batter from flour, cornstarch, paprika, cayenne, lime zest, salt, whole milk, club soda, and an egg. The onion rings are dunked in the batter, as you might expect, then placed in hot oil — although she does specify that you only need about two inches of oil, not an entire pot, in order to fry these particular onion rings. Though the recipe only calls for two onions, she recommends splitting the frying process into about three to four batches, so that the oil doesn't cool down. Add a little dash of salt and voilà — onion rings that one Food Network reviewer called "by far the best onion rings I've ever had."