TikTok Is Obsessed With This Viral Salmon Rice Hack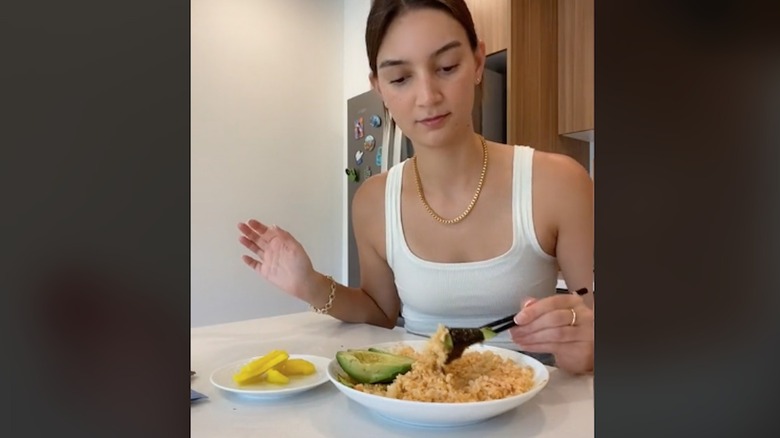 Mehaniq/Shutterstock
Another day, another viral TikTok trend. Recipe trends on the video-sharing app are nothing new, this is the social media platform that brought us pancake cereal and whipped coffee, after all. But, given that TikTok is so visual, the aesthetic quality of the trending dishes is often what makes them so popular. It's not every day a recipe takes off based on its taste alone, but that's exactly what's happening now.
A recent video posted by Emily Mariko (@emilymariko on TikTok) went viral after viewers saw her make her favorite tuna and rice meal. "I wasn't kidding when I said I eat this once a week," the video's caption read.
The dish was so popular it inspired other TikTok creators to share their take on the popular recipe, too. Maybe the best thing about the meal is that it's incredibly simple. It doesn't take too many tools or culinary techniques, and if you use leftover ingredients the way Mariko does, it can be ready in less than five minutes.
"I made this after seeing your video and it's soo bomb," one viewer commented, "Easiest snack or meal."
Mariko's viral recipe is a simple rice bowl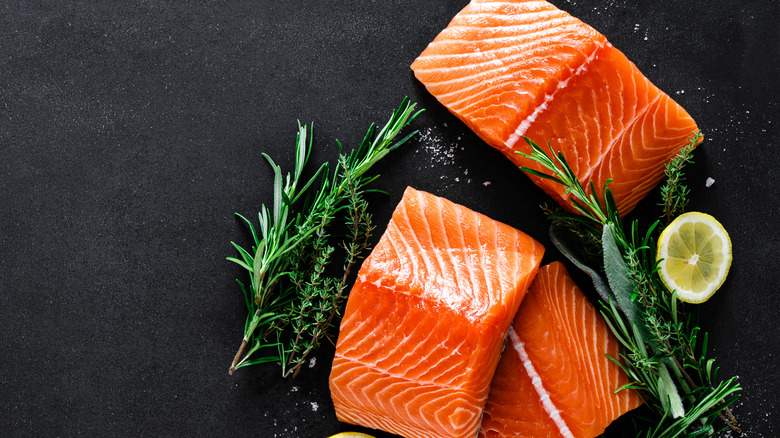 Sea Wave/Shutterstock
For Mariko's recipe, she takes leftover salmon from the refrigerator and shreds it with a fork on a plate before mixing in what looks to be about a cup of rice. She then adds an ice cube on top and places it in the microwave.
After the salmon and rice are heated, she removes the still-frozen ice cube — more on that later — and mixes in soy sauce, Sriracha, and Kewpie mayo. Mariko seems to enjoy the bowl with a side of avocado, kimchi, and seaweed wraps. Viewers were blown away both by the ingenuity and simplicity of the meal. "Wait I need to do this immediately," one commenter shared.
But the video, which has no specific instructions, also opened the door for a flood of questions. "How long do we microwave bestie, I need a step by step," one viewer asked. "Why the ice cube?" "Can you show us how you make your salmon?" others questioned.
While Mariko did a pretty good job of answering everyone's questions in the comments: the ice cube helps steam the leftover rice and she uses farmer's market salmon that she roasts in the oven, she still didn't provide an exact recipe. However, this did give other TikTokers the opportunity to get creative with their takes on the viral trend.
Other creators have also tried out the recipe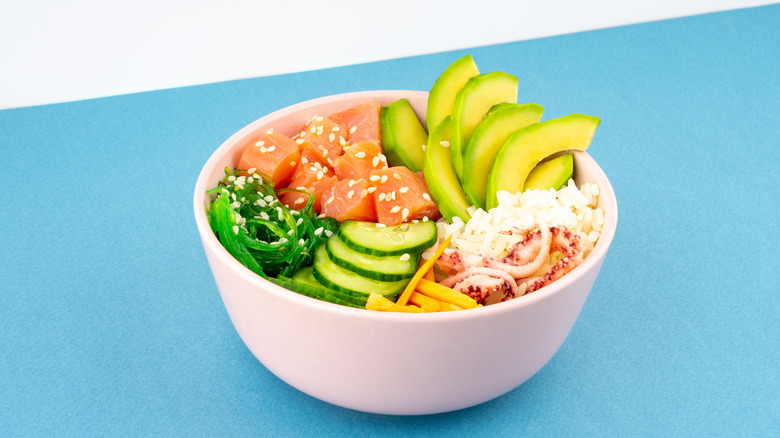 Garnar/Shutterstock
Probably the worst thing about internet food trends is that you can never be sure just how good the food tastes until trying it for yourself. Luckily, plenty of other creators have tested out Mariko's salmon bowl and reported back that it is, in fact, quite tasty.
"I'm trying the viral salmon bowl recipe," TikToker Gianna Christine shared in a video. "It's good!" she shared excitedly after creating her own bowl. "I HAD IT TONIGHT," one commenter shared in all caps.
Others have taken it a step further and upgraded the recipes by putting their own spin on the dish. One nutritionist, who uses the handle @nutritionbykylie, added cucumber, ponzu sauce, and furikake for her take on the "iconic" salmon bowl (via TikTok). On this same video, commenters shared their additions, mentioning adding zucchini or swapping out the salmon for chicken and other proteins. It's definitely the recipe of the moment on the video app, so if you haven't seen it or tried it, now is most certainly the time.
As one person commented on @nutritionbykylie's video, "this is the fifth video I've seen of this dish in the last 30 minutes." Kylie replied by summing up all of our feelings: "It's a sign that you should join us."