MasterChef's Nick DiGiovanni Takes His Coffee To The Next Level With This Hack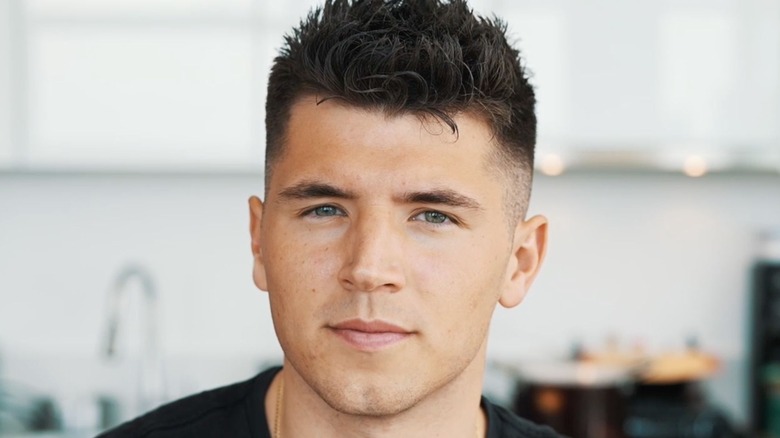 Bbma2021/Getty Images
According to Community Coffee, the first National Coffee Day was celebrated in Japan in 1983, as a way to promote sales and "raise awareness for the plight of the coffee farmer." While National Coffee Day is now celebrated on September 29 here in the states, bringing plenty of caffeinated deals and freebies along with it, International Coffee Day falls just two days later on October 1 (via National Today). In honor of everyone's favorite morning brew, Mashed spoke to former "MasterChef" contestant Nick DiGiovanni about his connection to the toasty beverage and how he makes it special in an unconventional but very fitting way.
DiGiovanni is no stranger to elaborate coffee recipes. He recently posted a video of himself on Facebook making a white chocolate sphere that he melts by pouring a decadent sauce over it, which he made using Lavazza coffee and caramel. In his interview with Mashed, he credited his Italian background and father's influence for his love of the beverage, noting that his father probably takes a shot of espresso every day. Nick noted that his hack, while not what one would typically choose to mix with coffee, is in line with his mantra of trying new things and having fun with food.
So what's his secret?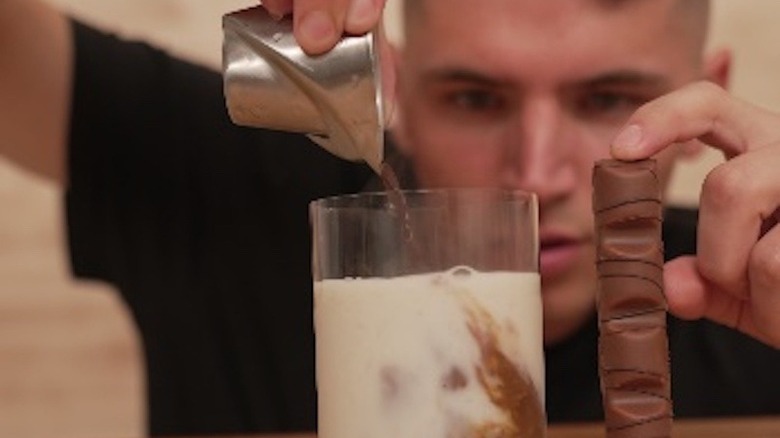 Kinder Bueno
DiGiovanni shared that his newest way to trick out his coffee is none other than the addition of Kinder Bueno! As PR Newswire notes, the chef teamed up with Kinder Bueno for National Coffee Day to help followers elevate their coffee in a launch called "Coffee Gets Bueno." 
"I'm probably made up of Kinder because I've had so many Kinder Buenos in my lifetime," he jokes, noting that he loves the treat's creamy hazelnut interior, milky chocolate and light crispy wafer. He even suggests that he can find a way to make this sweet hack work with any type of coffee — "You have all these things in Kinder Bueno that people add to coffee without thinking about it anyway," he points out. 
Some of his suggestions include as a snack with a large iced coffee, or as a compliment (and handy 8-ounce serving measurement tool) to whipped coffee, with the sweetness from the bar evening out the coffee's bitterness, and the filling matching the whipped topping texture. One of DiGiovanni's favorite ways to enjoy this Kinder combo involves crunching on espresso beans then taking a bite of Kinder Bueno. 
DiGiovanni tells Mashed he's drawn to projects like these because of their creative nature. "I'm doing exactly what I want to do, just playing with food every single day," he says. And if it gives fans permission to eat chocolate with their morning coffee, it's probably going to make their days a bit brighter too.