Popeyes Has Good News For Fans Of Its Cajun-Style Turkey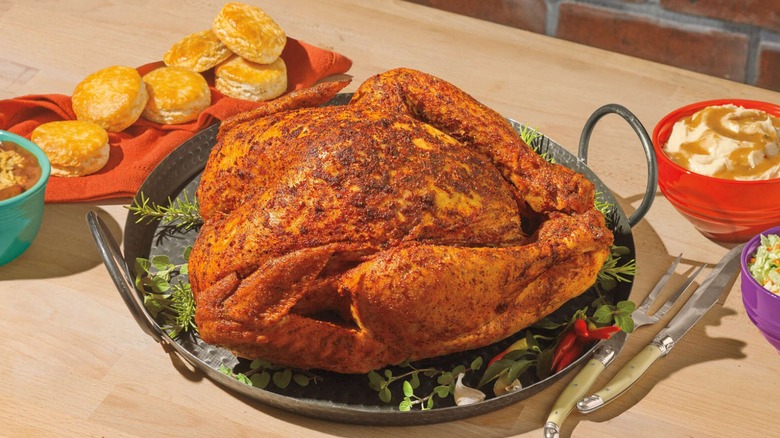 Popeyes
Whether you're an unmotivated holiday cook, intimidated by the prospect of roasting a whole bird, or simply a super fan of a certain fried chicken chain, Popeyes has the perfect Cajun-inspired centerpiece to complete your Thanksgiving table this year.
According to Thrillist, the fast food giant just announced the return of its popular Cajun-Style Turkey: a whole bird that is rubbed with a zesty Louisiana-inspired mixture of paprika, red pepper, garlic, and onion, then marinated in Creole butter and flash-fried to create a crispy skin. In the past, the turkey has been available in 9- to 13-pound birds and cost $39.99. Though the specific price for the 2021 version has not been released, but you can preorder now by visiting your nearest location.
The Cajun-Style Turkey is somewhat of a Popeyes Thanksgiving tradition, as the company has been selling the pre-cooked fowl for over a decade now, as noted by Businesswire. Before heading to home with you, the bird is fully cooked, vacuum-sealed, and frozen. When it's time to eat, the turkey must be thawed out in the fridge for a couple of days and then warmed in a 300-degree oven for a couple of hours.
The spicy meal can be served with all the homemade sides of your choice, or you can round it out with some family-sized portions of the chain's famous side dishes, including holiday classics like mashed potatoes with gravy and buttermilk biscuits. Or, opt for more outside-the-box options for your Thanksgiving table, like cajun fries and red beans and rice.
Reviews of Popeyes' Cajun-inspired turkey have been positive
While some Thanksgiving traditionalists might raise an eyebrow at the concept of a whole turkey sourced from a fast food corporation, if past reviews are anything to go by, Popeye's flavorful turkey has been overwhelmingly well-regarded. 
A Cajun-Style Turkey review in the Dallas Observer raved about the Popeyes bird, saying, "This thing had more flavor than any turkey has any right to have. There's zest packed into every inch, but the real surprise is what's waiting for you on top: There is some serious heat in the skin." However, the writer did note that "the meat is a touch on the dry side."
In another review, one blogger with Brand Eating noted that "the turkey wasn't completely juicy ... it was juicy-to-moist," but, "however they seasoned it, the flavor permeated the meat of the whole turkey." The writer added that "the skin formed a nice crispy layer that exhibited the peppery heat and taste of Popeyes' signature blend of Cajun spices."
Another turkey critic for The Takeout wrote a piece simply titled, "Popeyes' Cajun turkey is tastier than whatever you're roasting this Thanksgiving," with praise including, "the interior breast meat was incomparably juicy," and, "it had decent zing and heat, with a citrus vinegary tang and residual burn."
The Cajun-Style Turkey will make its official return to participating U.S. locations on Monday, October 18 and will be available while supplies last (though Chew Boom says they do sell out fast). You can preorder one of the speciality spiced birds by calling or visiting your local Popeyes.