How Sheep Keep Some California Vineyards Afloat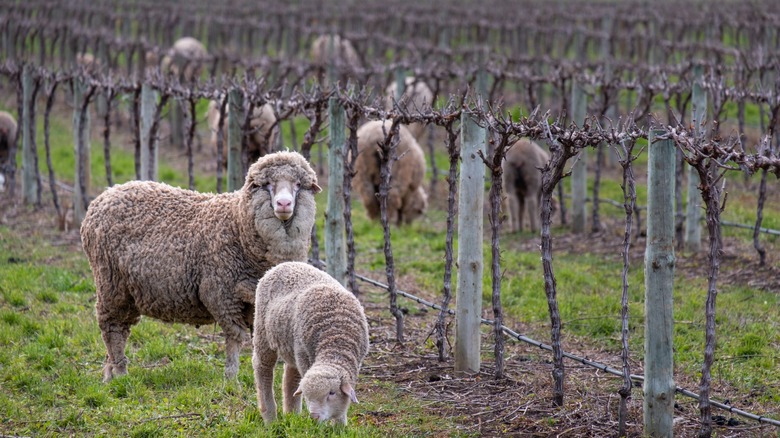 puyalroyo/Shutterstock
The beautiful vineyards of Napa Valley don't just happen. They take a lot of care and meticulous maintenance in the purveyor's efforts to grow those delicious grapes that will be turned into even yummier bottles of Pinot Noir, Cabernet, Chardonnay, Syrah, and all of our other favorite types of wine. But like with all farms, one of the greatest enemies of a crop is the dreaded weed. Per eOrganic, weeds are not only a headache, they cost growers time and money and can devastate overall production. Finding ways to practice eco-friendly farming for these delicate and profitable plants has long been a frustration for winemakers. 
Enter the sweet, lovable sheep. Sheep are natural grazers and are as eco-friendly as they come, and wouldn't ewe know it, sheep can actually support vineyards. Per Utah State University, sheep have been used to get rid of weeds since antiquity. To borrow from singer-songwriter Olivia Rodrigo, "everything is all reused," including using this animal as a natural weed eater. According to Food & Wine, sheep are able to help vineyards keep their lands weeded and mowed, while saving winemakers money and doing so in a green and effective manner. However, the first use of sheep in Napa Valley was actually a fluke.
Sheep create firebreaks on vineyards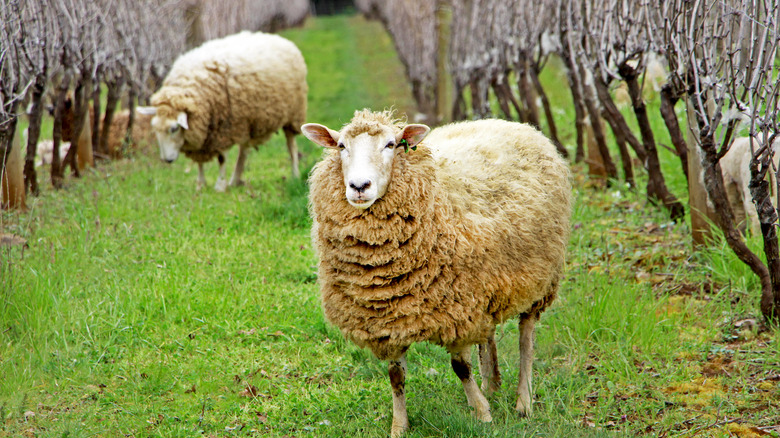 Klara_Steffkova/Shutterstock
Food & Wine revealed that it was in 1991, a sheep herder who had just returned from New Zealand, found his flock had wandered off onto the property of winemaker Robert Mondavi. The herder felt embarrassed until the vineyard manager called and asked if he could bring them back to do some more weed eating. Thus, the "wooly weeders" became the herder's new business model. The article goes on to share that the sheep eat the young leaves of the grape trees in the summer, which prevents mold and mildew and ultimately enhances the grape's flavor as it ripens. Their grazing also creates firebreaks, which help protect the properties during California's wildfire season.
Researchers have taken note and are experimenting with ways to bring this green and natural technology to farms everywhere. However, because sheep are not discerning eaters — they eat everything — there is a learning curve. Utah State University shared that researchers at UC Davis trained sheep not to eat the grape leaves by allowing them to first eat the grape leaves. After the sheep consumed the leaves, researchers administered a small amount of lithium chloride to the animals. This chemical gave the sheep a mild stomachache and made them sheepish about eating the grape leaves again. "The sheep experience a brief period of malaise. They recover quickly, but they don't seem to forget, even after nine months," explained project leader Morgan Doran.