The Surprising Ingredient Kristen Kish Adds To Her Coffee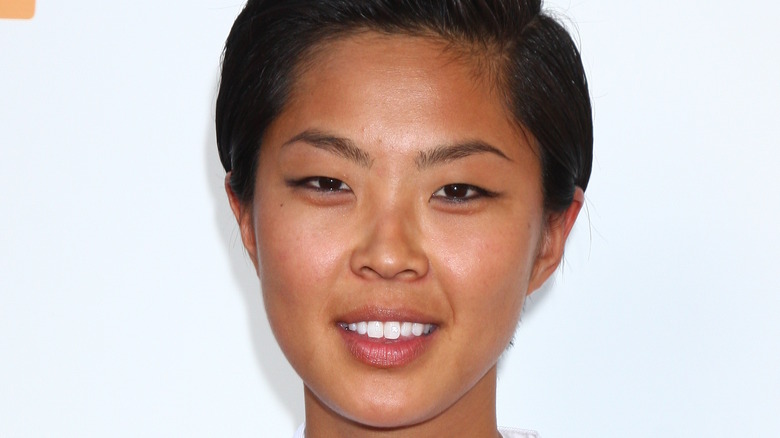 Kathy Hutchins/Shutterstock
Chef Kristen Kish is probably best remembered for winning Season 10 of Bravo's culinary competition "Top Chef." She's also the first contestant on the show to crawl her way back and eventually win, through the web-based spinoff "Last Chance Kitchen" (via Bravo). Over the course of her season, Kish made a name for herself taking ordinary ingredients and turning them into something magical — in one elimination challenge, her technique for cooking white button mushrooms actually netted her a $10,000 prize (via Screen Rant).
Kish is highly attuned to flavors, often using them to elevate everyday dishes at her Austin, Texas, restaurant Arlo Grey, for example. The celebrity chef serves a lauded mafaldine pasta with mushrooms, pearl onions, and parmesan that was inspired by the Hamburger Helper she often indulged in as a kid (via OpenTable). So when she suggests an unusual take on a common ingredient, we're all ears. Read on to find out how she flavors her coffee in an intriguing way.
Rose water adds a floral note to earthy coffee
Chatham172/Shutterstock
In a recent Instagram post sponsored by coffee giant Nespresso, Kish shared a delicious-sounding take on an ordinary latte. Starting with a base of one brewed Bianco Leggero coffee pod, the famous chef adds steamed almond milk, a bit of simple syrup, ground cardamom, and — somewhat surprisingly — a dash of floral rose water. This fragrant version of a latte is "perfect in the morning or paired with an after dinner dessert," Kish writes in the post.
Never tried rose water? It's basically exactly what it sounds like — rose petals steeped or boiled in water until the liquid takes on a deeply aromatic, flowery scent and flavor (via The Spruce Eats). Typically used to flavor traditional Middle Eastern and Indian sweets such as rasmalai and Turkish delight, it can also be used much like vanilla extract in small amounts to add flavor and aroma to baked goods (via Taste of Home). We love the idea of bringing a floral note to our morning coffee, and now we're off to the pantry to see if we've got a bottle of it kicking around.