The Secret To Guy Fieri's Dragon's Breath Chili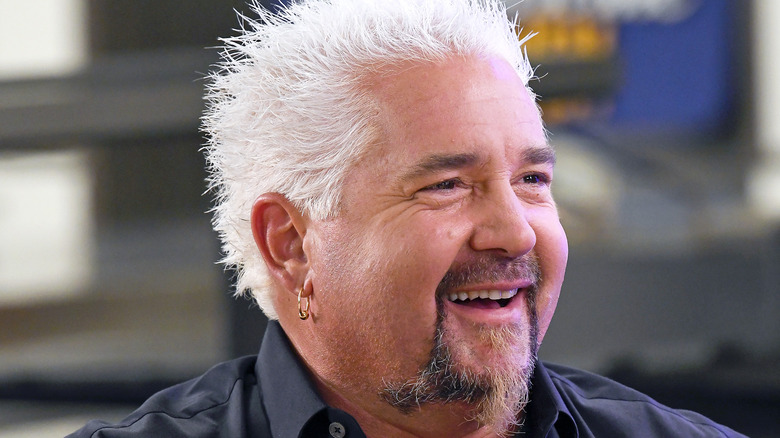 Steve Jennings/Getty Images
Whether he's visiting a local restaurateur on his popular show "Diners, Drive-Ins and Dives" to get the secret on how they make their spot's signature dishes, or whipping something up to show his audience himself, Guy Fieri loves to find unpretentious fare that packs serious flavor. Food Network shared a clip on YouTube in which Fieri took viewers through four of his most popular recipes, giving them a few secrets for each dish along the way — and one of the recipes to make that list was his famous dragon's breath chili.
The recipe, which Fieri shared on Food Network in full, is packed with all kinds of vegetables and spices, but according to the famous chef, the secret is actually the meat — namely, the quality of meat you get, and the way it's ground. Most home cooks would likely just pick up a package or two of the ground beef available at the supermarket and call it a day — after all, the recipe calls for ground beef, it seems straightforward enough. However, as Fieri qualifies, you can take your chili to the next level by selecting good quality beef and getting a butcher to do a coarse grind on it. The recipe also calls for Italian sausage and boneless chuck cut into cubes, but the simple step of getting coarse ground beef rather than the standard grind will elevate your whole dish.
A few more tips for legendary chili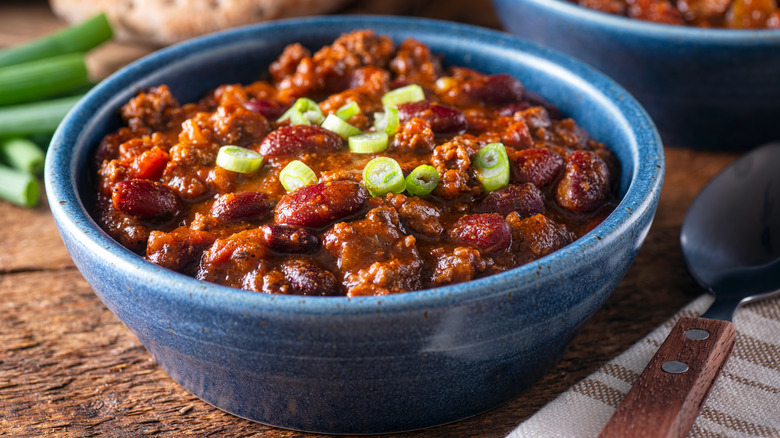 Foodio/Shutterstock
Beyond the beef, there are a few other things Fieri mentioned that are important to consider when whipping up a batch of chili — and many of the tips shared in the YouTube clip apply regardless of what exact chili recipe you're making. The first tip is to use dry beans rather than canned beans. While his recipe itself does call for canned kidney and pinto beans, likely for convenience, when discussing the dish Fieri mentioned that using dry beans makes a huge difference in the overall texture. Another easy swap is to ensure you have super fresh dried herbs and spices — given that the chili recipe features a laundry list of seasonings including chili powder, cayenne pepper, ground coriander, ground cumin, hot paprika, and more, it makes sense that adding the freshest possible spices would ramp up the flavor. 
His final tip doesn't actually involve ingredients, but rather just time — namely, you can't be impatient when making great chili. You need enough time for the veggies to fully sweat, and you need enough time for the flavors to meld as you're simmering the entire mixture. The recipe has a five-star rating on Food Network with 494 reviews, many of them rave about how delectable the dish really is. While some fans caution that the prep time takes far longer than the recipe states, one commenter clarified that it's "Worth. Every. Second."