TikTok Can't Believe How This Edible Arrangements Order Turned Out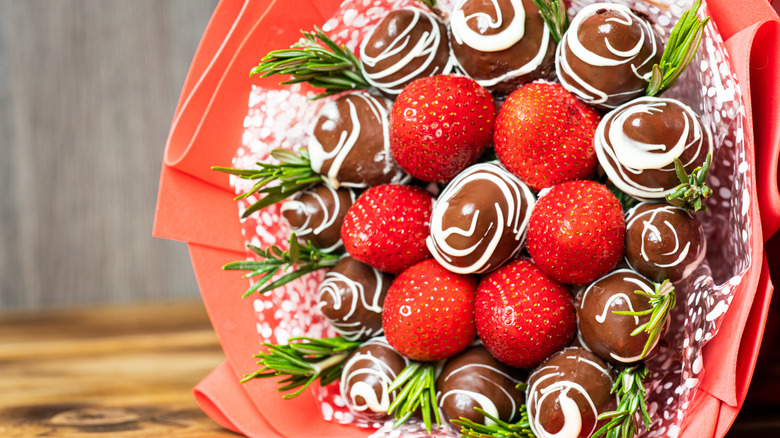 Germanov.nk/Shutterstock
When you want to make an impression, you usually can't go wrong with an Edible Arrangements. This company worth over $500 million has become synonymous with fruit bouquets that can please almost anyone, per Delish. The brand has expanded its product line since its founding and now includes chocolate and a variety of customizable bouquets. On paper, this idea sounds perfect but sometimes, it leaves something to be desired. Over on Reddit, a user ordered an arrangement from the company that featured a teddy bear and chocolate-dipped strawberries. The product came disheveled and commenters recommended the user ask for a refund.
Recently, disaster struck again. But this time the victim took to TikTok to show off their Edible Arrangement fail. User @enashaolivia created a post advising fans of chocolate-dipped fruit to stay away from a particular Edible Arrangement location in Chicago. They claim to have ordered a decadent platter of fruit but ended up getting a handful of strawberries haphazardly dunked in white chocolate and unceremoniously put into a to-go tray. The post has attracted a ton of attention and fans can't believe the chain would serve up such a messy item.
An Edible Arrangement fail that TikTok can't get enough of
Over 90,000 TikTok users have liked the video so far, and the post has attracted a ton of attention, per TikTok. Replies have flooded in, including gems like "I've never seen a good delivery from that company the fruit is mushy so the juice is leaking out the chocolate making it soggy" and "the same happened to me at my location it was all messed up. @Edible plz do better for the prices that u guys charge!" The company saw the post, and even responded in the comments, saying, "We're sorry to hear about your experience. Please email us at orderteam@edible.com so we can look into this."
Next time a craving strikes and you need some chocolate and fruit displayed beautifully, make sure to consider your options. But, with any luck, this delivery disaster won't happen again and Chicago-based patrons can continue enjoying beautiful arrangements from the popular brand.