Easy Cinnamon Glazed Pecans Recipe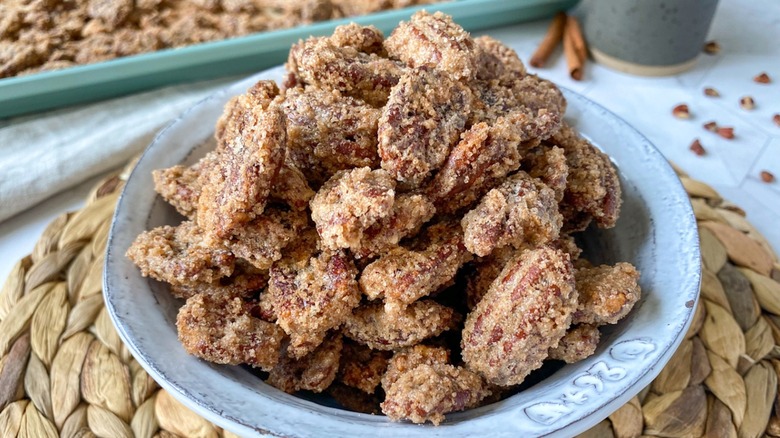 Hayley MacLean/Mashed
The weather is starting to get cooler and crisper. Yes, this means the return of warm, comforting seasonal flavors like cinnamon and pumpkin spice, and it also means holiday season is right around the corner. One of the most thoughtful, practical gifts you can give someone is a delicious homemade treat. Recipe developer and nutritionist Hayley MacLean is someone who understands this sentiment well. Her latest recipe for cinnamon glazed pecans came from the desire to create a tasty snack that could double as a truly sweet gift.
"I came up with this recipe when thinking of a special treat I could make and share with friends during the holidays. They make a wonderful gift and are great to have out during gatherings," MacLean says. Another sweet thing about this recipe is it's pretty simple to make, requires only a few ingredients, and tastes far more delicious than anything you'd buy at the store. You and your loved ones surely just found your new favorite treat to prepare throughout the holiday season and beyond.
Gather the ingredients to prepare cinnamon glazed pecans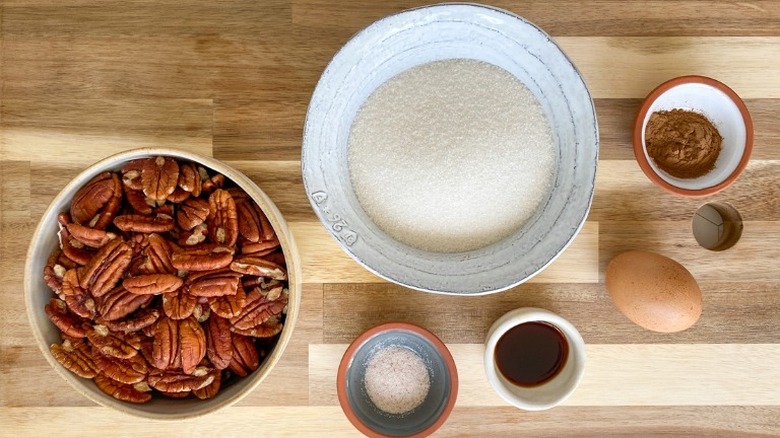 Hayley MacLean/Mashed
Even though these pecans only need a few ingredients, it's still important to make sure you have everything before you get started. You don't want to end up in a situation where you're halfway done and realize you actually have way less sugar than you thought! Obviously, you'll need pecans for this recipe. "I would definitely start with unroasted, unsalted pecans for this, that way, they taste the freshest when they are done," MacLean explains. You'll also need ground cinnamon, vanilla extract, one egg's worth of egg whites, salt, sugar, and a baking sheet. You'll be using the oven for this, so begin this recipe by preheating it to 250 F.
Prepare the glaze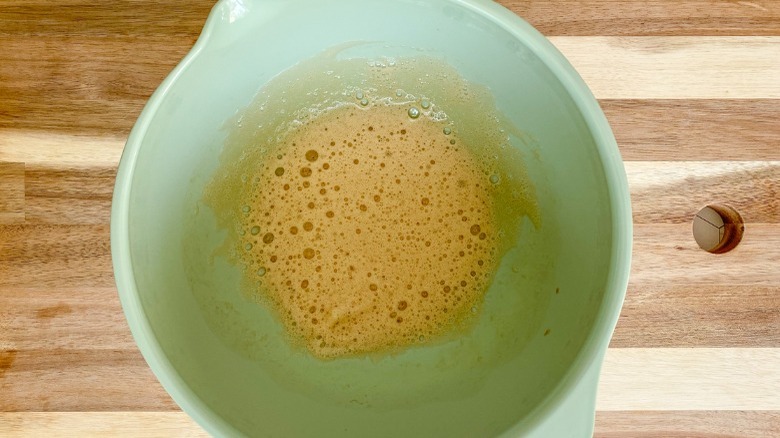 Hayley MacLean/Mashed
You have the pecans, so now it's time to create that deliciously sweet glaze. Start by combining the egg white and vanilla, and whisking the mixture until it looks a bit foamy, like the photo above. "The egg whites help adhere the cinnamon and sugar to the pecans and form the crunchy 'shell' around the outside of each nut," MacLean notes. Once your wet ingredients are adequately whisked up, add the pecans to the bowl.
Toss, toss, toss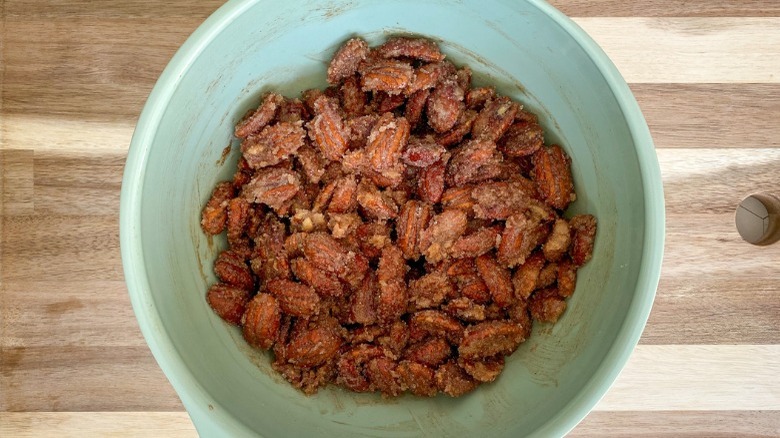 Hayley MacLean/Mashed
First, give the pecans a good mix so they become evenly coated in the egg white and vanilla mixture. Then, add your spices: cinnamon, salt, and sugar. Give everything a good mix one more time to make sure no pecan misses out on this sweet coating.
While tossing nuts in sugar may not seem like the pinnacle of health, MacLean says this snack does have some nutritional benefits to it. "The addition of cinnamon definitely gives them an anti-inflammatory boost. Also, pecans are full of healthy fats and are a great protein source as well," she says.
Put the pecans in the oven to bake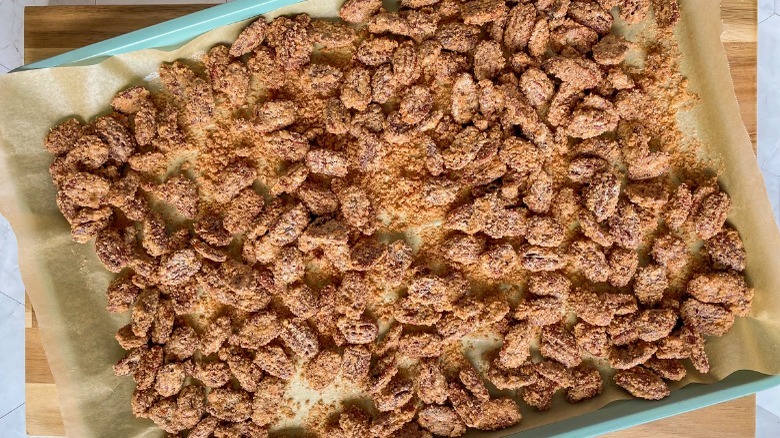 Hayley MacLean/Mashed
Take your baking sheet — which should be either greased or lined with parchment paper — and dump the bowl of pecans and spices onto it. Arrange everything so there's one even layer of nuts, which will help every piece cook at the same rate. It's okay if it looks like there's too much cinnamon sugar in the pan — it's better than not enough! Then, bake for one hour, stirring every 15 minutes.
"You stir the pecans while they are in the oven to make sure that they are all roasting evenly and that egg white holding the cinnamon-sugar mixture to them gets cooked through," MacLean explains. "Stirring them up also helps the excess cinnamon-sugar get knocked loose, so at the end, you have a perfectly coated pecan!"
Your sweet snack is ready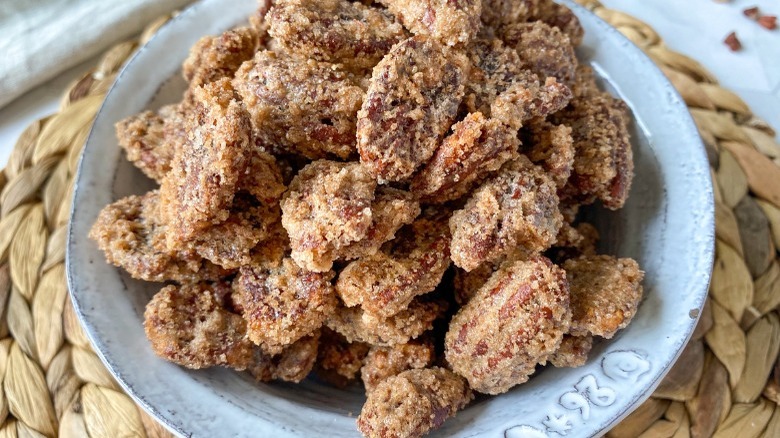 Hayley MacLean/Mashed
Once the oven timer dings, your sweet, crunchy snack is ready to be enjoyed. Just make sure you let them cool for a little bit — no one likes a burnt tongue. "I love making these around the holidays to share with family and friends," MacLean says, "but I also make them year-round to add to salads or just snack on with some cheese and crackers!"
Even if you end up with more nuts than you know what to do with, note that they will keep for about a week in an airtight container stored at room temperature. If that's not enough time, MacLean notes they'll keep for three months in the freezer.
Easy Cinnamon Glazed Pecans Recipe
These cinnamon glazed pecans are the ultimate treat to prepare over the holidays. They make such a thoughtful gift and are fun to serve when hosting guests.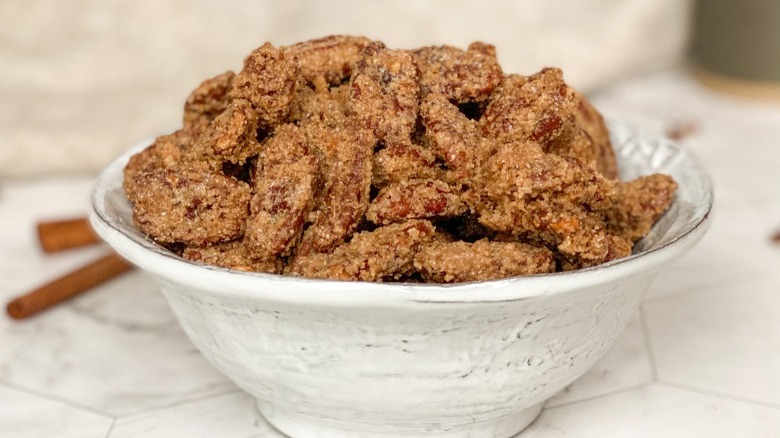 Ingredients
3 cups pecan halves
1 egg white
1 tablespoon vanilla extract
1 cup granulated sugar
½ tablespoon ground cinnamon
1 teaspoon salt
Directions
Preheat the oven to 250 F.
In a large mixing bowl, whisk the egg white and vanilla together until light and frothy.
Add the pecans to the egg mixture, and toss to evenly coat them.
Once the pecans are completely coated with the egg whites and vanilla, add in the granulated sugar, cinnamon, and salt, and toss to combine.
Spread the pecans out evenly on a prepared baking sheet, and bake for 1 hour, stirring every 15 minutes.
Serve immediately.
Nutrition
| | |
| --- | --- |
| Calories per Serving | 289 |
| Total Fat | 21.4 g |
| Saturated Fat | 1.8 g |
| Trans Fat | 0.0 g |
| Cholesterol | 0.0 mg |
| | |
| --- | --- |
| Total Carbohydrates | 24.6 g |
| Dietary Fiber | 3.1 g |
| Total Sugars | 21.3 g |
| Sodium | 125.6 mg |
| Protein | 3.0 g |