Slow Cooker Brats Recipe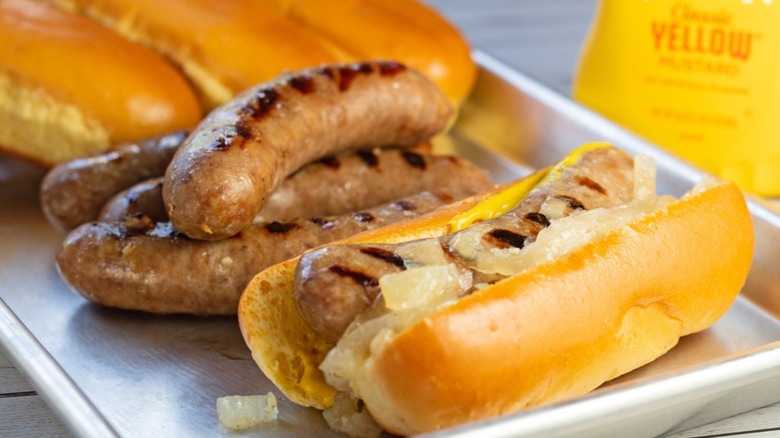 Angela Latimer/Mashed
If you're having a cookout, it may seem like burgers and hot dogs are clearly the way to go. But if you're tired of having the same old boring hot dogs again and again, it may be time to switch things up and try something new. Enter the humble bratwurst. It's like a hot dog, but it's so much better. And the best part? You don't even need a grill to make incredible bratwursts — you can easily make them in the comfort of your own home.
So what's the best way to cook brats? Many insist that charcoal-grilled is the way to go, but this can be kind of time-consuming — not to mention that you may not really be up for manning an outdoor barbecue grill in the dead of winter. Recipe developer Angela Latimer of Bake It With Love prefers to take a less labor-intensive approach to bratwurst by letting her slow cooker do most of the work. She does, however, retain the beer bath that many consider to be an integral part of brat preparation.
Ready to try this bratwurst recipe for yourself? Let's get started.
Assemble the ingredients for these slow cooker brats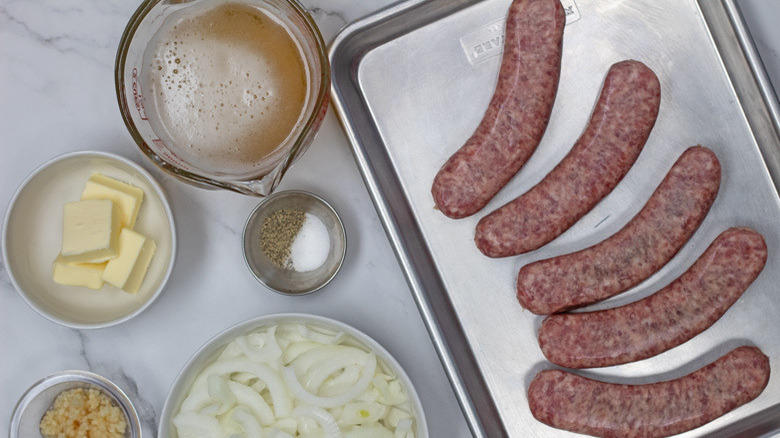 Angela Latimer/Mashed
In addition to the bratwurst, you're going to need a few onions. As Latimer tells us, "Everyone in my family loves the tender, cooked onions, so we have been known to add a healthy amount when cooking our brats." She also uses some fresh garlic to add a little extra flavor and some butter because butter makes everything better. (Just ask Paula Deen!) Oh, and don't forget the beer! No need to get all fancy with a microbrew, though. You can opt for something nice and affordable since you're just going to be cooking with it.
Slow-simmer the brats in beer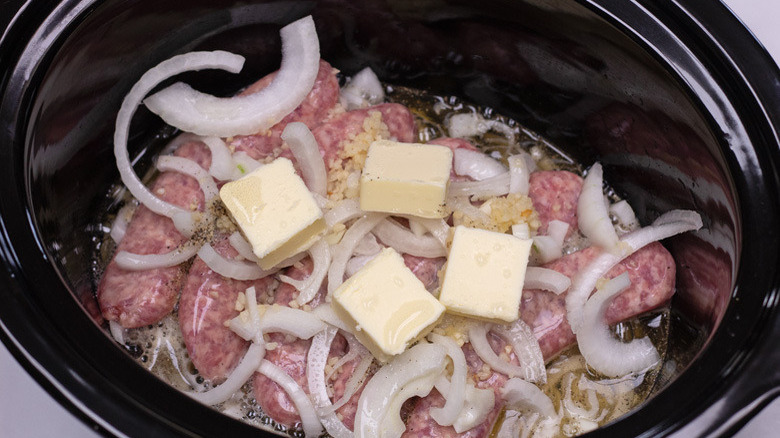 Angela Latimer/Mashed
Layer half of the onions over the bottom of the slow cooker, then top them with a layer of brats. Cover the brats with the rest of the onions as well as the garlic, the butter, and half a teaspoon each of salt and pepper. Finish things off by pouring 12 ounces of beer over the sausages.
Now close the lid of the slow cooker so it can, you know, cook. As Latimer warns, "Do not open the slow cooker lid during the cooking time." Set the dial (or display panel) for low heat, and let the brats cook for six hours. For brats in a hurry (more or less), you can also cook on high heat for two hours. Once the time is up, your brats should be ready to eat. If you want to be super-safe and use a meat thermometer, though, Latimer says the internal temperature of each brat should reach 160 F.
This recipe can easily be doubled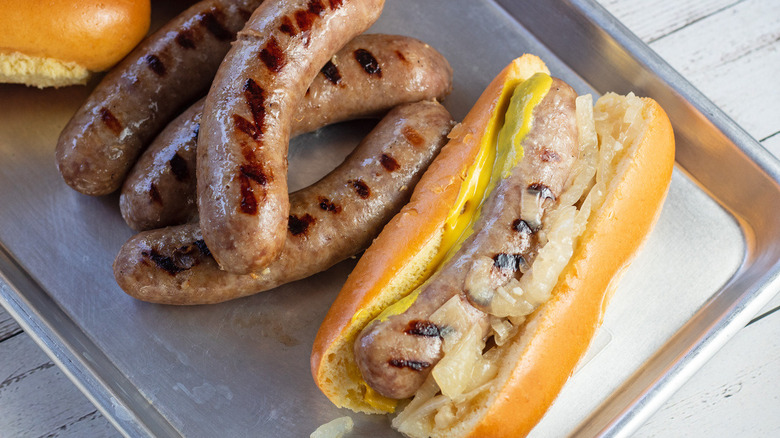 Angela Latimer/Mashed
Latimer says that you can easily double the number of brats in this recipe without really having to tweak the other ingredients, which is good news for the math-averse. She points out that brats typically come in packages of five to six sausages but that, sometimes, they come in double packs of 12. "The ingredients, as listed here," she says, "are usually enough to cover up to 12 brats," but goes on to add, "If not, simply add more beer until the sausages are covered."
The cooking time, she says, will stay the same, although she advises that if you're using 10 to 12 brats, you may need to make two layers in the slow cooker to get them to fit.
Searing the brats before serving will give them a more appetizing color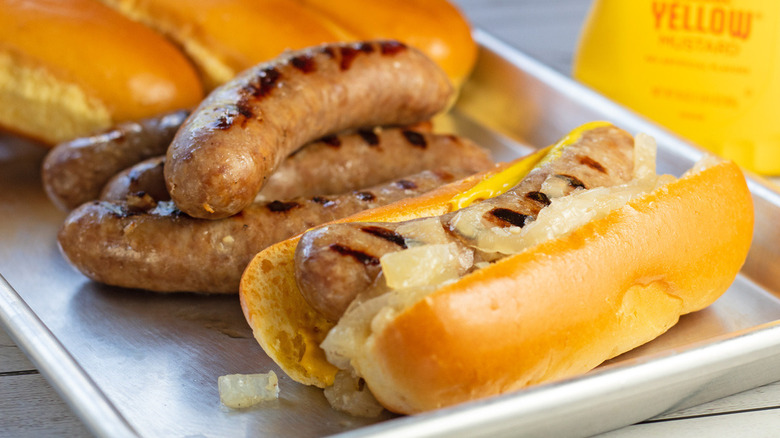 Angela Latimer/Mashed
The one downside to this recipe is, as Latimer admits, the fact that brats tend to "look rather grey when only cooked in the slow cooker." She says there's an easy fix for this: You can simply pan-sear them. As she tells us, "Some people do this before placing the brats into the slow cooker. However, I find that it's tempting to try and cook the brats longer with this method." Instead, she takes her slow-cooked brats and sears them in a frying pan over medium-high heat until they are nice and brown. If you use a grill pan, she says, you can even get ridge marks that will give your brats that char-grilled look.
Once the brats are done, Latimer says you can serve the sausage "as-is on top of some of the tender onion," and you could maybe throw some sauerkraut on the plate as well. If you'd prefer to serve them hot dog-style rather than as a fork-and-knife dish, Latimer says to put each one "in a bun [topped] with your favorite condiments." Traditionally, brats on buns go best with a squirt of mustard (no ketchup!) and some sauerkraut. Pour yourself a beer, and enjoy this iconic Midwestern meal.
Slow Cooker Brats Recipe
If you're having a cookout, it may seem like burgers and hot dogs are clearly the way to go. But if you're ready to switch things up, try bratwurst instead.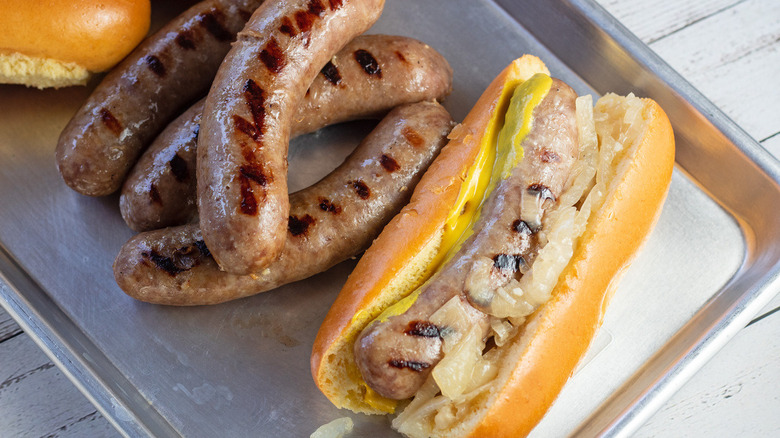 Total time: 2 hours, 5 minutes
Ingredients
1 to 2 large white or yellow onions, sliced
5 brats
1 tablespoon minced garlic
¼ cup butter (½ stick)
¼ teaspoon salt
¼ teaspoon pepper
12 ounces beer
Optional Ingredients
Hot dog buns
Mustard
Sauerkraut
Directions
Put half the sliced onions in the inner pot of the slow cooker.
Layer the brats on top of the onions.
Top the brats with the remaining onion, garlic, butter, and ¼ teaspoon each salt and pepper.
Pour the beer over the brats, then cover the slow cooker and set it to cook on low heat for 6 hours or high heat for 2 hours.
Serve with hot dog buns, mustard, and sauerkraut.
Nutrition
| | |
| --- | --- |
| Calories per Serving | 128 |
| Total Fat | 9.2 g |
| Saturated Fat | 5.8 g |
| Trans Fat | 0.4 g |
| Cholesterol | 24.3 mg |
| | |
| --- | --- |
| Total Carbohydrates | 6.6 g |
| Dietary Fiber | 0.7 g |
| Total Sugars | 1.6 g |
| Sodium | 122.1 mg |
| Protein | 0.9 g |