Ruby Tuesday's New Menu Item Is Perfect For Philly Cheesesteak Fans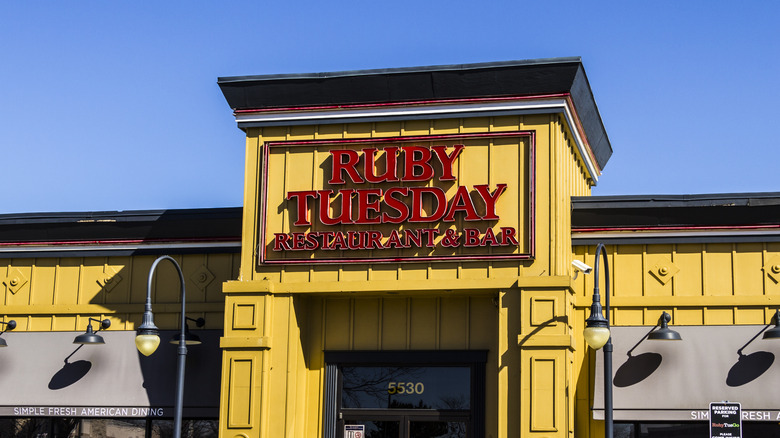 Jonathan Weiss/Shutterstock
While a 50th anniversary celebration might be golden, Ruby Tuesday is celebrating 50 years with tasty new menu items. One notable new menu item is the Big Philly Cheeseburger. Although guests do not have to know the whiz or without whiz lingo, this new menu item continues the Ruby Tuesday tradition of bigger, bolder burgers that have been a menu staple since 1972. As Ruby Tuesday chief marketing officer Jenifer Boyd Harmon said in a press release, "Our guests love to get their crave on at Ruby's, so for our 50th birthday we have created big, better, bolder burgers." The new Big Philly Cheeseburger is an example of that sentiment.
According to Ruby Tuesday, the Big Philly Cheeseburger is a food mash-up of both a burger and a cheesesteak. With grilled shaved steak, signature RT burger sauce, peppers, onions and baby bellas, this cheeseburger might have to be eaten with a fork and knife. As cheese smothers everything on the bun, this menu option might require extra napkins when enjoying it. Given that Ruby Tuesday has subscribed to the idea of "big burgers, bold flavors and great service" over the past 50 years, this Big Philly Cheeseburger definitely falls under the big burger philosophy.
Ruby Tuesday adds big, bold new menu items
While Philly cheesesteak fans are craving that bigger, bold menu item, it isn't the only new addition coming to Ruby Tuesday. As part of the restaurant brand's 50th birthday celebration, there are a Double Cheese Bacon Crunch Burger, Loaded Mac 'n Cheese, and two new flavors of boneless wings coming as well. The new wing flavors are Parmesan Garlic and So Sassy Honey (per Chew Boom).
Looking at the three menu items, the Loaded Mac 'n Cheese is definitely a hearty bite that fits into the bigger, bolder menu concept. Topped with smoked sausage, grilled peppers and onions, these additions are different from other loaded mac and cheese options. This menu item seems to borrow from classic pasta dishes yet with a slightly southern flare. The juxtaposition of the smoked sausage to the creamy pasta should be a delicious flavor combination. Although, this dish might benefit from a little crunch or texture. Maybe someone could find a way to add some toasted bread crumbs to the mix. In a way, that little extra could be like the confetti to celebrate the 50th birthday.