This Is Anne Burrell's Go-To Drink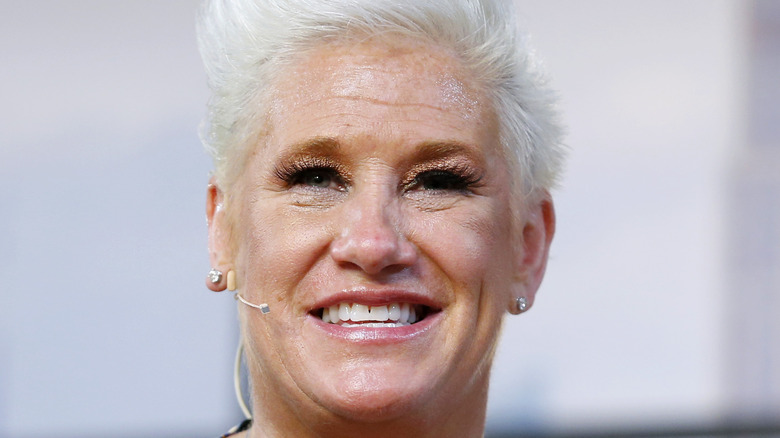 John Lamparski/Getty Images
With her distinctive spiky blond hair, boisterous personality, and fantastic recipes, Anne Burrell captivates audiences and commands the attention of those around her. She's the host of a number of Food Network shows including "Worst Cooks in America," "Secrets of a Restaurant Chef," and "Chef Wanted." She's also a former instructor at the Institute of Culinary Education and has cooked at some of the top restaurants in New York (via Food Network). 
She worked as Mario Batali's sous chef on "Iron Chef America," where she got her on-screen start. Since then, she's gone on to write a few New York Times best-selling cookbooks and continues to bring her vivacious energy to a variety of shows. 
With a resume like hers, you would imagine that Anne Burrell would have some pretty eclectic tastes, but in an interview with Restaurant Hospitality, Burrell listed off a few things she can't live without — and they were all remarkably simple and straightforward.
Her go-to drink is one she invented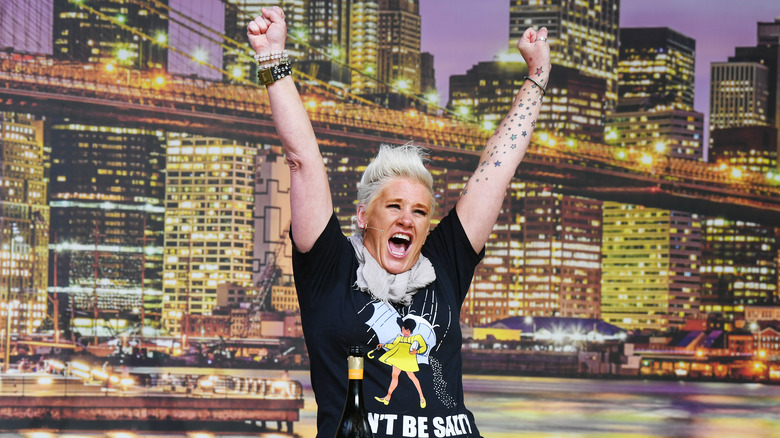 Dave Kotinsky/Getty Images
Anne Burrell's list of must-haves includes salt, bacon, and olive oil. She calls them "The Holy Trinity" and says they're the base of many of her recipes (via Restaurant Hospitality). She also swears by her own cookbooks, saying that she continues to use them despite being the author. We can't help but wonder if all chefs use their own cookbooks, or if this is just a testament to how much Anne Burrell enjoys and swears by the recipes she published. Her go-to recipe is her Bolognese, which she calls her "number one comfort food." As she told Restaurant Hospitality, "It took me forever to learn how to make it properly. Now, it's always the number one recipe of mine that people come up to me and say they love."
Her favorite drink is one that she came up with herself, and it's just two ingredients. The "Chef Anne Sparkler" is "prosecco on the rocks with a splash of Aperol," light, bubbly, and full of simple flavors. We'll definitely be testing this one out for ourselves!