Nailed It! Alien Cupcake Recipe - Exclusive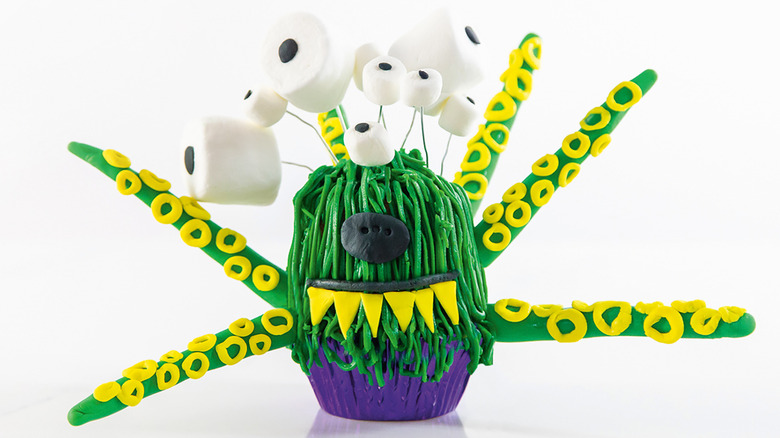 Abrams Image
Here's a sweet treat you never knew you could aspire (not) to nail. Seriously hardcore "Nailed It!" fans might remember when in Season 2, Episode 6, a bright-eyed and bushy-tailed contestant attempted to bake alien cupcakes. Follow this recipe — straight out of the new "Nailed It!" cookbook – and you can too! The contestants' creation came out a little bit on the drier side. To avoid the same outcome, Kim Seeley, Supervising Culinary Producer of "Nailed It!" for Magical Elves has an insider tip for you.
"Cupcakes are dry for a few reasons," she cautions. "They are over-baked or they don't contain enough fat. So, if you accidentally leave out eggs (the yolks contribute fat), milk, butter or oil, then your cupcakes will be drier." Got that? Good. Lest you're secretly dreaming of ending up somewhere between baffled and crestfallen, like most of "Nailed It's" cake and cupcake bakers — in which case, go forth and conquer — Seeley's got more pro tips. She put together an exclusive list of "Nailed It" contestant's most common cake-baking mistakes exclusively for Mashed. Top among them: following the recipes (correctly!). "Measuring is not always one of our bakers' forte," quipped Seeley. 
Also, "you have to remove the cakes from the pan before you put them in the freezer for too long!!" says Seeley. "When cakes cool to freezing in the pan with the cake in it, then they will not come out of the pan."
Lastly, it's worth talking about frosting. Unfortunately for your hopes, dreams, and 5-year-old self, Seeley says that there is such a thing as too much buttercream. "Yes, you can over frost your cupcakes," Seeley cautions. "It makes eating them hard and usually overly-sweet as buttercream contains a lot of sugar ... I like to keep it at half the height of the cake part of the cupcake."

If you want to try your hands at nailing a "Nailed It!" recipe, this recipe from "Nailed It!: Baking Challenges for the Rest of Us," shared exclusively with Mashed, is a great place to start. Aside from the ingredients listed, you'll also need a 12-cup cupcake pan, purple cupcake liners, 14 wooden skewers, and cake decorating wire or paperclips.
Recipe reprinted from "Nailed It!: Baking Challenges for the Rest of Us" by the Creators of "Nailed It!" with Heather Maclean. Published by Abrams Image. The sixth season of the Magical Elves-produced "Nailed It!" is streaming on Netflix, and the official companion cookbook "Nailed It! Baking Challenges for the Rest of Us" is now available for preorder.
Nailed It! Alien Cupcake Recipe - Exclusive
If you want to try your hands at nailing a "Nailed It!" recipe, this recipe from "Nailed It!: Baking Challenges for the Rest of Us" is a great place to start.
Servings
2
alien cupcakes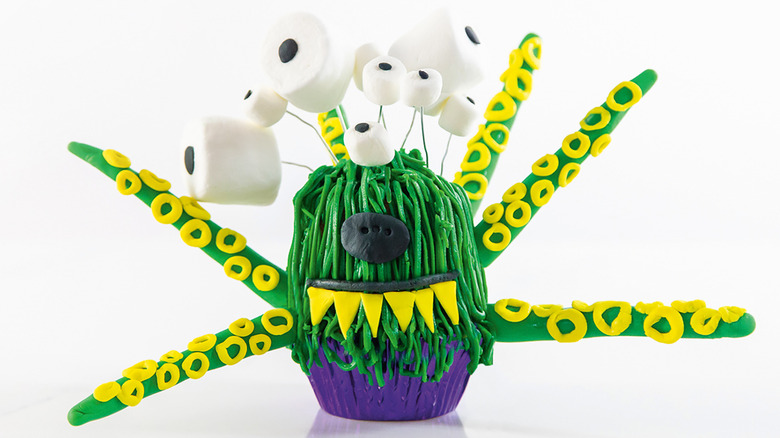 Ingredients
1½ cups all-purpose flour
½ teaspoon baking powder
½ teaspoon baking soda
½ teaspoon plus ⅛ teaspoon salt, divided
2 large eggs
⅔ cup sugar
½ cup vegetable oil
3 teaspoons vanilla extract, divided
⅔ cup whole milk
1 cup unsalted butter, softened
4 cups powdered sugar
2 tablespoons whole milk
4 ounces white fondant
Yellow, green, and black food coloring
6 large marshmallows
12 mini marshmallows
Directions
To make the cupcakes, preheat the oven to 350°F. Place the purple liners inside the pan.
In a medium bowl, sift together the flour, baking powder, baking soda, and ½ teaspoon salt. Set aside.
In another medium bowl, using an electric mixer, beat the eggs on high speed for 1 minute. Add the sugar and beat for 5 minutes. Add the vegetable oil and 1 teaspoon of vanilla and mix until the batter is smooth, about 1 minute. Reduce the speed to low and alternate adding the flour mixture and the milk, beating until just combined.
Fill the cupcake liners halfway (we want flat, not domed, tops). Bake for 15 to 20 minutes, until the tops are pale golden brown, and a toothpick inserted into the center comes out clean. Let cool.
To make the buttercream, in a large bowl, using an electric mixer, beat the butter until creamy, about 1 minute.
Add the powdered sugar 1 cup at a time, mixing until well combined.
Add the remaining 2 teaspoons of vanilla, ⅛ teaspoon salt, and milk, and mix on high until thick and creamy. If the buttercream is too thin, add more powdered sugar, 1 tablespoon at a time. If the buttercream is too thick, add more milk, 1 tablespoon at a time.
Use green food coloring to dye the buttercream.
To assemble the aliens, cut four skewers 3 inches long.
Grab two cooled cupcakes. Make sure they both have flat tops; if they don't, use a serrated knife to cut off any excess. (Bonus if that happens: You just found yourself a snack!) Spread a layer of buttercream on top of one cupcake and stick two skewers 1 inch apart in the middle of it. Take the cupcake liner off the other cupcake, turn it upside down, and stick it onto the skewers so you have two cupcakes stacked face to face, "glued" together by buttercream. Repeat with two more cupcakes.
Use a spatula to spread a layer of buttercream onto each cupcake stack. Add 2 tablespoons of powdered sugar to the remaining buttercream and stir to stiffen it. Place the buttercream in a plastic piping bag, snip off one end, and pipe on long, shaggy alien hair.
Pull off two small balls of fondant, each about 1 inch in diameter, and color one yellow and one black. Color the remaining fondant green. Don't overwork the fondant or it will get sticky. If that happens, sprinkle it with a pinch of cornstarch.
Using fondant, make 12 thick green tentacles built around wooden skewers cut to around 3 inches in length, leaving about 1 inch of skewer exposed. Attach 6 tentacles to the sides of each cupcake by pressing the exposed ends of the skewers into the cake.
Roll the yellow fondant flat until it's about ¼ inch thick and cut out 12 triangular alien teeth. Roll the rest of the yellow fondant into thin ropes and decorate the green tentacles with circular "suckers."
Roll out the black fondant to about ¼ inch (6 mm) thick. Cut out 2 noses and mouths. Attach the mouths, teeth, and noses using a tiny bit of water to "glue" them into place. For the black eyes, dip the end of a skewer in black food coloring and dot the marshmallows.
Place the marshmallows on cake wire or clean paperclips and stick 3 large and 6 small all over each cupcake.
Frost the tops of the remaining cupcakes with buttercream and place them around the aliens. 3, 2, 1 . . . Ya' done!