Ted Allen Won't Touch This Chopped Ingredient
Sam Aronov/Shutterstock
You may be envious of the distinguished group of chefs that regularly make an appearance at the judge's table on "Chopped," but if you ask us, Ted Allen has the best-sounding gig on the show. The longtime host of the hit Food Network competition series gets the fun task of doling out the mystery basket of bizarre ingredients to the competitors. But unlike his former role as a "Top Chef" judge, he isn't actually required to sample the dishes that are made with them. "I taste things that look really delicious or if something sounds really fascinating," he explained to Food Network about the "upside" of his hosting job. That also means getting to say "no thank you" to the more disastrous meals. "Sometimes the dishes are scary and I don't have to eat them," he said.
While Allen gets to pick and choose what he samples on "Chopped," he's far from a food snob. The cookbook author claims that he's open to eating just about anything, and even on the occasion he does come across a dish that isn't particularly appealing to his tastebuds, he'll still take a few bites before pushing the plate away (via Food Network). But alas, even the most open-minded of foodies have an ingredient or two that they'd rather not find sitting on their plates at mealtime, and Allen is no exception.
Ted Allen draws the line at beef liver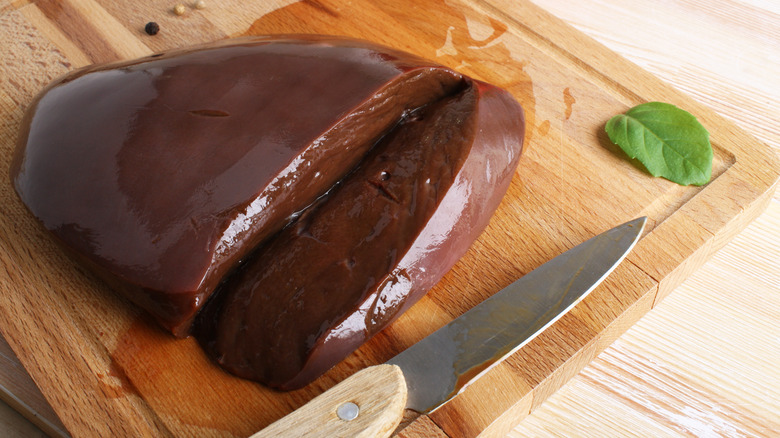 Sergey Lapin/Shutterstock
You may find yourself cringing at some of the ingredients the "Chopped" contestants pull out of their mystery baskets, but Ted Allen is able to see a use for a lot of them. Dried fermented scallops, for example, is one of the more unusual "Chopped" ingredients that people might not like to be forced to cook with. However, the show host explained in an interview with The Daily Meal that they're great for giving your dish an umami flavor - who would have thought?
With the ability to make the case for some of the more bizarre mystery basket ingredients, you may be wondering, at what point does Allen draw the line? "I'm not interested in eating beef liver," he revealed to Food Network when asked about his least favorite ingredient. Though there is one particular situation where he might indulge in the dish. "If somebody really talented cooked it, I would definitely eat it," he said.
According to Tru Organic Beef, beef liver has a "sweet, naturally earthy" taste when cooked properly. However, things can quickly go south if the nutrient-dense protein is overcooked, which is probably why Allen will only eat it if a skilled chef is preparing his meal. On the off chance that you find yourself cooking a meal for the Food Network star, it's probably best to avoid having beef livers as the star of your menu.